Brewing at the border
I've been in the Southwest for a few months now, and while I've had to adapt to many changes in my daily life here, the biggest change has been my relationship with coffee. We're quite serious.
I love coffee.
I am accustomed to the constant availability of coffee in almost every town I happen to be— Burlington, Montpelier, Johnson, even Hardwick. They all have amazing cafés on popular street corners, made with quality brews.
I was tragically disappointed to have arrived here to discover that cafés near this side of the border have a slightly different, fatal, difference from the ones I am used to: coffee is not the main course.
For example, the first few weeks after my arrival I found myself craving a mocha latte and searched for nearby cafés on Google Maps. Naively, I picked the first place with "café" in the name— La Dona Café.
I dragged Max, a casual coffee drinker, to the little restaurant tucked into a strip mall. At the table, I confidently asked the waitress what they had for coffee, to which she replied, "Yes, we have coffee."
My confidence faltered. I cleared my throat. "Great. I'll have a cup."
The coffee was…not good. I tolerated the feeling of loose grounds sliding across my tongue and the subtle aftertaste of scorched coffee washing down my throat for the sake of getting caffeine in my bloodstream. I knew I would not return, at least for the coffee, again.
And thus began my quest to find quirky, niche coffee shops in the El Paso- Las Cruces area.
I seek salvation in these confined, straight-to-the point places, as they remind me of how it feels to enter a toasty, cozy home after escaping the unforgiving winter in which we often find ourselves in Vermont. The community surrounding each joint, as well as the regular customers, make the experience more inviting to return once more.
Like so many others, I find the experience of the shop to be just as important, if not more important, than the coffee itself.
My first discovery was the Coffee Box in downtown El Paso. Artsy and quirky, this little building is constructed with two freight cars stacked precariously on top of one another, creating a covered patio on the bottom and an open deck on top.
Indoors was a 200 square-foot millennial playground of insta-worthy backdrops featuring small succulents scattered around tables, clean, grey shades covering the walls, and string lights illuminating the place alongside the pooling afternoon sun.

Upstairs, a small collection of pop-art paintings hung, with a grand, spray-painted mural featured in the back. I ordered a charcoal latte, which was a frozen drink with activated charcoal and onyx cocoa. From its smooth texture and rich but not overwhelmingly sweet taste, it was the best cold coffee drink I'd ever had. Along with a small photoshoot, it was a beautiful experience I will gladly return to have again.
Iced or frozen coffee, unsurprisingly, is advertised on billboards and menus far more often than hot brews. I've ordered lattes in a Starbucks drive through without specifying iced or hot on several occasions and ended up with an iced. While I still feel hot coffee is the right answer no matter the time of year, I can no longer deny that I've grown accustomed to cooling off with something sugary and sweet for the sake of not overheating my body on my way to class, which is a real threat in this relentless sun.
The next shop I discovered more recently is a cute little joint hidden in plain sight on the street next to New Mexico State University, called endearingly, Mom's Coffee. I found another carefully curated atmosphere inside, with couches, tall tables with sand gardens, ample charging stations, and a collection of local artists' works displayed around the interior.
As small as it was, many people were crowded by the counter while a few lounged on the seating, staring at laptops and phones or reading books. Being that its location was across the street to a college campus, young people and professionals stood chatting in line or entranced in their phones waiting for their order to be taken.
I ordered my favorite classic, the iced mocha latte and sat down to enjoy the free wifi.
While the coffee wasn't notably the best I've ever had, it did its job with no complaints, and I was able to enjoy a light turkey panini on the side as well. I soon found out the shop had a cult following on Facebook, and hosted poetry slams and jazz nights every Wednesday and Thursday.
The first place my mind went while I sat entranced in a sand garden was how much the atmosphere reminded me of Vermont. A wave of homesickness washed over me. For a moment I was back in Johnson, sitting down at the Dream Café, my eyes drifting to each art piece hung on the wall while listening to the clinks of dishes and sound of steam emitting from the kitchen.
I realized, for perhaps the first time since I've been in the Southwest, how much I really appreciate coming from where I'm from, and how much I miss it.
While I enjoy my classes and love exploring the new landmarks and food, I now realize the utter lack of community and closeness I feel to the people here is ultimately what has left me somewhat unsatisfied. It is a fundamental disconnect and gap in experiences that drives me to feel outnumbered, out of the loop, and small.
I think I love these coffee shops because they give me a sense of belonging and welcome, where I, for a half an hour, feel like I'm where I'm supposed to be, not where I should be.
I have not found any more worthy coffee shops lately, unless you count Starbucks and college café coffee, neither of which I would call an "experience."
No, I've resorted to attempting to brew my own coffee from home, which ironically feels less homey than someone making it for me in a public setting, even with the ability to ration out the correct amount of sugar and cream. My iced coffee recipe has improved significantly, where I've mastered the right amount of sweetness, but I cannot mimic the feeling I get when being handed a cup to go.
About the Contributor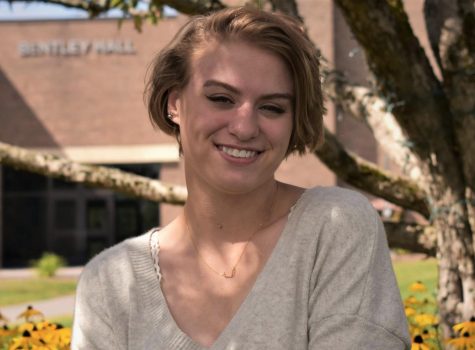 Adriana Eldred, Photo & Web Editor
Senior, Journalism & Studio Art
Grew up in Craftsbury, VT
Spring 2018 - Present

I got a black eye and mild concussion in Las Vegas during a rugby...