Easy rider
Jonathan Davis is the Dean of Students for NVU.
What obsesses you?
My biggest passion in my life is my kids.
How many kids do you have?
I have two kids. A nine year old and a seven year old. I mean, obviously that wasn't always my passion. Sports, kids, and work. That's all that I have time for.
What kind of sports do you like?
Every sport. I follow most professional sports closely and I also try to participate. My biggest passion later in life is ultimate Frisbee.
How long have you been doing ultimate Frisbee?
I was dragged into the sport kicking and screaming in 1999 by a part-time instructor at Lyndon. I had always thrown a Frisbee. I knew what it was like to play gym Frisbee, but like really, you want me to put cleats on? You really want me to get into this? From that day forward, I never stopped playing. I've broken my collarbone. I've broken my leg playing. I played in Canada, played in national tournaments, and played at the Masters level, which is 40 and over national tournament in Chicago last year.
How would you best describe your love for ultimate Frisbee?
The spirit of the game, meaning for me that, it's not officiated. It's self-officiated. You learn the rules, you respect the rules, you don't need a ref to mediate. It's a fast-paced game, it requires athleticism and you really never stop. There's no boredom, there's no standing around. And a flying disc is awesome because the wind will change its direction. You have to master throwing from both sides and positioning on the field and strategy. It's just a great sport. Most importantly, because I've coached as well, it's an affordable sport. All it requires is outdoor space, or even indoor space, maybe a set of cones, and a disc.
What have you done in the coaching ranks of ultimate Frisbee?
I coached a varsity girls' team at St. Johnsbury Academy for eight years and one state championship.
What has been your favorite vacation destination?
I would have to say Aruba because I like to wind surf and it's the perfect location for that. The weather is beautiful, it's consistent, and there are a lot of other things to do.
How many times have you been to Aruba?
Three times and it's always been awesome.
How long have you wind surfed?
I have been wind surfing since I was 16 and I'm 46 now. I do it primary when I am in Aruba. I'm trying to kite surf right now, but traditional wind surfing is something that I've been doing for a long time.
Are you originally from Connecticut?
Yes I am. I grew up in West Hartford, in the true suburbs. I am incredibly grateful where I grew up because of the education I received, the recreational opportunities. it's a great town to live in.
Were you around when the hockey team, the Hartford Whalers, were in town?
Are you serious? My other passion is ice hockey. I played hockey all my life, grew up in Connecticut playing hockey, was the captain of my high school team, but then it was time to decide what to do next. I eventually took a post-grad year out in Colorado doing a wilderness leadership course for three months. That's what eventually brought me to Lyndon with the mountain recreation. There I started a competitive club hockey team.
What would be your last meal on death row?
Boneless chicken breast, marinated in lemon, garlic, sautéed mushrooms, green beans, and a huge baked potato with butter and sour cream. I would also like a side of slices of fresh tomato with mozzarella and Italian dressing, and maybe a dinner roll. For dessert, mint chocolate chip ice cream and chocolate ice cream with a little whipped cream and chocolate sauce.
If you could have any super power, what would it be?
Fly. I would like to fly. I have always dreamed of being able to fly, whether it be as a trained pilot or in my dreams as a kid flying as Superman.
What is a quote that you live by?
I am not sure who first said this but I know for sure it wasn't from me. I actually picked up from this from the movie "Point Break," the original movie with Keanu Reeves. "If you knew that you knew nothing, that would be something." Those are words to live by when you're recognizing people who have more experience with something and you know to not try to project yourself as all knowing when you're not. You know that you know nothing, that's something and that's something to start with.
What's your favorite movie of all time?
"Shawshank Redemption" is way up there. "Back to the Future" trilogy is another favorite of mine. "Batman" with Heath Ledger is another.
Speaking of "Back to the Future," if you could travel in time, what decade would you travel back to?
Oh, this is fun! My mom passed away in 1985 when I was about 12 years old, so while I can think of a reason to go back to the last five decades for a specific reason, whether it's to prevent a tragedy or to prevent a certain person to be elected president, I would like to go back to 1973 to get a visual and to get to know my parents before they had me. To see what they were like would be cool.
What's your guilty pleasure?
Riding my motorcycle well beyond the speed limit on the highway on a cool summer day. I have a BMW S-1000 R. I love motorcycles. I have owned three motorcycles, but it hasn't been that long since I've owned them. I've always had a love for them because my uncle used to race them. But it hasn't been long that I've owned them, only for the last ten years or so.
What would you want your legacy to be?
Fair, consistent, and a respect for those that came before me.
What's the best thing someone has ever said about you?
It kind of goes back to the last answer. That I listened to them and I was fair.
Has there been anything said that has been not great to you?
Oh yeah, sure! With this job, are you kidding? That I was unfair and a total asshole. I'm sure that there has been worse said behind my back, but to my face that I was a total asshole and completely unfair.
Is there anything unique about the differences between the Johnson and Lyndon campus?
I got to tell you. It has been an absolute joy to come to this campus and think about the differences because I've been at Lyndon for the last 20 year…but I never spent a significant amount of time here. There is more of a liberal arts focus on this campus, but the students I interact with, the clubs, organizations, and sports, there are so many more similarities than there are differences. The differences are really in where each campus decided to spend money over the years. For example, the Johnson campus decided to renovate and overhaul Stearns in the last many years, as opposed to Lyndon to build new residence halls. I can see the benefits of both…I think that here, one of the biggest differences for me is the way students gather together, specifically like outside when the weather is nice. You have this beautiful quad [and people are] playing Frisbee, they're gathered together studying, they're in the hammocks, and that's kind of awesome. You don't have that kind of outdoor space at Lyndon. What Lyndon has more of than Johnson is indoor gathering space. There are more rooms that large groups of students can gather in, so in the cold months of the year, that's a reality and with that, that causes differences in how students interact with each other. Overall, they are two gorgeous campuses with views of the mountains that are on hilltops with similar facilities because we are both Vermont State Colleges, and they are both awesome in their own way.
Where do you see the future of this institution of NVU going?
I think we are going to great places. I think we are going to serve more students in the future, both on campuses and online. I think our students are going to have more options each year in creative ways to complete their degrees. Our students are going to have more traveling opportunities to study away, whether it's a different university in the United States or travel abroad. We're going to figure out more ways to raise funds, not just relying on the state to keep pace for what students need in order to have a competitive edge when going out into the workforce. I think you'll continue to see improvements to facilities in the next ten years. And when you come back as an alum, you're going to be really proud and impressed. One of my focuses that I have for NVU is to bring the two campuses together more for events and traditions, and so my hope would be five years from now during things like alumni weekend, you would see Lyndon students really in sync with Johnson students in doing things. Traveling together more on trips, like right now they are traveling together to West Virginia and [they] went to Cuba a couple of months ago. I want more of that. I want to see a great transportation link between the two campuses so that you can get to Lyndon and you could get here.
Would you describe yourself a fashion person?
No, not at all. I've got one of those awkward body styles where I just can't walk into a store and find it. I'm short and I'm stocky, and it makes it hard to find the right fit. I got to cuff every pair of pants that I have. I try to find NVU, Johnson, or Lyndon gear as much as I can.
What has been the best piece of advice you have ever received?
"Change is good, change is necessary," and, "Don't ever fall asleep at the wheel."
Worst piece of advice?
And I quote, "You don't have to like it, you just have to do it." I hate that, probably in part because it came from a particular person that I wasn't getting along with but I felt like it shut me down and didn't allow me to challenge or ask questions.
What's a bad day for you?
My worst days are when students are in crisis and I'm looking for ways to help them and I know that they are struggling.
Your worst date?
Oh! I have had good luck, but let me think about this for a second. I remember back in middle school, maybe high school, going on a date where I didn't have my driver's license, so I had to remind my parents to drive me somewhere. So I meet up with the person that I am going to go on a date with. I intended to attempt to pay for the date, but I forgot the money. So that person paid for the date, and it was pretty embarrassing, and I didn't handle it well because I kept fumbling my words and I was embarrassed and it was ugly. There wasn't another date.
About the Contributor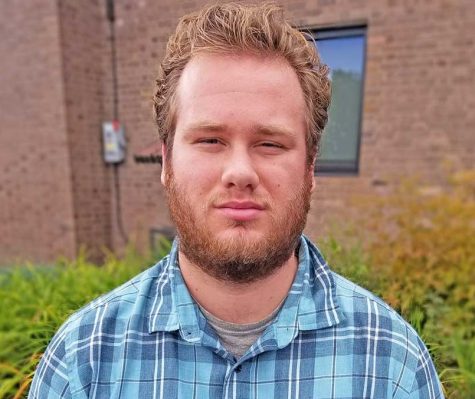 Patrick Bell, Sports Editor

Senior, Journalism
Grew up in Charlestown, RI
Fall 2017 - Present