Naughty and nice at ViceLand
Johnson residents and students who tentatively make their way into 'ViceLand, a Store for Adults' might think twice about their prejudices. While the community's initial reaction on Front Porch Forum was that of disgust, Owner Kayce Massey would like the community to know that ViceLand is not just a "sex store."
"We actually bought the store in Waterbury from Good Stuff five years ago," Massey said. "We've been running that for five years and people have been begging us to come to Johnson for five years, really begging us."
Massey is the daughter of the owner of Good Stuff and changed the name of her initial store to ViceLand. "It's two really different businesses," she said. "They're two totally different entities."
ViceLand now has four stores: Johnson, Waterbury, Berlin and Newport, New Hampshire.
When asked about owning a "Store for Adults," Massey said, "We actually started Good Stuff back in 1999 when I graduated from high school." At that time, it wasn't a store for adults, it was a variety store.
"We didn't ever design it to be this," she said. We had a couple of novelty things and some just basic pieces. Like corncob pipes, nothing glass, nothing spectacular. And they threw such a fit about the little stuff that we did have that we ended up on the news and it just kind of became this. So yeah, the plan was never really to get into this industry. It's kind of just destiny."
Massey spoke about why she decided to call her store "ViceLand." "I really love it because it's kind of why we chose our name quite slant," she said. "We're trying to deconstruct the word 'vice' and make it something positive and something like we can actually aspire to praise. I think that that's what our store does. It's de-stigmatizing something that's been stigmatized in society in general, and it makes it acceptable and okay. And I feel like with the way the laws are changing and everything's going, that it's getting less taboo and more mainstream."
While the store is part of the general community, customers must present ID to show they are 18 or above. Federal law says that anyone under the age of 18 cannot see sexually explicit material, which the store is, well, full of.
Inside, the store is well-lit and clean. The walls are painted with what appears to be chalkboard paint, with many-colored psychedelic chalk drawings around the wood-panel shelving. Along with what you'd expect in a "Store for Adults," you'll find some silly surprises: for those who are more adventurous than the regular vanilla folk, the back-left corner displays a cheeky sign with the words "Anal Sex Basics" in cursive. Looking for novelty board games? You'll find them, with suggestive names like Cojones and Unveiled. In the front, a sparkling display case full of glass pipes, bongs, and pieces shines like a candy store display. It's all quite visually stunning. There's a grow supplies room on the right hand side, as well.
Customers must be 21 to purchase any tobacco products, including the products for consumption of tobacco, due to the recent legislative change in Vermont. People over the age of 18 but under 21 were not grandfathered in. This means that all glass pieces in the aforementioned case are only available to those over 21. Ashtrays and lighters are not included in this ruling.
However, kinky 'youngins' among us will be glad to know that there is no such ruling on the novelty and sex items for sale. Are you 19 and want to buy a (quite large) phallic cake tin? Go right ahead. Be my guest.
Along with the risqué, ViceLand also has a host of other products for sale that customers can talk about with their grandmothers. Fun tapestries, incense, prints and tee shirts by a local artist, Stephanie Baron, and much more.
ViceLand is also hoping to get their glass blowing studio set up this fall, but Massey expressed doubts about a quick turnaround. "I would not doubt if it takes us till next fall to do it, because a year and a half ago we had one store and today we have four stores. We are growing exponentially and all that takes time."
"We also have a ton of space in this building that we'd like to find new ways to do things with," said Massey. "I'm more thinking about maybe making some art space. It is for people to come in, but that's down the road. We don't really know what we're doing with this space quite yet."
When it was announced that ViceLand would be opening its doors in Johnson, Front Porch Forum users took to criticizing and kink shaming those who might become its customers. But Massey wants to spread positivity about the store's opening. "I'd say first: I'm a mom," said Massey, "so my biggest thing is to make sure the rules are followed. Anyone under 18 is not coming in here and not getting exposed to this stuff. Anyone under 21 is not getting the smoking products. We are on top of it. We're really trying to make sure that that's at the forefront."
Massey says she's looking forward to growing the business, and maybe looking to work with community members to open their own ViceLands, like franchising. "Kind of like franchising," said Massey, "except it's making small business owners. Not like taking people that have a ton of money and making them more money. This is taking someone that might be a clerk in one of our stores and saying, 'Hey, would you like the opportunity to own your own store?'"
Massey wants the community to benefit from the store. "If anyone ever wanted to come in here and teach a sex class or use our stands for anything like that, I would be totally down because I think that that is an important part of having a business like this. I just haven't found the time to be able to do it quite yet."
"Ultimately," says Massey, "we would like to be able to branch out and give back."
About the Contributor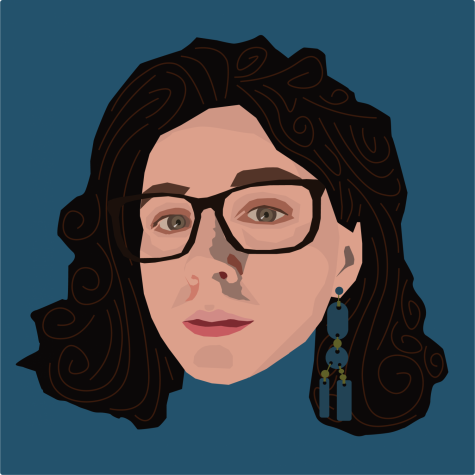 Rebecca Flieder, Editor-in-Chief
Senior, Journalism & Creative Writing
Grew up in Atkinson, NH
Fall 2018 - Present
Along with traditional journalism, I enjoy writing satire and...