A love letter to HONK!
Full disclosure: I sometimes jump around playing saxophone in a red jumpsuit. Last weekend, my brass band, Brass Balagan, played as one of 25 bands at the HONK! Festival in Somerville, Massachusetts.
The bands at HONK! are all "activist street bands." This is a broad category, but they all tend to share a few characteristics. The outfits are flamboyant. The instruments are loud and portable—trumpets, saxophones, tubas, trombones, bass and snare drums, and so on. The musical styles vary from jazz to Balkan to cumbia to klezmer to covers of pop songs, but they are all infectiously fun and danceable.
"Activist" can mean different things to different bands. Some, such as the Rude Mechanical Orchestra in New York City, mostly exist to support protests and direct actions. Rude Mechanical Orchestra (RMO) weaves together protest chants and music, flowing between them. Other bands simply focus on the radical act of bringing music into public spaces.
I have found my band to be my favorite way to interface with activism. Lord knows there are a lot of issues in our world right now that can use activist energy behind them, but activism can be emotionally draining. Activism can be a space of righteous anger at the institutions responsible for problems, but it comes with emotional overload from constantly facing depressing world issues. Bringing a HONK! band into that space can completely transform that energy into a joyous fight. I believe that finding the joy is necessary to avoid burnout.
Bringing 25 HONK! bands into a few city blocks creates pure ecstasy. Before the festival, I was tired and grumpy, overwhelmed from all my school, work and life details piling up. That lasted until the moment I stepped out of the car on Friday night to an all-band revue set. As the Young Fellaz Brass Band out of New Orleans played their second-line style jazz, all the tension left my body, and I couldn't stop dancing. That bliss pretty didn't let up for the rest of the weekend.
My bandmate Romni Palmer is the most musically excitable person I've ever met. She manifests my inner exhilaration, and we feed off each other, creating an infinite feedback loop. "My heart just explodes when I'm here," she says, fully in the clutches of the HONK! high. "It's like… It's like, aaugh, it hurts, because it's going to burst out of my chest like in Aliens. But better."
On Saturday, there are bands playing in seven venues—alleyways, pocket parks, and street corners—over walkable area around Davis Square. The streets are filled with joyful brass music and flamboyant people being their freakiest selves. Something about it strips away inhibition, and it feels like pure play time. I find myself making goofy faces and having a ridiculous dance-off with someone I've never met before, and will probably never meet again.
Of course, not everyone is quite as deeply immersed as I am. HONK! sometimes suffers from what I call the "New England Bubble." It's impossible to escape in puritan-descended New England culture. People will often stand politely unmoving, giving a band space. Fortunately, this is exactly what HONK! bands are designed to break down, and they do their darndest.
Most of my band members attend a set by the Hungry March Band, out of New York City. They have dancers to engage the audience, and they start dance lines. They also keep extra pompoms, batons, and other props around for audience members to interact with. Before long we have a game of pompom catch going.
In the evening, there's an after party for bands. This is where the real magic happens. Maury Martin, one of the original HONK! organizers said, "I think about HONK! as a band colloquium. That the public's invited to, that's fine. But it's really about the bands getting together and connecting."
The night is spent performing for each other, dancing, and connecting. Our band signed up to play a set in the after party, and we were nervous. We were missing some band members who had taken an early night, and we worried we wouldn't sound as amazing as all the other bands, who got powerful sounds. The audience is full of musicians, who know when we mess up. As soon as we get on stage, though, all our worries dissipate. The acoustics of the space are amazing, and make our reduced band sound full. The other musicians are the most appreciative audience we've had yet. The New England Bubble is nowhere to be seen.
Martin says, "It's like a fellowship. A real kind of family thing that goes on. People have just a mutual fondness, a love, a respect." I definitely feel that.
I wake up the next morning feeling run over by a truck, and ready to do it all again for the final day of HONK!. We play in a parade and have a set on a mainstage. This year, for the first time, there were workshops and a tune share. My band taught one of our songs to a group of about 30 musicians from other bands. It escalates into a 17-minute-long jam session on that one tune.
The capper to the festival leaves everyone who takes part a bit emotional. During Sunday's after party, a few buses come and take a hoard of musicians to a local county jail. On the way over, some members of RMO explain the situation. For the past several years, the jail has served as a detention center for immigrants, and a mega-band from all the HONK! bands play outside their windows in solidarity. Recently the contract with Immigration and Customs Enforcement ended so they could make room for more prisoners. They say that it's still worth showing our solidarity with victims of our broken criminal justice system. No one deserves to be in a cage, they say.
We disembark from the bus. There are at least 150 musicians there. We make our way to an overpass that is adjacent to the jail windows. Some incredible musician wranglers group us by instrument section, and we start playing some of the most common HONK! repertoire. As we begin to play, we see inmates coming to the windows, flicking the lights on and off in rhythm, waving, and making heart shaped hand gestures at us. We return the waves, our hearts simultaneously full with the connection and heavy with their lack of freedom.
In RMO style, the songs are interspersed with chants. I usually dislike chants. That's why I play music. But when we start chanting to the inmates, "We see you, we love you," it's powerful, and I get pretty emotional.
All too soon, it's over. We make our way back to the buses in our individual bands, playing music at all the windows we pass along the way.
I'm still living in the ecstasy, the emotion and the sleep deficit on the four hour ride home. Detached from the festival, my human limits kick in, and I collapse into a happy, floppy nap.
View Comments (1)
About the Contributor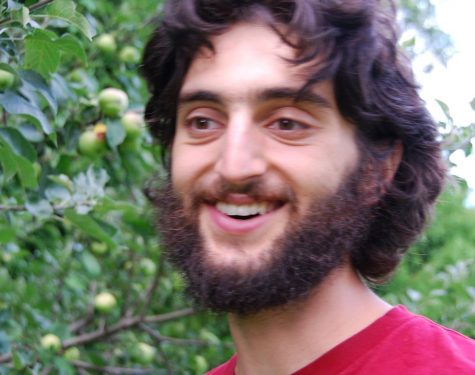 Ari Erlbaum, Staff Reporter


Senior, Professional Studies
Grew up in East Montpelier, VT
Fall 2019 - Present

In my spare time that I pretend I still have, I play saxophone...