Dutch treat
Ed. Note: This is the last in a six-part series chronicling this reporter's semester in Scotland.
As the semester ends, I am hit with the bittersweet feeling of leaving the place I've called home for the last three and a half months. Living here has taught me so much about Scotland and the world around me, and the "graduation goggles" are on.
I look around at the now-gray scenery around my flat and remember the first couple of weeks when there were flowers along the sidewalk and the sun was shining. I walk by all the restaurants and bars, like Finnigan's Wake, that have been home to some good times with wonderful people. I suddenly am no longer annoyed by all the tourists clogging up the sidewalks and streets; I push past them with a smile. Even, as I look up at its majesty one last time, Arthur's Seat seems sad to see me go, and beckons me to scale its peaks again soon.
It doesn't help that every major European city has a Christmas market running. Edinburgh's, being set up on Prince's Street, is only a 15-minute walk away from me. Everyone gets nostalgic around the holidays, and how could you not? There's caroling, hot chocolate, holiday sweets, mulled wine and everyone is strolling around the city with their sweetheart, or dressing their dogs in festive sweaters. The often-dismal city seems to have found its joy again with all the holiday cheer.
I'm going to these markets with my friends that I've been living down the hall from for what seems like half my life, but who live thousands of miles away from me when we all go back home. Somehow, we all have gotten so close in what seems like no time at all. We all have our little inside jokes and have traveled the continent together, never getting sick of each other's company.
It's amazing how being thrown into another country or culture can make people come together so quickly. We came together through necessity when we arrived, and then realized that we all actually fit together really well. It's crazy how well we got along and how much love and support was behind the door of Flat ¼. I'll miss the Mom's Night Mondays, the Taco Tuesdays, and even the Out-On-The-Town Wednesdays, which broke me out of my comfort zone a little bit and made me appreciate the nightlife of the city.
All right, the squishy part of the goodbye is over.
Once my finals were over and it came time to move out, circa December 20, my partner, Johannes, came to visit and help me pack up my room before leaving to see his family in the Netherlands for Christmas and New Year's celebrations.
Our flight was only an hour long and soon we were in the cozy and scenic land of stroopwafels, Shetland farm animals, olie bollen and cycling.
Stroopwafels are a thin, waffle pressed cookie-like sandwich, traditionally with molasses or honey in the middle. They are best eaten warmed up over a cup of hot tea or coffee, softened by the steam, or as we had them, homemade and the size of one's face.
It seemed like every farm we passed only had really small animals, usually Shetland sheep and ponies. Driving or riding our bikes around the countryside felt like we were travelling through the Shire, and I expected anyone that we saw to be a hobbit. (Of course, on average, the Dutch population is one of the tallest on Earth.)
Olie bollen are like little donut balls but not quite as sweet and are deep fried. Typically, you can get them one of four ways: with or without raisins, and with or without the addition of powdered sugar on top.
The Netherlands is a very bike-friendly country with trails that connect every city and bike lanes in every road to ensure safe travel. We rode our bikes to Amersfoort one day and I was amazed how easy and safe it was to travel by bike. I would not want to ride a bike in most major cities I've been to, but because cycling is such a staple of the culture, everyone is used to watching out for you.
We were staying in a "huisje", which means "small house" but with an emphasis on comfort, which was part of a community in the middle of farmland and pasture. It reminded me of a campground, but more civilized.
There were two floors, with four bedrooms, one full bathroom and two half-bathrooms. The way I describe it makes it seem rather large, but every space, with the exception of the living room/kitchen was just enough room to sleep and get dressed, and the majority of the ceilings were quite low, causing taller folks to hit their heads on the tops of door frames.
It was a great place to celebrate the holidays, with the cuteness of everything and the myriad of cats that roamed around the neighborhood from nearby farms.
My boyfriend's parents gave us 48-hour passes to Amsterdam, which got us into Museums and other sites for free, as well as public transportation. It was a one-time payment thing that I highly recommend to anyone that plans on visiting the area, because it's a real great deal and super easy to use.
We used our 48 hours to visit the Rijksmuseum, the Amsterdam Museum, the Modern Art Museum, the Van Gogh Museum, the Resistance Museum, the botanical gardens and the Natura Artis Magistra (Artis), which is the zoo. We also wandered around the city checking out the shops and visiting the Christmas market for some goodies.
There was so much more that we could have done, but this mix of places really gave us a good understanding of the city and the culture, and we got to see a lot of cool things. Unfortunately, we didn't get to see the NEMO science museum, but if I'm ever back I will definitely be going there.
My favorite part of the trip was definitely the Artis, because I am an animal lover,m and it was the coolest (and most ethical) zoo I have ever been to. There are almost no cages, with the exception of the big predators like the lions and tigers and bears (oh my!). All of the exotic birds have the ability to wander about the grounds if they really want to, but typically stay in their section because of its customization to the species and because they don't want to be near people. This creates an interesting mix of birds, however, when the native species such as herons, start hanging out with the flamingos because they can come and go as they please.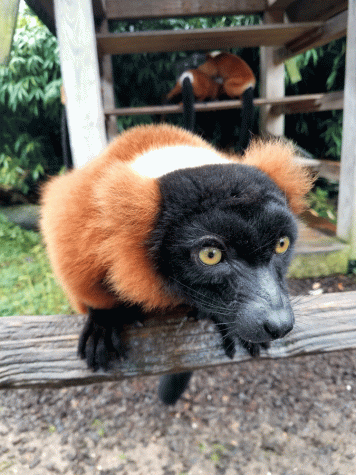 The monkeys and other small primates have no cage, but a moat surrounds the enclosure and the trees are carefully spaced so they could get out, but it's difficult and probably wouldn't happen because they don't want to be near people either.
There are a couple of large habitat rooms that you can walk through as well that house species that would typically coexist in that environment anyway. Tiny monkeys scale the trees as tropical birds bustle around and bats hang sleeping or eating fruit in between.
In the middle is an island where they keep lemurs, and when we were passing through it was feeding time. They all came up to the fence to get fruits from the zookeeper, inches away from us. I had to restrain myself from giving them a hug and potentially getting my face ripped off. My day was made as they looked at me with curiosity, and as one turned around, its long, fluffy tail brushed against my leg.
Of course, all vacations go by way too fast and before I knew it, I was on a plane back to Edinburgh to pick up the rest of my luggage that I had stored, and for one final walk around my temporary home.
I went to my favorite ramen place just down the street from my old flat, walked along the canal as I had done hundreds of times before and rode on the busses for the last time, at least for a while.
Then it was back to the hills of New Hampshire and Vermont that I call home. Although it was sad to leave that beautiful land behind, it is good to be home.
I would like to finish by saying thank you to everyone who supported me and followed me through my adventures and once again advocate for studying abroad. It was such a tremendous experience and changed me so much, all (so far as I can tell) for the better. I came out of it with so much more worldly experience, knowledge about myself and others, and broke a little more out of my shell each day. If anyone has the slightest urge to go on a similar journey, do it. It is more than worth it.
About the Contributor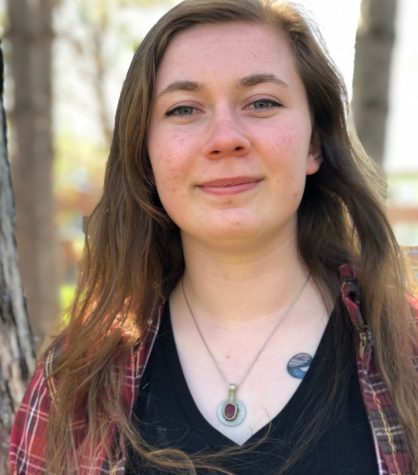 Magnificent Schmidl, Staff Reporter
Sophomore, Journalism
Grew up in Salisbury, NH
Fall 2018 - Present

The closest I have come to fame so far is once, at a Weird Al concert, he went...