Flying with a horse-sized duck
Andrew Lafrenz is the women's soccer coach at NVU-Johnson. He graduated from Johnson State College with a Bachelor's degree in English in 2000 and was a part of the men's soccer program. When he is not coaching on Mineart Field, he can be found teaching business students, playing his guitar, or spending time with his wife, Katina (JSC 2003) and their sons, Max and Xavier.
What makes you different?
For as long as I can remember, I have had a great passion for sports and music. I have always felt like I was living between two oddly different worlds in that regard. It is not that there's not overlap– There is, but it's not uncommon for me to focus on one or the other in an effort to fit into whatever situation I am in.
What would you do for a Klondike bar?
Normal things, like go buy one or ask a friend to share.
What has been your best moment while coaching soccer?
Soccer has given me a lifetime of great moments. I could fill volumes. Our current team will always be a favorite of mine, because we are having a great time training together even though we can't play games this fall. It's not perfect, it never is, but the energy and effort you all bring in the name of team and love of the game is awesome to be a part of. I am grateful. My "best" moment was a shootout victory at Elms College in the NECC Conference Semi Finals while coaching at Newbury College. We were down 0-1, we rallied and scored an improbable, late goal and pushed the match to penalty kicks. Our first two guys missed. We were down 0-2 in a best of five scenario. Not a good feeling. We made our next three shots and our goalkeeper saved three straight pk's. It was epic. We won 3-2 in penalty kicks and advanced to the conference championship game for the second time.
What's your superpower?
I think it is parenting. That is the thing I seem to be able continue to do with total dedication no matter what obstacles or challenges are thrown in my way. I have always got time, love, patience and energy to spare, even when I do not.
If you were a superhero, what would your weapon of choice be?
Not sure about this, a really good one though, with tons of options. For instance, I would like a weapon that could allow me to make someone stop doing something awful without actually blowing them up.
What do you think of garden gnomes?
This question marks the first time I've ever seriously thought about garden gnomes. I'm okay with my lack of awareness on this issue.
If you could go back in time, what time period would you go to?
This is an awesome question, and I could ramble on about options for days. I have always thought it would be cool to run around in the 50s, but I would also like to re-visit the HORDE Tour so I could take more time to truly appreciate how awesome that was.
What's the best/worst piece of advice you've ever received?
"You should totally get the band back together."
What's the meanest thing anyone has ever said about you?
I am guessing that the meanest thing someone said about me was not said directly to me, so I am likely completely unaware of this atrocity.
If you could be any animal, what would you be?
Another cool question to ponder. I honestly really enjoy being the animal I am, but if I had to make a change it would have to be a bird of prey or a dolphin.
Would you rather have one horse-sized duck or ten duck-sized horses?
If the horse-sized duck was nice and cool, it would be like having a friend who is a flying boat. I would have to say horse-sized duck.
What do you like most about yourself?
Another awesome question. Difficult to answer, but at the end of the day, I believe in myself, and I like that.
Sombrero or fedora?
Ok, I have a big straw hat that I wear on sunny, hot days. You don't see it often, but when it's right, it's like its own ecosystem. I love it. The sombrero or fedora does boil down to I just wouldn't normally wear either.
What is your favorite piece of clothing you own?
Any article of clothing that says "Gore-Tex."
If money wasn't an object, what would you buy?
Whatever I wanted to buy. Maybe a second, super-friendly horse-sized duck.
What's your favorite Star Wars quote?
My son, Xavier, who is seven, is all about Star Wars right now, and we recently watched all the movies over again. This quote stuck with me. I went and looked it up. From the "Last Jedi," Yoda is speaking to Luke, "Pass on what you have learned. Strength, mastery, hmm… but weakness, folly, failure also. Yes: failure, most of all. The greatest teacher, failure is. Luke, we are what they grow beyond. That is the true burden of all masters."
What do you think other people think about you?
I am regularly surprised when I hear what people think of me, and that can be both positive and negative. It's really up to other people, I am who I am but I have learned a lot from being open to others observations.
What is your guilty pleasure music/book/TV?
I am a long time fan of Widespread Panic, and I will still go out of my way for shows. Live music in general and the shows "Shameless" and "Letterkenny."
What wouldn't you do for a million dollars?
I am all for having a million dollars but there's plenty of things I would pass on. I have my pride.
What obsesses you?
Lots of stuff, mainly trying to figure "it" out.
If a film were to be made about you, who would you cast as the lead?
I think I could play myself. Does it pay?
What are you superstitious about?
Nothing major, but I will wear certain things on game day for good luck.
What would your last meal be?
Hopefully something great. Hopefully I will be surrounded by people I love. If I could only go to one restaurant for the rest of my life, I'd hang at my friend's place in Randolph, Vermont, The Black Krim Tavern.
Who would you want to be for a day?
Shane McConkey.
What inspires you?
People who act with great compassion and great conviction.
If you were stranded on a desert island, what movie/album/books would you bring?
Plenty of blank paper, pencils and a guitar.
What fictional character do you identify with the most and why?
This is another interesting question. I definitely borrow the cool things I enjoy from varying sources. I cover cool music, and I quote funny movies etc. For a fictional character, I'll go back to my youth. My favorite book as a young man was a book called "My Side of the Mountain." I always dreamed about leaving and living by myself in a hollowed-out tree with a peregrine falcon for a best friend. I still do… A side note; this answer got me to search for this book for my son, and I had no idea that the author expanded on this 40 years later and it's a trilogy now!
What has been your most embarrassing moment?
It MIGHT be answering this question honestly, but I am not falling for that. I will say this. As a senior here at Johnson State College, I was the editor of Basement Medicine. In my final column, I neglected to thank my mentor, Catherine Bodnar. If it wasn't for Catherine spotting my writing ability, I would have never worked as a journalist and I am forever grateful for her support and guidance. I was embarrassed to have neglected to thank her publicly. Thank you, Catherine.
What's the best/worst thing someone's ever said about you and why did it resonate?
FINE! You keep asking this question, so I will reluctantly bite. You REALLY seem to want to know what others are saying. When I was coaching at Newbury College, I had a great group of players who fully embraced our team and the mindset of family. I was always trying to create super inventive training sessions and re-invent the wheel. One day, while trying to re-invent said wheel, a player I'd known for 4 years and who remains a friend to this day said, "Coach, you're forcing it." That was all he said, but he was right. I listened, I let things breathe a bit and they worked out fine. It was profoundly simple and profoundly helpful input.
What do you want to be written on your tombstone?
I do not want a tombstone. These questions are hard enough. Writing a headline for your eternal slumber seems very daunting. I would rather focus my energy on my last meal, and maybe one last ride with the family on my horse-sized duck.
About the Writer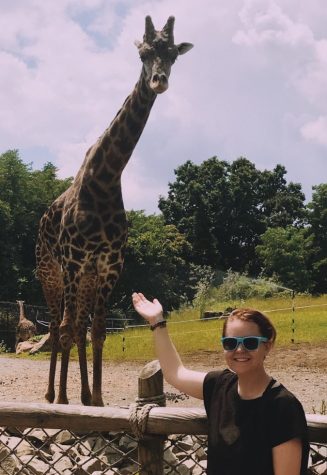 Allison Irons, Sports Editor
Senior, Pre-Law & Journalism
Grew up in Middle Town, NY
Fall 2019 - Present

My spirit animal is a Narwhal because they are the aquatic unicorns!