Marsala Salsa reborn in Johnson: South of the border flavors on South Main
With the dissolution of Downtown Pizzeria and Pub comes a new restaurant contender to Johnson's 21 Lower Main Street, Jan Chotalal's Marsala Salsa, an intriguing fusion of Caribbean, Indian, and Mexican style cuisine.
Locals may be familiar with Chotalal's cooking as her previous restaurant of the same name served Waterbury for 22 years before closing in Sept of 2012 so the owner could focus on her health.
Now looking forward to serving the community again, Chotolal and her small amount of staff proceeded with a soft opening on March 15 and have been slammed with hungry and curious patronage ever since, aided only by word of mouth as they've forgone advertisement while making adjustments to the kitchen space, menu, and staff.
I started my meal with a cup of dhal, an earthy and light Indian curry soup with a puree of split peas, cilantro, garlic and onions. For the cilantro haters, this soup leans more into its garlic and curry flavors with only slight notes of the contentious herb. It also comes with a delightfully warm and fluffy homemade naan. At $4.25, it makes a flavorful and affordable app compared to some of the other options (i.e. the $14 three-dip combo) and its larger portion would make a wholesome sick day soup delivery for friends and other loved ones. While the spicy chicken tacos struck me as quite mild, their jerk chicken sandwich was beautifully blackened on a toasted brioche bun and covered in sweet and savory caramelized onions.
In defense of Marsala's spice factor, other patrons sitting at the bar with me, who had followed Chotalal here to dine with her again, attested that her vindaloo curry (which is not on the current menu as of now) is VERY spicy. Fellow patrons Julie and Rand also said the $10 margaritas were excellent and to look out for her coconut custard when it is featured for dessert.
That night's dessert options were a chocolate coconut bread pudding, which like all the menu items, are made to order, and deep-fried honey bananas, served with vanilla ice cream and a chocolate drizzle, the latter of which was marvelously crispy and not at all too sweet.
The menu features several curry infused spicy dishes, as well as build-your-own style burritos and enchiladas.
For the less adventurous, there are even traditional American and Italian offerings like mac and cheese, chicken parmesan, homemade lasagna Bolognese, and pizza (the venue still retains Downtown's pizza ovens). While these ovens weren't being used yet when I went for dinner, I'm sure because of the limited staff, the menu includes familiar classics like its Garden Pizza, Ava's Island Pizza, and the recognizable Vermonter, covered in cheddar, apples, ham and chicken, with a maple drizzle.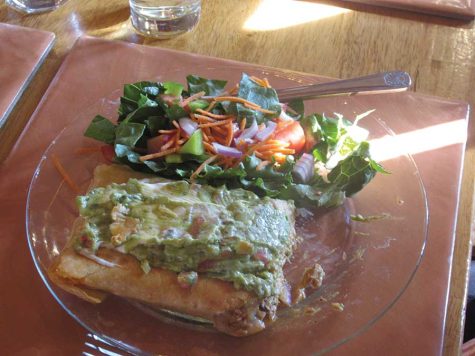 Vegetarian options like the chickpea burger, West Indian salad, and tandoori veggies look promising as well, and gluten-free friends will be relieved to hear there are some substitution options for the pastas and 12" pizzas (though these include the typical upcharge, at an average of $4.75).
One great example that meets both these needs are the roasted veggie tacos, featuring sweet potatoes, chickpeas, broccoli, and onions topped with a mango salsa and wrapped in a warm corn tortilla.
For students on a budget, however, many entree items might seem expensive. The tandoori and West Indies brown chicken are both $17.75 and the chicken piccata is $26. It helps that all the Caribbean dishes are served over rice and with naan they should be very filling.
For most entrees, serving sizes seem large enough to split between two people, though diners-in should note the $3.00 split plate charge.
There are more affordable options on the menu's "lite fare" section to consider, and the West Indian and house salads are very reasonably priced at $6.75 and $7.50. To split takeout with friends or as a date night, Marsala Salsa would make for a great change of pace.
With its eclectic music, warm colors, and soft inviting lighting, the venue includes more personal touches like children's coloring book pages hung behind the counter (a little pink cat wearing sunglasses, probably done by one of Jan's children, comes to mind) and fun little bedazzled sombreros. Although it did take some time to get my food, having been a server I understand the struggle to keep up with such a small staff. The two waitresses were also bartending and despite the room being seven tables full plus the bar, they were kind, friendly, and as attentive as humanly possible.
Jan Chotolal herself even came out of the kitchen to greet patrons and check on everyone, commenting how grateful she feels for all the community support.
It will be interesting to see what changes Chotolal decides to make to the menu as she receives feedback from more diners and is able to add on to her staff. Curious eaters can visit Marsala Salsa from 3:00-8:30 p.m.Wednesdays through Saturdays, or call (802) 635-7626 to inquire about takeout.
View Comments(1)