The play's the thing
Cody Logan is a JSC senior majoring in musical theater. He has appeared in many JSC productions, including "Grease," "The Importance of Being Earnest" and "Cabaret."
Why do you snap instead of clap for people?
Usually people clap. I like to be different than everyone else, not because I want all the attention, but because I think it's funny to go against what everyone else does. My senior year of high school was really zen and people would just snap a lot for the end of presentations. I only do it now when I'm in a group, and I barely do it anymore. I'll only do it in a group just to be different and then people are like, "Oh, that's cool! Why are we snapping now?" And then I'm like, "Hi, I'm Cody Logan, nice to meet you, I'm the kid that snaps."
Do you believe in ghosts?
As a theater major, you get told a million different ghost stories, so I fully believe in the paranormal. Being an RA doesn't help because I also hear about the ghost stories of residential halls. I did see a ghost my freshman year in Senators dorm. I lived on the subfloor of Sens, which apparently is the haunted floor. I was washing my hair in the sink, and it was really early in the morning, around 6:30 am. All the doors [to the bathroom] are really heavy, so you can hear if they open or close. On top of that, it's so early that if anything happens in the resident halls, you can hear. As I'm drying off my hair, all of a sudden, I see someone peek into the bathroom, and then walk out. And then I'm waiting to hear a door close outside, and nothing happens. It's as if someone walked in, saw me, and was like, "Oh, someone's there." I literally freaked out. I called my mom as I was shaking. Apparently, at that time, there was a ouija board going around too. My friend saw something and all this other stuff.
What is the magic of theater?
It's funny. In high school, you usually block off a section of the hallway for changing rooms. And people in my high school are like, "Don't go to the bathroom, you'll let the magic out!" I would say the magic of theater for me is telling a story. Theater is watching life happen around you. You go to see a show for two purposes, either to gain information or to be entertained. A musical, like cabaret, which we did last semester, is like informational. Throwing history lessons [to the audience] about what happened during the Nazi era. The magic of theater is that you are showing how they act and how you can portray all these different ways of life on stage. I've been really into this musical called 'Fun Home.' We have been studying it in Issac Eddy's "Contemporary to Dramatic Literature" class, and it's about this woman Alison Bechdel, who lives in Burlington. It's interesting because you're watching this and it's basically a story about her relationship to her parents. It's so heart wrenching because it's real and it's genuine. It's something I love about theater. You feel for these people [when watching a play], there is a live connection between the actors and the audience. I really love watching real connections, being in the moment.
Thoughts on the production of "Antigone"?
Antigone is something I have never done before. Antigone was immersive, devised production, meaning we made that production ourselves. I can get afraid of that kind of work, because it's not like a regular show where you get the script and study your character's development. Antigone is a whole different style in of itself, where as we took three different scripts. I didn't know how we were going to make it this thing. But we ended up creating Antigone from three different variations of the show. I think the hardest part was that everyone had these amazing ideas, it wasn't like any other show. It was more of a collaborative process. [Instead of the director coaching us on character development], it was more of the director asking us, "What do you think?" We would read scenes, and then improv the scene. I think what we came up with was an amazing piece of theater that nobody around here knew about. It's was so weird, but it wasn't because we haven't done. People get scared about things that they don't know anything about, which also scares me.
What's your most embarrassing theater story?
Everything seems to happen to me. I've broken things on stage, I've had costume mishaps. I was in the "Rocky Horror Picture Show" at Stowe Theater Guild. I played Brad Majors, and he has to wear underwear the entire show. I was singing and dancing in my underwear in front of 200 people every night, which usually is someone's worst nightmare, but I was at an all time high. I bought a dance belt, and what that is is a kind of compression shorts for dancers, so a nude diaper so that people can't see your junk. So I was performing in the invited dress rehearsal, where the board members of Stowe Theater come and watch the show. After the show, one person who watched show came over and said, "Cody, you need a bit more padding." I was like, "What are you talking about?" And he's like, "We could see your junk, the entire second half of the show."
What's the most difficult role you ever been in?
I feel like every role that I do is a new challenge, which I think is good because it makes you think. I played this role sophomore year called "The Boys Next Door" and it was about four or five handicapped men in a group home. I played this guy named Arnold who was a manic depressive. That role was really challenging because I don't have that, and so you have to ask is, "How do you as a college student play this without making fun of it and at the same time being the most honest you can be?" I worked a lot on why my character would be doing this, why would my character be freaking out, what would my character be thinking. It was a thing of just being in the moment where you don't know what you would be saying next, so you are always thinking. That show was the first for me for true character development. That role was really hard but in the most rewarding way. I actually got an award nomination out of it. The other really challenging one was Cliff Bradshaw in "Cabaret" . . . because I'm usually a song and dance guy and he sang 20 bars in the show and danced none. Doing a musical where you are mainly an actor was pretty hard. It was hard also playing and relating with Cliff in some ways because I can't. There was a scene where Cliff's lover had an abortion and I had to recall a moment in my life to substitute anger for when I had to slap my character's lover. The whole second half of that show was one depressive moment after another and it's hard to get into that mindset.
Have you ever seen a Broadway show?
Yes! Before college, I had like five times where I planned on going to New York City and I didn't. I live two hours from the city and so I would always would want to go down, but something would come up. When I got to college, I had a friend who moved into Manhattan for college and told me that I should come up. The first time I went down, I was speechless. I am so passionate about theater, this is what I do in life, so to go to Broadway was amazing. I'm always up on the Broadway four-one-one, all the news going on there. I've seen two Broadway shows, I saw "Chicago" last February because of how I did the show over the summer, and I was like, "My first Broadway show should be one that I did." I saw that. God, it was so good. After the show, I met a bunch of the actors by waiting outside the theater for the actors to come out. I just talked to them like they were actual people. They realized that I was legit, this is what I do. We talked about how I was in "Chicago" and the business of theater, and this is like at 11 o'clock at night. It's so cool to to talk as actors, and they are more than willing to. Over the summer, I saw "Charlie and the Chocolate Factory," mainly because I had a crush on one of the leads. And again, at the end of the show, I waited backstage to talk to the actors and had conversations with me. The funny thing is that I don't picture myself being Broadway-bound. I'm not like the stereotypical "I'm going to bring my two bags and go to New York City and audition for shows and make it to Broadway!" That's not where I see myself going, but it's cool because every time I go back, it's less of this heavenly, Hollywood famous experience because the actors are just regular people, auditioning for shows and acting them on Broadway. It's less of this fantasy and more reality. You realize it's just a job. It's an amazing job and literally a lifetime achievement, but it's cool now to think of it as something I could possibly do.
What's your post-graduation plans?
I don't know, I just live my life day-by-day. I am now applying again for the Disney college internship program. Didn't get in the first time, but I see myself doing different things. I know I want to keep learning. College is just step one. People who go to Broadway take voice lessons and go to class, so it's just an ongoing learning experience. You're never done because things are constantly changing. I plan on continuing to learn more about me, who I am and what I have to offer. A lot of personal discovery. If my life brings me to Disney, I would work for Disney for seven months, save up my money, and then audition for entertainment. I can see myself going down south, specifically Florida, because it has a lot of options with cruise lines and entertainment stuff.
What do you want your legacy to be?
To learn the things that I learn. Just know that you are the baddest bitch that you can be, you can slay all day. Nobody is you, you are you. That's something that I struggle with every day of my life and it's really hard. Just accepting who you are as a person, what you can and can't do. This isn't really a legacy but more just advice. Honesty is the best thing. Being honest with yourself and others, just being open and accepting.
About the Contributor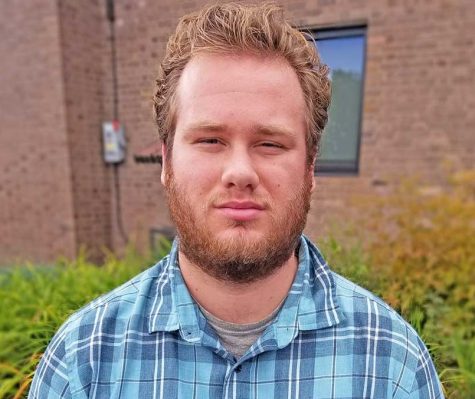 Patrick Bell, Sports Editor

Senior, Journalism
Grew up in Charlestown, RI
Fall 2017 - Present