WJSC's eclectic mix
It's a busy semester at the WJSC 90.7 station in Stearns this semester. With nine planned shows in Spring 2019 spanning over 15 hours plus drop-in DJ time, WJSC has quite a lot to listen to.
Student manager Seth Knight had positive things to say about this semester's progress as a radio station. "This semester we've done a whole lot better than last," He said. "We've got a whole lot more shows."
Currently, WJSC has 10 shows over the course of the week. From Harry Abramsohn's Monday afternoon jazz to Jared Aldi's midnight metal and grindcore on Thursdays, listeners can expect a wide variety of music.
Abramsohn, who works on two shows for WJSC, had never had any experience with radio before WJSC. He currently hosts "New Groove," a jazz show set for Mondays at 4 p.m. He also runs another show with other DJs, which usually occurs around 3 p.m.
"It's pretty random," he says. "We just grab people outside the radio room and interview them about music. It's a really freeform show."
Abramsohn says the details haven't been finalized on the name of the show, but listeners are encouraged to stop by and get pulled in. "The working title is Uncle Pete and Harry the Kid. But arguing about the title of the show is part of the show."
Wednesdays it's all about rock and roll. Paul Mitro, aka Blinky, runs "Church of the Sonic Guitar" from 6 to 8 p.m., and Les Mawson's show "Deep Blues" runs from then until 11p.m. "These are really great DJs," says Knight. "Really smooth shows to listen to."
Along with Abramsohn's show, DJ Big Homie Wes runs his rap and hip hop show "Straight Outta Johnson" on Thursday nights.
Thursdays high school sports fans can listen to their updates from DJ Jack from 11:30 a.m. to 12:30 p.m.
DJ Nic Flair runs his show for two hours starting at 1:30pm.
"And if you really want to stay up late," says Knight, "Jared Aldi has a really late show on Thursday nights called 'JJ's Power Hour.' He plays really heavy grindcore and metal." Aldi's show starts at 10 p.m.
Saturdays, from 10 p.m. to 12 a.m. listeners can listen to another rock show, Nick Mueller's "The Zoneless".
Fridays and Sundays are open all day, so there's plenty of time for new DJs to have a show. "It takes a lot of responsibility, but it's really pretty easy," says Knight. "You can either email me or Jeff Angione, the station advisor. Nine times out of ten I'm gonna send you to him, regardless."
Angione, who is also the circulation coordinator for Willey Library, has a long-standing show in Morrisville on WLVB, "Lamoille county's most listened-to radio station," according to their website. Angione has over 20 years experience in the music industry.
Knight says, "He built this station from the ground up. It's his baby."
Potential DJs can expect a short interview with Angione, and then a period of observing other DJs to understand the responsibilities of the station. "From then on, you'd sit in with another DJ. It could be me or someone else," says Knight. "From there you'd do a 15-minute mock show, then a full hour, where you'd put together songs or jokes, and then Jeff will look over or listen in from his office, just to check in. That's about it. It's really easy, and it's fun."
"I think radio is coming back onto campus," says Knight. "Worldwide, it's going away. We're gonna be the generation that watches that."
But that doesn't stop the DJs from loving what they do. "I do it because I'm obsessed with music and audio recording," said Knight. "I stay as the manager because it's a great way to feed that obsession, as well as meeting new people and sharing this love for radio with everyone else whether they like it or not."
Abramsohn has similar sentiments. "Jazz has always been my favorite genre of music and by far the one I know the most about, although I sometimes play other stuff like funk and some rock songs at times. I started doing radio because it seemed nice to have a room to just chill out for a couple of hours in and listen to music, since I don't live on campus and it's not worth driving back to my house between classes and band. Since then I've gotten more involved with it."
WJSC has plenty of openings for DJ slots and tons of time for shows. Contact Jeff Angione or Seth Knight for more information.
About the Contributor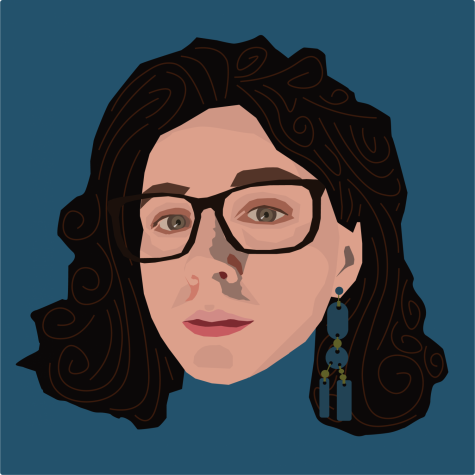 Rebecca Flieder, Editor-in-Chief
Senior, Journalism & Creative Writing
Grew up in Atkinson, NH
Fall 2018 - Present
Along with traditional journalism, I enjoy writing satire and...