Eight student-athletes earn 2014 NAC fall all-academic honors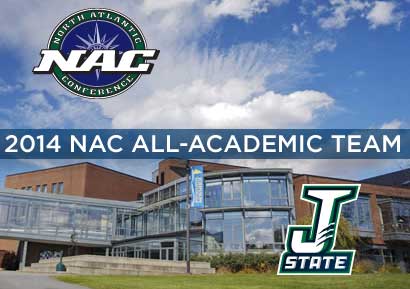 Johnson State and the North Atlantic Conference are proud to announce the 2014 Fall All-Academic honorees. Eight Johnson State student-athletes earned a spot on the prestigious list. In total, ninety-eight student athletes who participated in a fall sport received recognition throughout the conference.
The NAC All-Academic Team recognizes student-athletes on varsity sports teams who have earned a grade-point average (GPA) of 3.50 or higher on a 4.0 scale. Student-athletes must also have reached junior academic standing and competed in a minimum of two years of varsity competition at their institution.
The 2014 Johnson State fall All-Academic Honors athletes are:
John Dabrowski | Jr.| Political Science | Williston, Vt.
Steven Lamonde | Jr. | Integrated Environmental Science | Hingham, Mass.
Noi Jones | Sr.| Business Management | Morrisville, Vt.
Dylan Dalmata |Jr. | Media Arts | Johnstown, N.Y.
Eliza Chevalier | Sr. | Biology | Alburgh, Vt.
Alexa Jakiela | Jr. | Art Education | Middlebury, Conn
Michelle Mainus| Sr. | Business Management | Galeton, Pa.
Andrea Williams |Jr.|Physical Education | Parks Falls, Nova Scotia