Khan hits 1000th, seniors shine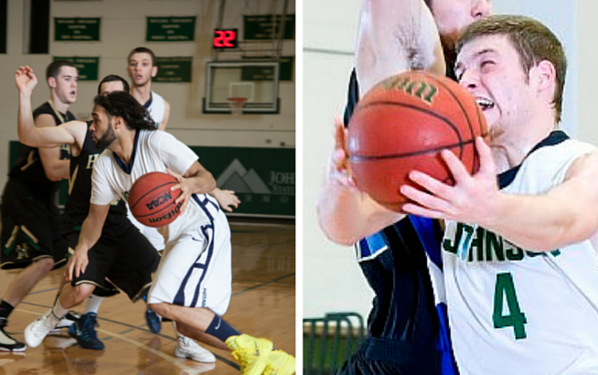 Johnson honored seniors Ron Adrian and Cory Chase, and witnessed Asim Khan hit his 1000th career point on Saturday afternoon in Carter Gymnasium. The Badgers ultimately fell 92-88 to Husson University despite a thrilling ending and a balanced attack. With the loss, Johnson falls to 3-20 overall and 3-13 in the North Atlantic Conference while Husson improves to 17-5 on the season and 13-3 in the conference.
With the score 7-0 early in the contest, Johnson – on two lay-ups and a free throw from Adrian – entered the game and managed to get back within striking distance. Husson continued to dominate play through the early part of the first half, but a 3-point jumper from Terrance Manning closed the gap 35-32 with just 6:02 remaining. Despite the Badgers' efforts, Husson closed out the half ahead 50-44.
Husson continued to build its lead throughout the second half until a 9-3 run with 6:30 remaining sparked the Badgers' offense. Two minutes and two made free throws later from Adrian, the Badgers tied the game up 81-81 with just 4:18 to go. Husson pulled ahead again only to see Adrian sink a crucial trey brining the score to 89-88, but that would be the last baskets for Johnson as Husson closed out the game 92-88.
Adrian finished with a team-high 23 points and four assists. Rob Hazard put 14 points on the board in the Badgers losing effort while Khan and Miphael Dominique each contributed 12 points.
For Husson Trevon Butler poured in a game-high 28 points, pulled down 10 rebounds and added one helper. Raheem Anderson notched 20 points in the Eagles win, closely followed by Jacob Moore's 17 points.
Johnson will host New England College on Thursday for its final home contest of the season for a 5:30pm tip-off.