Matt Jason to play for Badgers starting in 2015-2016 Season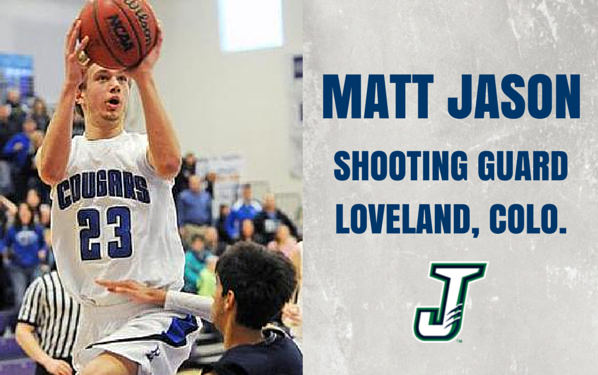 Matt Jason has deposited at Johnson State College and will play for the Badgers men's basketball team in the 2015-16 season. The 6'3" senior shooting guard currently attends Loveland High School in Colorado.
"I am extremely excited about the opportunity to attend Johnson State College and even more excited to get the chance to play and be a part of the basketball program there under the direction of Coach Verdell," said Jason. "I will be afforded a great opportunity to come in and help contribute to the future success that we want to have at Johnson. I truly believe that the vision and direction that Coach Verdell is trying to take the program is something that we can and will attain. I am just eager to get to campus and start contributing to that success by whatever means coach needs of and expects from me."
Jason is a three year starter throughout his varsity career and averaged above a 3.0 GPA throughout all four years in school.
Coach Tommy Verdell said of Jason, "We are extremely delighted to welcome Matt Jason to our basketball family here at Johnson State College. Matt is a prolific long range shooter with comfortable range to the NBA three point line. His ability to shoot the ball from that range will be a tremendous asset to our offense and our ability as a team to space the floor. I would describe him as a sniper with playmaking ability because he is very proficient at getting others involved as well from the shooting guard spot. He is a solid team defender and as he continues to get stronger I truly believe his game will reach heights that he himself can't even imagine. His best basketball is for certain ahead of him and I am excited to see his growth as a player and how it will help us here with our basketball program over the course of his four years here at JSC."
Tommy Verdell took over the men's basketball program in 2013 and has been actively recruiting both in-state and nationally.