Smith earns 22-4 victory over Johnson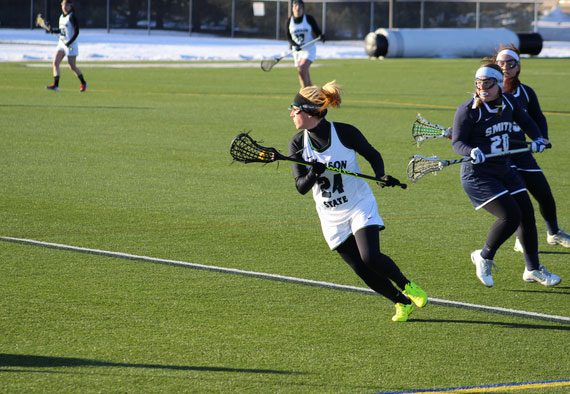 Johnson State College women's lacrosse dropped a non-conference tilt to Smith College 22-4 on a blustery March 19 at Duffy Field on the Campus of St. Michael's College. Smith advances to 3-4 overall while Johnson moves to 1-1 on the young season.
Johnson State saw four goals from Nichole Weeks and then one a piece from Kylie Aither and Danielle Mayo. The Pioneers were led by Rachel Silveria who netted an impressive six goals followed by Petru Bester who posted five goals.
Smith College went ahead 3-0 early, just five minutes into the contest and never looked back. The Pioneers used sharp stick skills and quick off-ball movement to built the lead to 11-0 before the Badgers would get on the board. Johnson ended the half strong scoring twice in as many minutes to head into the intermission down 11-2.
Jenny Estes opened up scoring for Smith just :50 seconds in followed by two more quick goals to go up 15-2. Weeks answered one goal back for the Badgers before another 4-0 run by Smith. The Badgers would score one more time, but it wouldn't be enough to stop Smith from rolling to a 22-4 victory.
Samantha Jankowski made 10 saves while Sarah Price stopped seven shots.
Johnson will return to action Saturday as it kicks off conference play against Husson at 1:00pm. Smith will visit Wheaton College for its first conference tilt of the season next Wednesday March 25th in Norton, Mass.