Marqwon for the Wynn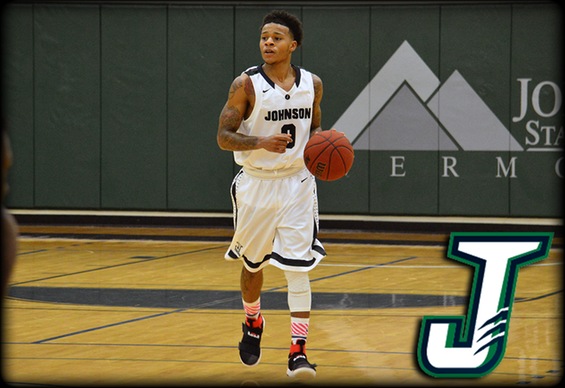 Fortunately for JSC, Marqwon Wynn, a senior guard for the Johnson State College (JSC) Men's Basketball Team, has found a real sense of family in Vermont, far from his hometown of Wilmington, Delaware.
Although the Badgers have slumped of late, dropping three consecutive games, Wynn's play has been impressive throughout. He currently leads the team in minutes per game (35.7), points per game (17.7), and assists per game (4.7), and poured in a season best 29 points during their Nov. 21 loss to highly ranked Middlebury College.
Wynn, who is majoring in business with a minor in sport management, began playing basketball in middle school in his home town of Wilmington, Delaware, and quickly discovered he had a potential within the sport. "I started playing when I was about 14," he said. "I realized I could compete at the college level when I started on the varsity basketball team my sophomore year in high school. At that moment, I realized I was good enough to at least compete at the next level."
Upon graduating high school, Wynn attended Wilson College in Chambersburg, Pennsylvania, for two years where he played for current JSC Men's Basketball Coach Miles Smith. When Smith was hired by JSC and departed from Wilson College, Wynn decided to join him. "I like to travel and try new things," Wynn said. "So, I figured, why not go all the way to Vermont?"
Considering the distance Wynn has traveled to continue playing for Smith, it's unsurprising that the Badgers' coaching staff is what he enjoys the most about playing at JSC. "It just feels like we are all one family and not just a bunch of random players that are on a team," he said. "The coaches actually care about the players and will do anything and everything to make sure we are in the best position to be successful in life after college. What I like about attending JSC is the attention and love I get from the faculty, staff, and students just for being on the team. It just makes me feel good as a player."
Wynn attributes his success both athletically and educationally primarily to his mother, Tina Wynn. "I wouldn't be in the place I am today without my mom, that's my everything!" he said. "She will literally do anything and everything to make sure I am straight. Also, Miles Smith as well. From the beginning, he allowed me to be the best player I can be by maximizing my strengths and continuing to get better and better at it. Also, the time and effort he has put into my game shaped me into who I am today."
Even when Wynn isn't playing basketball he spends his time refining his craft. "In my free time, I like to watch basketball and work out," he said. "Other than doing homework or studying, all I really do is try to better my game every day."
In fact, Wynn watches so much basketball that he doesn't truly have a preferred professional team. "I kind of watch all NBA teams so I don't really have a favorite," he said. "I model myself after Russell Westbrook and Kyrie Irving and they are also my two favorite players."
Thus far the season has not gone as expected for the Badgers, but Wynn remains positive and confident. "It's pretty early in the season, so it's kind of hard to define who we really are as a team," he said. "One thing I know is that we play hard and give it our all each and every night on the basketball court. Our goal is to win the NCAA championship. I feel like we have the perfect team with the perfect players and perfect coaching staff. We just have to come out every night and compete with whoever no matter who they are. I feel like it can and will happen this year."
Wynn will graduate in 2018 and is open-minded as to what the future may have in store for him. "After college, I would like to pursue a basketball career but I know that everything doesn't always turn out how you want it to be, so I'm prepared for whatever," he said. "But if I am not playing basketball I would like to find a career that I enjoy and also having something to do with my degree in business."