Cairns honored for NAC steeplechase championship
On Feb. 2, before the men's basketball game against Thomas College, JSC honored Brynn Cairns for her role in winning the North Atlantic Conference (NAC) championship in the event of steeplechase during the track and field season. During the ceremony, President Elaine Collins, Director of Athletics Jamey Ventura, and the head coach of track and field team, Shawn Woods, presented Cairns with a NAC championship banner and ring to commemorate the accomplishment.
The event of steeplechase, as described by Cairns, is a 3000-meter race, and for each lap around the track, there are five barriers, which look like balance beams, and one barrier at the end of the track, followed directly by a water pit.
Woods describes the qualities that a steeplechase athlete must have to achieve anything in that event, all of which Cairns has.
"It really starts with her event, because the steeplechase is, in my opinion, the most difficult event in track because you have to be a distance runner. One of her qualities as an athlete is that she is an all-NAC distance runner," he said. "That starts with the fact that her background in running is solid. You don't accomplish that in that event unless you are a good cross country runner, and she has worked really hard throughout middle school, high school and college on cross country running. The other quality that she possesses is that she works exceedingly hard at practice and has the ability to get back up if she falls down and keeps going. She is tenacious and she wants to excel."
For Cairns, there is a lot of work involved to remain competitive in the steeplechase event, even during the time of the year where the season hasn't even started.
"It's certainly been a lot of work at practice," she said. "There's offseason, which is known for being the month between seasons and, during that, there is constant work that is very hard. A 3000-meter race is an awkward thing because it's kind of distance, but at the same time, not really. In that, you have to work on things a lot longer to keep up the stamina and sprinting."
At the start of her collegiate career, the track and field team was in its infancy, starting off as a club sport with few members and growing into a Division III varsity sport that has a hard time getting invites to meets.
As she competed year after year in the steeplechase event, she was less focused on winning the NAC championship and more focused on her personal records and her ability to compete in the event she has fun with, even the day of the NAC championship meet.
"I was enjoying steeplechase and my times were getting better, but I wasn't really winning anything," she said. "It took me a while to realize that I did anything impressive by winning that particular race because yeah, it was the NAC championship, but that's not the biggest race we go to — it's not the most exciting one — it's just all the schools in our conference. It was a really tough race to win. The girl who came in second put up a really good fight, but overall, it was just, 'I won the race, that's pretty cool,' and then three days later, I started getting congratulated by all these people who really shouldn't have cared about the race."
This accomplishment by Cairns is a first, not just for the event and sport, but also for the entire athletic program. JSC has never won a NAC championship since their move to the NAC in 2002.
"Obviously, if you walk into the gym, you'll see banners hanging all over from when they were a NAIA school where they had a lot of success," Ventura said. "Since we have been in the NAC, we haven't seen that success. At the sports banquet in Cairns' first year, I challenged everyone to be the first to raise a NAC banner, and three years later, she accomplished that. She has a banner that will stay up there forever."
With one NAC championship banner in the gym, Coach Woods hopes that more athletes will be able to add to that and continue a winning tradition for the track and field team.
"What's nice for a sport like track and field is that it is a team, but individuals can have a lot of success as well and win individual championships," he said. "I think that . . . my goal can be a little more realistic in the short term in trying to get some individuals to accomplish what Cairns did, and eventually, if you get enough of those [types of athletes], then you might be able to accomplish something as a team. Now that there is one name up there on a banner, it will cause people to say, 'Oh, I can get my name up there.' Not so much how to do it as a team, but it's kind of like building blocks to start with individuals and work your way up as a team. I like the team concept, but I am fortunate that built within my team is the ability to win at an individual level."
About the Contributor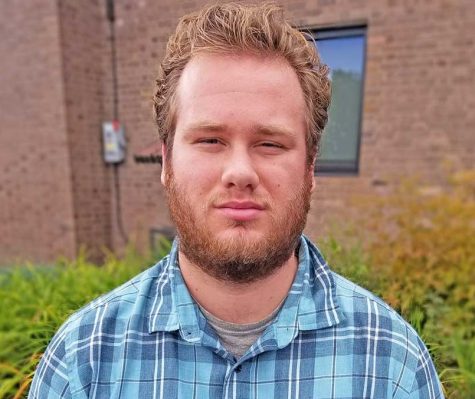 Patrick Bell, Sports Editor

Senior, Journalism
Grew up in Charlestown, RI
Fall 2017 - Present