New triathlon head coach aims to jump-start program
On March 6, JSC announced that they hired Kim Loeffler as the new triathlon head coach, the first in program history.
Jamey Ventura, the director of athletics at JSC, notes that the search committee had a hard time with the application process, not because they couldn't find anyone for the position, but because everyone who applied was extremely qualified, thus making the choice difficult.
"This was interesting," he said. "As a part-time position that we were hiring for, we usually don't get a lot of interest due to our rural location. That was still true here when hiring for a triathlon head coach, we only got 10 or 11 applicants, but the applicants had an extraordinary amount of qualifications. Even though we didn't get a ton of resumes, the quality of the resumes we got were unbelievable. I told the search committee, 'I've been doing searches for 14 years and that's the strongest quality of candidates overall that we have had. That reaffirmed to me that being the first institution in New England to offer triathlon as a varsity sport was a really good move. There isn't a lot of colleges that offer the sport yet, and so there is all these quality coaches out there and they are just waiting to get into a college level. The other thing that was great was that all three of our finalists for the job were local. It's like, 'We have this much talent right here?' It was probably the hardest decision the search committee has ever had to make because the candidates were so good."
Being local is an advantage for Loeffler and the school. She notes that the terrain in this part of Vermont is a really good area to train triathletes.
"The Green Mountains of Vermont offers a premier training environment for triathletes," she said. "Surrounded by six ski resorts, the cycling is epic. We have four mountain passes which Vermonters call 'gaps.' The four gaps are Appalachian Gap, Lincoln Gap, Brandon Gap and Middlebury Gap, which feature grades from 15 percent to 24 percent. A short bike ride away is Smugglers Notch, a seven mile, 1,600 foot climb to the summit with stunning views. On campus, we have the new SHAPE facility featuring a fitness center and a six-lane, 25-yard pool. The run training is also phenomenal with an extensive network of running trails and hilly dirt roads.  The challenging terrain is an advantage for our athletes."
One of the things that stood out in Ventura's mind while Loeffler was interviewing for the position was her knowledge of the sport and her ability to teach it.
"What stuck out in her interview is how well she knew the sport," he said. "She was breaking down a typical practice that she would run, going into depth on all three elements of the sport. Just the high-level experience that she had in being able to explain it really gave us the confidence that she could teach it. Not only do we think her experience will help her attract high level students, we think she will be able to improve the triathletes drastically based on her ability to teach the sport."
Her knowledge and ability to teach the sport comes from her experience competing in the sport for many years.
"I had the great fortune of being able to race as a professional triathlete for 12 years, she said.  "Over the course of my career, I raced with the best triathletes in the word. I've trained with Olympians and world champions, and have been under the tutelage of some of the best triathlon and running coaches in the world.  I am eager to share my knowledge and experience to enhance the college experience of our student-athletes and develop a nationally competitive triathlon team at NVU-Johnson."
Both believe that the school can be competitive in the sport right away, starting next fall. They believe that it helps to be a new school to the sport because the sport is so young. It allows them to attract good triathletes because there aren't many options to choose from.
Loeffler thinks that the college will benefit greatly from the addition of triathlon as a varsity sport and welcomes the challenge to build this program.
"The addition of women's triathlon will provide more opportunities for female student-athletes to benefit from being part of an NCAA team," she said. "I look forward to building the program from the ground up and establishing a positive culture that will lead to success within my team. It has been exciting to watch the growth of triathlon from its debut in the 2000 Sydney Olympics and now as an NCAA emerging sport for women. It will be an extremely rewarding experience."
View Comments(1)
About the Contributor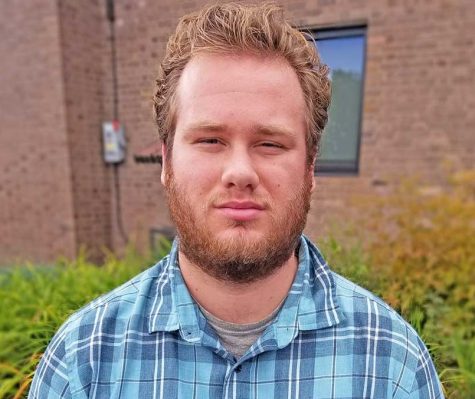 Patrick Bell, Sports Editor

Senior, Journalism
Grew up in Charlestown, RI
Fall 2017 - Present