Annual rugby tournament honors former player
Every year, the women's rugby team hosts a tournament to celebrate one of their former players.
The annual Alyson Finn Memorial Tournament will take place Saturday, April 28, on the rugby pitch at JSC at noon. A bittersweet celebration dedicated to a founding member of the women's revived rugby team, the tournament consists of a round robin with neighboring schools and JSC alumni competing in remembrance of her.
Family and friends of Finn come, saying a few words each year and giving their support to the tournament. The highlight each year is that all the players take the memorial trophy and give it to the tree that is dedicated to her near the field.
Finn was a student at JSC and was known to be a very outgoing person and great supporter of others. While a student here, she decided to start up the JSC Rugby club after a hiatus of the program for many years.
In her first year, the team went on to win the Division IV championship with players who had no idea how to play rugby just a couple months earlier.
She was the driving force of that championship run as team captain, showing a positive and competitive attitude that brought her teammates together. After she graduated in 2013, she had plans to go on a road trip across America with one of her friends, but tragically died in a car accident.
Gabi King, an alumna of the class of 2017 and former manager of the rugby team, knew Finn and notes how important she was to the team and her impact on learning the sport. "She was just such an awesome part of our team," she said. "I knew her because she would come in and help out the rugby team whenever our coach wasn't there. Our coach at the time would throw us into situations where he expected us to know what to do and we wouldn't. She would teach me techniques like how to scrum and how to lift for lineouts. We would have to lift her so that we could prove that we could do it."
After her death, team members started up and hosted the memorial tournament that following spring. King, along with her teammates, went out to perform for Finn, holding back tears. "The very first year, we had really good turnout of alumni show up," she said. "We had a lot of people from Lyndon show up who knew her and played against her. Castleton was the other school to come, so we had a bunch of teams to play against each other. The point wasn't just to win, but to play the game that we all love to take part in. The first year was very hard for all of us. It was still a brand new thing, but it gets a bit easier every year. There are still the tears and the memories of it, which is hard, but she's still in the back of our mind."
Finn's number on the team was 8, and King was able to wear that number one year, a highlight of her rugby career.
Colleen Hagan, a senior and team president at JSC, is in charge of running the tournament this year and hopes for it to be a huge success. "Even though I didn't know her, I feel like I have a connection to her because of the game, and it makes me want to advance the club in her honor. Most of the game we just try to be happy for the family, it's a big social gathering," she said. "We play tough for the games, but no matter who wins, we have a trophy and go over and give it to the tree in remembrance of Finn."
When asked about the future of this tournament, King hopes it will continue growing and continue the legacy of who Aly Finn was. "I'm hoping for it to become a bigger thing," she said. "In the first year, it was still fairly new, so it was kind of smaller. Obviously, a lot of the alumni are getting older — they're starting to have kids and families — so it's a lot harder since they're all moving away. I'm hoping, as long as we can get a lot of teams to come, this can be a yearly thing just to commemorate her. She just had such a huge impact on this campus that I hope it still lives on."
Even though Finn has passed, her legacy hasn't been forgotten. It can be remembered by one simple but powerful phrase every year the rugby team takes the field for the tournament: "Number 8 on the field, number one in our hearts."
About the Contributor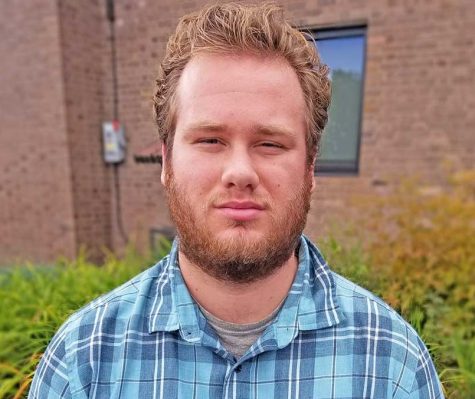 Patrick Bell, Sports Editor

Senior, Journalism
Grew up in Charlestown, RI
Fall 2017 - Present