New coach Keven John setting up volleyball for success
Volleyball is growing at a rapid pace at NVU-Johnson.
New this year to campus is men's volleyball. It's a sport, described by many, that is growing quickly at the high school and collegiate level.Vermont has only one other Division III men's volleyball team, Southern Vermont College. With no other competition in their conference, NVU-J men's volleyball team has themselves labeled as an independent, making a full schedule with neighboring teams around them in New England area.
The women's volleyball season started on Aug. 31 with a loss to Massachusetts College of Liberal Arts. Since then, they have won four games and lost five.
Keven John is coaching both men's and women's teams. Coming from Colorado, this is the first time in his 25 years of coaching volleyball that he's had an opportunity to lead both programs at the same time, which was one of the big perks for him to come here.
"Men's volleyball is about ready to pop," John said. "Title IX is one of the best things that's ever happened to sports, period. It has grown it in a huge way. But for every great thing, there are always some minor casualties and one of those minor casualties was men's volleyball. There was sports like men's football and wrestling that didn't have counterparts. So they added women's volleyball as one of the counterparts for football."
With collegiate and high school athletics constantly evolving, it has opened the door for new programs to be featured.
"Now there is more contact sports for women such as wrestling and ice hockey, there is more to offset the men's contact sports," John said. "So now volleyball doesn't need to be used as counterpart, so now a lot of states are making men's volleyball one of the high school sports and is growing like crazy. It's the right time to jump onboard with men's volleyball in college and definitely one of the reasons I was looking for a men's college job because it is really going to explode."
His coaching presence is already being felt on the women's team. Third-year player Kimberly Reville feels that presence, and along with new recruits, is a big difference from last year to this year.
"We have a lot more volleyball people [who have experience playing the game]," she said. "Our coach has a lot of insight, he's very knowledgeable, and he's sharing that, so that is good for us."
John believes that the women's team has great potential going forward, being able to compete well this season and using that to grow the program in the long term future.
"The women are going to be a completely different program," he said. "Anybody that saw the team last year will walk into the door this year, and if wow doesn't come out of their lips, I will be shocked. In terms of wins and losses, we will definitely win our share. I also believe that these young women, who are working so hard, are going to be the backbone of this program going forward."
The men's team, with only three players on the roster, is a work in progress. But John has great confidence in his coaching ability to make it work with men's volleyball, making sure that there is a great product on the floor for fans to watch.
One of the ways to grow a program, you need new recruits to come and play. For John, it's pitching to those recruits the things that he believes makes this place special.
It will be reaching outside and inside of Vermont to find kids that do and don't play volleyball and help them to become better volleyball players," he said. "Then just run a good social media campaign, to get the word out that we are recruiting, that this is a great place to be. Just letting the secret out there that this is a great, awesome place to be apart of go skiing, get out into the woods, and play volleyball. It's a great place and I love it."
About the Contributor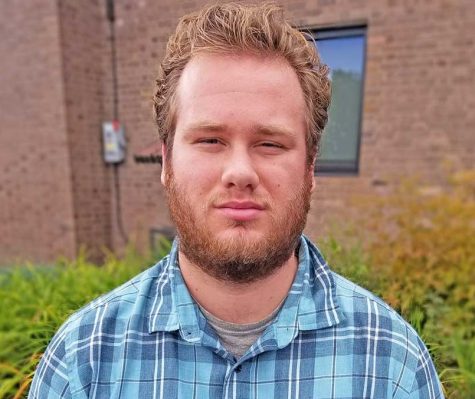 Patrick Bell, Sports Editor

Senior, Journalism
Grew up in Charlestown, RI
Fall 2017 - Present