Women's soccer looks to remain competitive with young squad
Third-year head coach Andrew Lafrenz and the women's soccer team are looking to work hard and grow this season.
Being a young squad with only one senior on the team is a big challenge to overcome. But with those challenges can lead to new, exciting opportunities.
"The challenges are that we have a lot of new kids stepping into more prominent roles, and that's where the opportunity lies," Lafrenz said. "You've got young players who can come in and contribute right away. That can be a very exciting thing but it's new players doing big things. They haven't had the opportunity to prove themselves yet, so now they are going to get that, but there is always going to be questions. It's just a lot of new people and we are looking to define roles."
For this year, one of the goals is to replace the seniors who were the stars of last year's team.
"Losing Kylie Aither and Nichole Weeks, that's a huge offense and defense loss for us," said second-year player Kelsey Cauchon. "Figuring out how we are going to overcome that is definitely going to be more of a team effort than an individual effort."
So far this season, the women have done well against their opponents. They are currently 4-3, with key wins against Vermont Technical College, Newbury College, and Paul Smith's College.
Cauchon has earned herself North Atlantic Conference Player of the Week honors with three goals in two games played.
Even with the good start to the season, Lafrenz believes there is still room for growth and development going forward, starting with their team identity.
"The identity that we are creating, I wouldn't say that we have created it yet, but what we are working towards is one of great cooperation and togetherness. That's where it needs to go," he said. "We have very young players who can do very good things, but we don't have that knockout star, so that has to be a very cooperative effort. That's part of the excitement, but that's part of what we need to grow. We got to figure out how to constantly look for each other, and work the ball and do all those things in a very cooperative manner but we haven't really done that yet. We are going to look at different ideas and formations that fits us. Start basic and comfortable and then we are going to grow to more complicated and hopefully still comfortable."
With a young squad, Lafrenz thinks that this year's team will be able to win their share of games.
"I think we can hang and compete [with the teams on our schedule,]" he said. "I think that this is a group who I don't think realizes how good they are at this point in the season because we haven't been tested enough to figure that out. I think we are going to have days where it's going to be really difficult, but I also think we're going to have days that we are really dominant. What we have to do is take those middle matches where it could go either way, and really start turning it in our favor. One thing that I will say about this team I notice right away is that we are very cohesive right off the bat. This is a group that walks together on campus a lot, they hang out, and do study halls together; and we are only into four days of classes. That aspect of things has been very cooperative, very good, and very energizing. I think that is something that's going to be a real strength for us."
About the Contributor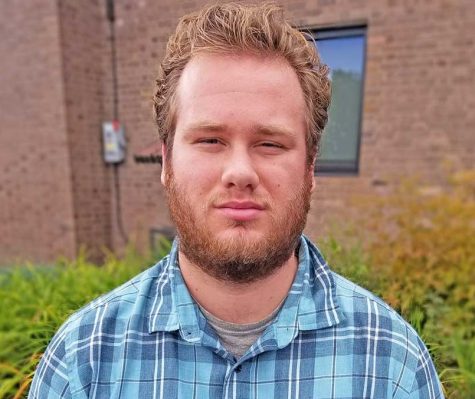 Patrick Bell, Sports Editor

Senior, Journalism
Grew up in Charlestown, RI
Fall 2017 - Present