Eckman hired as new associate athletics director
Greg Eckman has been promoted to associate athletic director of athletics at NVU-J.
"Greg Eckman has earned this opportunity," said Associate Dean of Athletics and Recreation Jamey Ventura. "Greg is perfectly positioned to take on the additional leadership role of running the day-to-day operations of our department. His energy and optimistic approach has helped serve our student-athletes and coaches well and I am looking forward to his continued contributions to our department's success."
Previously, his roles within the Johnson athletic department were as head coach of the women's basketball team and working with all athletes on campus with academics.
He still retains those roles, in addition to his new duties.
During the transition from JSC to NVU-J, Eckman was keeping an eye out for an opportunity that he thought he could thrive in.
"I just started seeing possible opportunities within the athletics department, he said. "Especially as Jamey was named associate dean, there was going to be a need on campus, a need for someone to step up and and fulfill the day-to-day stuff. Within the roles that we were all doing and the background I have in the Financial Aid office and my time working at IBM for over nine years, I have managed and coached teams before. I have a good working relationship with all of the coaches here on staff. I understand the daily ins-and-outs of the university fairly well, and I know whom to ask when I have questions. I felt like I could fill a role that my skill set would help us in."
One of the things he wants to do in his new role is to better market the athletic program and its student-athletes. He would like to see more in-depth information on the athletes be made available for fans.
One of the keys of that has been their social media platform. The men's soccer team has been particularly effective in this regard and he would like to see all teams on campus at that level.
He wants to make sure that people can watch games when they aren't able to make it to Johnson.
"Just making sure we are connecting with people who are at home trying to watch one of our games," he said. "We recently acquired some new technology that allows us to produce a more HD quality image on our livestream. I'm really excited right now about the game day experience for our student-athletes and our fans who can't always be on campus to watch our games."
All in all, Eckman wants to make sure that he can repay the university that gave him his first shot at a career in athletics.
"I am excited for this opportunity," he said. "Johnson gave me a chance to let me be an assistant coach, and through a lot of hard work, belief, and mentoring with Ventura and others, they really helped get me ready for this position and I'm very excited that they trust me. They let me have the reins over here to move this athletic department going forward. I'm very honored by that and not a day goes by that I won't bust my butt so that everyone here in our Johnson community can be proud of our athletic department."
About the Contributor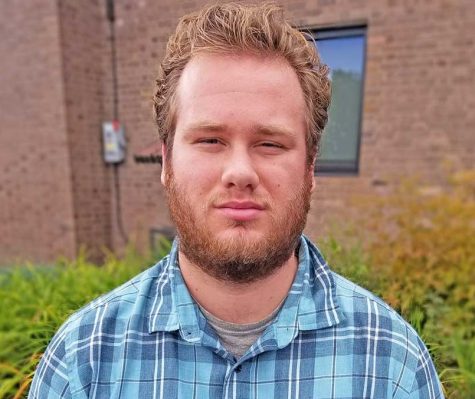 Patrick Bell, Sports Editor

Senior, Journalism
Grew up in Charlestown, RI
Fall 2017 - Present