John named NAC Coach of the Year
In his first season as head coach of the women's volleyball program at NVU-J, Keven John was named North Atlantic Conference Coach of the Year.
He inherited a program that hadn't won a game in their previous season and hadn't been that successful in the seasons prior. This season, his team earned 10 wins and one of his players, Nikola Knapova, was named to First Team All-Conference.
John credits his team for his recognition for NAC Coach of the Year.
"I think that the coaches [in the conference] were acknowledging that the program changed a lot and the girls worked really hard and they wanted to credit that in some way," he said.
He was very proud of the effort and the outcome of their season with a team that was a mix of experienced and inexperienced players.
"We feel like we came as far as we could in our first season because our girls worked their butts off, and we went from not being able to spell volleyball quite frankly, to being a very accomplished solid volleyball team," he said. "We had a bunch of kids who hadn't played together before and had girls who never played in high school and had never touched a volleyball before, compared to girls who had played [from an early age] and played competitively for a very long time."
He was concerned that the experienced players might not accept the inexperienced ones, who might then grow frustrated and quit. To their credit, he said, that never became an issue. Their effort, approach and character worked together to lead to a successful season.
To start the season, he worked on creating a bond within their team by working them hard every single day. He took inspiration from the movie "Remember The Titans," where the coach came in and worked hard and created a bond from that experience. He also worked to create strong communication among team members, which lasted throughout the season.
"We had weekly meetings with the girls and we were looking for feedback from them all the time, and so everyone was able to air out the things that they thought was going on," he said. "We had a couple team meetings along the way; a couple coach-players meetings and players-only meetings where they could talk to each other and make sure everyone was on the same page. So we made corrections as we went, and made sure if there was any problems that they were aired out and everyone got their own opportunities."
When asked about if there was anything different about this year's team compared with teams that he has coached in previous years, John mentioned that every team is different. But one of the things that really stood out was this team's character and how well the players got along despite vastly different skill levels. It was a fun team for him to coach because the team was focused on just getting better as the season went along.
Coach John is always thinking of ways to improve for not just next season, but for many seasons ahead.
"I'm a sick, sick man. It never leaves," he said. "Am I thinking about next year? You can expand that to 'Am I thinking about the next three years?' I think way down the road. I was just talking to my staff about how we are going to get out ahead and what's going to happen by 2021-2022 in terms of recruiting and strategies and what we are trying to get done. We only graduated one girl this year, so everyone that we had is going to be another piece that makes this program better. We hope to have around 16-18 girls for next year. That will create a lot of competition within practice. It will up our game a lot."
About the Contributor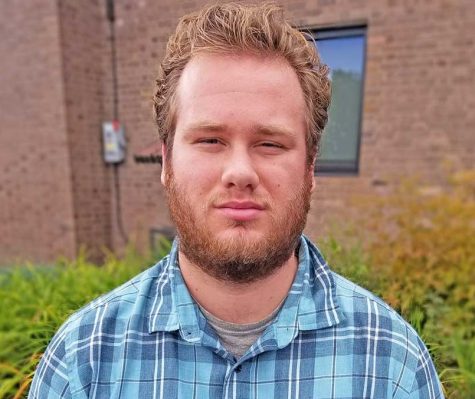 Patrick Bell, Sports Editor

Senior, Journalism
Grew up in Charlestown, RI
Fall 2017 - Present