Softball heading in new direction under new head coach
There is still snow on the ground, but spring softball is in the air once again under first-year head coach Stacey Fox.
Fox, a former Division I softball catcher and assistant for the University of Rhode Island, and head coach of an AAU club team, comes to NVU-Johnson looking to start her collegiate head coaching career.
"I moved to Vermont to be a P.E. and health teacher," she said. "I just have a passion for softball, so when I saw that NVU-J was hiring a head coach, I wanted softball back into my life after graduating."
Associate Dean of Athletics, Jamey Ventura, ran two searches before finding Fox.
"We tried to run a search in the summer to get a coach in so we wouldn't miss recruiting in the summer. We had a few candidates, but they weren't the right candidates for us. So we elected to not settle and not hire one of those candidates and we just waited a little bit and waited in the fall. So in the fall, when we posted, Stacy was eventually hired and we are thrilled with the caliber of coach we're getting in Stacy."
She follows in the footsteps of Robert Gervais, who left the program after several years of coaching.
Even though she's new to the program, she believes that her players already have a strong bond.
"I am learning everyone still," she said. "I'm new to them and they're new to me. But coming in, I realized that they are already a family before I've even got here and I think that's really helpful for our season that everyone is close and communicates really well and they have each other's backs."
Her coaching style reflects her day job, which is teaching in the Danville area. She describes herself as a player's coach, jumping into drills to help coach her players, helping her players grow.
One of her players that she is new to, but isn't new to the program is Annika Dyhrberg. Even though Fox isn't on campus as much as Gervais was, Dyhrberg thinks that Fox will still be reachable.
"Coach Fox has really jumped right in," she said. "She's really accessible and reachable, even though she's working 45 minutes away. It's definitely a change from having a coach on campus [most of the time], where we could come in and talk to him if we were having a bad day or anything. Like I said, she's really reachable, she's bringing good, new energy to the team, which is really important during our rebuilding years. She's really eager to see what we can do and push us."
The team goes to Florida every year for a multitude of games before their conference schedule. Dyhrberg is trying to make sure that they are just getting into a routine of being a team, as many of them haven't played together before.
"We don't have as many returning players as we did, so we are a really new, fresh team," she said. "Most of our girls have some experience playing softball, but it's mainly middle school and high school softball, so it's really getting back into the grind of things really. We just have to tighten things up before Florida."
Due to the snow still falling well into the spring season, the team practices in the multi-gym of the SHAPE facility. There can be many disadvantages to this, but one advantage that Fox sees is the ability to work in a small space to work on basic techniques and skills before they play on the full fields. It's easier for her and allows her players to take it step-by-step and at their own pace, which is very positive for new members of the team.
At the end of the season, Fox hopes that they will have a few wins under their belt, which will lead to the ability to recruit players to help the program grow.
About the Contributor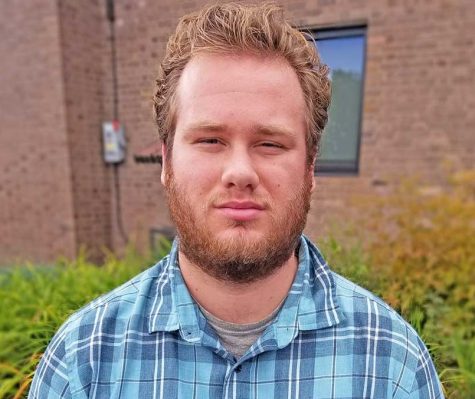 Patrick Bell, Sports Editor

Senior, Journalism
Grew up in Charlestown, RI
Fall 2017 - Present