My life as a lax bro
There is a lacrosse season going on this year. If you have noticed, I haven't written a preview on their season for a couple of reasons. Some people haven't been great at getting back to me for interview times for understandable reasons, which is fine.
I play on the team and it's a weird to write a preview and objectively put yourself in the article. For example, it could feel weird writing, "Goalie Pat Bell is going to be someone the team relies on for throughout the season," or, "No one is worse than goalie Pat Bell for the team as he let in the most goals last season on a winless team," as you know that I'm writing the preview.
So what I'm going to do is write a first-hand experience of my lacrosse seasons, both last year and into this season.
The funny thing is that last year was my first season playing lacrosse ever.
The men's lacrosse team was starting last year from scratch. There was barely a program here when current head coach, Steven Foote, traveled from his home state and took on the challenge.
Lacrosse in general at this institution hasn't been successful over the recent years. Women's lacrosse no longer existed after 2017, four years after it was introduced as a sport. Men's lacrosse has struggled at this university as well, as the team has experienced winless seasons for the past two years. To their credit, they have hung a banner in Carter Gym for winning the Mayflower Conference in the late 90s, back when the school wasn't recognized by the NCAA.
So back to last year. While eating breakfast by myself in the dining hall, I was asked to play by the only returning player. Initially, I wasn't interested in playing lacrosse, as I have never played and wasn't really a fan of the sport. But I'm not good at saying no to people, so I gave him a maybe, but had no intention of playing.
Fast forward a week later, I'm watching basketball in my dorm room when I get a call from the person who tried recruiting me earlier asking me if I was going to show up to the first meeting, which was going to start in five minutes. Again, not being good at saying no, I said I would come.
At the meeting were four guys, including the coach, who introduced himself and his plan to get this program to be successful. Even with four guys in the room, we believed that we could be successful based upon his plan. I got interested and jokingly made the comment that I could play goalie, which led me to be the starting goalie throughout the year.
It was quite the experience last year. We held all but one practice in the multi-gym, which was difficult due to the slippery floor and the amount of space. We were eventually able to get seven full-time lacrosse guys on the team, but you need 10 to put on the field, so we had to borrow student-athletes from other teams for games.
We did our best but weren't able to win any games last year. We were close to winning one game against Green Mountain College, but came up short. We weren't the most talented or athletic team in the conference, but I felt the team had a strong bond because of how we stuck together despite not winning a single game, as well as low numbers and inexperience.
As for myself, I started the season lacking confidence when I was in goal, both in games and practices. I had no clue on how to play the position and lacrosse goalies have it tough as many parts of their body aren't protected, which leads to a lot of painful bruises and sore muscles. I struggled heavily for most of the year, but it was expected of me being in that position.
Moving on to this current year, we had increased our roster by adding more full-time players. The returning players have grown and will continue to grow throughout their careers. As for the new guys, they are given an opportunity to jump in right away and make an impact, which they have done early in the year. There are still issues to be dealt with, but that's the case with any team in any sport.
Rome wasn't built in a day, and the saying goes true to the men's lacrosse team. But there is definite potential for this team to be successful, and time will tell on how much the program can accomplish.
About the Writer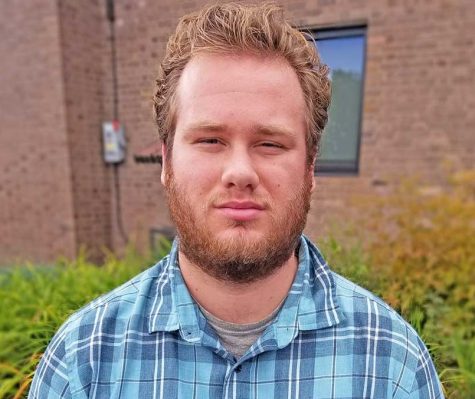 Patrick Bell, Sports Editor

Senior, Journalism
Grew up in Charlestown, RI
Fall 2017 - Present