The Pat-Down
The NBA is heading towards the end of the regular season. It's been nothing short of an exciting season for fans of the league and their teams, with some teams becoming NBA Finals contenders for the first time in a long time.
The Denver Nuggets have taken a huge leap from last year to this year. As of March 26, they are the second best team in the west and a half game back from the Golden State Warriors, the defending Finals champs. They have been impressive this year with Nikola Jokić stepping up and being an top five NBA player this year. The Nuggets run their offense through him at the center spot, which is unusual in today's NBA climate. He can shoot, pass, and dribble; and with him being a center, it throws a curveball to opposing teams as they aren't used to guard a center with that kind of skill. Add in Jamal Murray, Paul Millsap, and Gary Harris; they have been dangerous for other teams and have potential to make a deep run in the playoffs.
Speaking of the Warriors, they have been great again in the regular season as they have been one of the top teams in the west. Their core of Kevin Durant, Steph Curry, and Klay Thompson have done well together again this year and are aiming to be the first three-peat champions since the 2000-2002 Los Angeles Lakers. There might be some issues that could derail their run though as they haven't looked as good as they have been previous years.
Their big wildcards on the team are Demarcus "Boogie" Cousins and Draymond Green. Both All-Star caliber players, both have struggled heavily throughout the season. Cousins started the season still recovering from an achilles tear from last season, and has only played in 23 games. Green has participated in a majority of games this season, but has become a issue for the chemistry for the team, with one example during a game where head coach Steve Kerr mouthed the words, "I'm so f**king tired of Draymond." His play has started to decline as well as his age and the way he plays doesn't fit with the way he plays. He has had spurts of old Green, and it's helped the team be success at points throughout the year. If Cousins and Green can play like we've seen them before, they could help cement the Warriors dynasty as being one of the best teams ever. However, if they can't reach that level, look for them to be beaten either in the Conference or NBA Finals this year.
James Harden has been having a spectacular year. At the beginning of the season, I predicted that the Rockets would barely make the playoffs as I said that Chris Paul would get hurt again and be out for a significant part of the season and they would struggle without him. I wasn't saying that Harden wasn't that good, I was saying that any good player needs all-star level help to make their team successful. My prediction with Paul getting hurt came to fruition, but I didn't realize that Harden would end up having one of the best individual seasons in NBA history. He has single-handedly carried his team to one of the top seeds in the west, averaging 36.4 points, 7.5 assists, and 6.4 rebounds per game. He even went on a stretch of scoring 30-plus points for 32 consecutive games! He has made his offensive game a science, and while I don't think it will be sustainable in the playoffs, it has been fun to watch for sure and will earn him a spot as one of the best players in NBA history.
Moving over to the East, the top seeded Milwaukee Bucks have taken a jump from playoff locks to Finals favorites this year, and it's because of two reasons. One is first-year head coach Mike Budenholzer has finally been able to figure out to run the Bucks and has had them playing at a whole new level. The other is Greek All-Star Giannis Antetokounmpo, who has dominated the NBA this year and has made him a MVP candidate. His physical stature and how he plays makes him dangerous for any team that has to guard against him. I wouldn't be shocked if the Bucks dominated the playoffs and made it to the NBA Finals this year.
One of my favorite teams this year has been the Brooklyn Nets, who has finally seen some kind of success since the early 2010s. Headed by emerging all-star player D'angelo Russell, they have worked their way to being the sixth seed in the Eastern Conference and have an opportunity to upset some teams in the first and second round of the playoffs.
There is a lot of excitement heading towards the end of the season, and it will be interesting to see who ends up on top.
About the Writer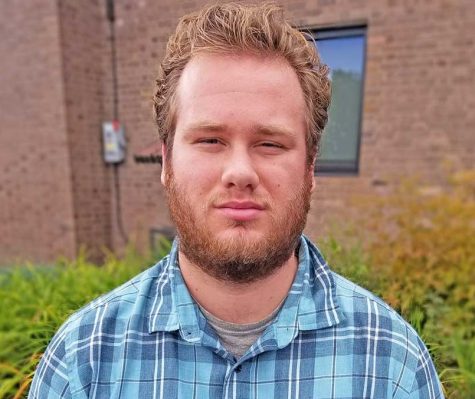 Patrick Bell, Sports Editor

Senior, Journalism
Grew up in Charlestown, RI
Fall 2017 - Present