Brouard heads games to focus on women's health
For the last two basketball seasons, the women's basketball team has sponsored two games dedicated to women's health: Pink Zone for breast cancer awareness and the Go Red for Women's Health game. The purpose of these two games is to educate and raise money for these two causes through donations, raffles and bake sales.
Heading this project has been senior Kaitlyn Brouard. She has run these two events based upon events that affected her life. The Go Red game was inspired by her mother wearing red to work one day, and the Pink Zone game was inspired by several family members that have been affected or have passed away due to cancer.
Both of these events also take place on other college campuses throughout the nation. The Pink Zone game is in remembrance of Kay Yow, a Division I coach with more than 700 wins all-time who died of cancer. While living with the disease, she started a foundation that looks to cure cancer in her memory. The Go Red game works with the American Heart Association to educate people about heart disease and stroke.
She has done well with these events over the past two years.
"Last year's Red Game game [we raised] around $300 and Pink game [raised] around $200," she said. "This year the Red Game [raised] $200 due to the game being played during break week so no one was on campus. But the Pink Game, we raised $603."
These events were introduced by Brouard to her head coach, Greg Eckman, after which it took a year to plan.
"About three years ago Brouard brought it to our attention to run a Go Red event and spearhead our Pink game," he said. "Unfortunately that was three years ago and we didn't have enough time to get the material and the education to put together a good product. So we had a good chance to plan for it for about a year, and then last year, she was working as an intern within the athletic department, and it really gave her the opportunity to make this one of her projects."
Brouard was able to plan successful events last year, but she believes that it reached a new level with the amount of promotion she did.
"I think the first year was learning how to put on and promote an event," she said. "This year, I definitely did a lot of promoting. I put it on all of our social media, I had Chad [Copeland] put it on the website, and put it on the other team's website as well so that people knew if they were going to be traveling to the game, they knew what was going on. I had pins, cookies, either of the dresses for the Red game, or the breast cancer ribbon for the Go Pink. I reached out to news outlets, and they put up a little article about it. I just went out and got a lot of advertisement because I think that was the biggest thing that hurt me last year, because I wasn't fully advertising it to the fullest."
Brouard's hope is that these two events continue even with her graduating this year.
"I'm hoping that we will keep it going because I do think that it brought a lot of awareness and it showed that we stand behind what the NCAA is doing," she said. "It's not just 'we wear pink because the NCAA tells us to,' we know why we are wearing it. I don't know who's going to run it. If they need help, I'm more than willing to come up to help them or give them advice. I don't know where that's going yet. I haven't really talked to anyone about it."
About the Contributor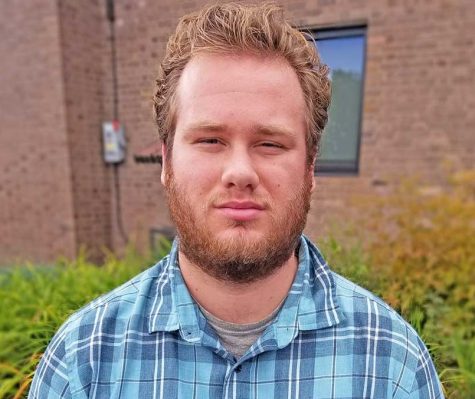 Patrick Bell, Sports Editor

Senior, Journalism
Grew up in Charlestown, RI
Fall 2017 - Present