The Pat-Down
In the history of sports, numbers on players' jerseys have gone from "just a number" to the identity of a icon who has transformed a sport.
If you have ever played a sport that requires a number on the back of a uniform, then you know that there are cool numbers to wear, and some that are not. Usually numbers that are from zero to 34 are described as cool to have as there are many players in the major sports leagues who have worn iconic numbers in that range.
In the history of the NBA and sports in general, there has never been an iconic 41 jersey except for one player, Dirk Nowitzki, who after 21 seasons in the NBA announced his retirement from professional basketball.
It's an odd number for an odd basketball player. Nowitzki is originally from Germany, and was unknown to many teams coming into the 1998 NBA Draft. He was selected ninth overall by the Milwaukee Bucks, who then traded him to the Dallas Mavericks.
He had a rough start to his NBA career, as he wasn't able to find a good rhythm to his game. He eventually moved away from being a bust to being an all-star. He won the NBA Most Valuable Player in 2007 and won NBA Finals MVP IN 2011. He has been named to numerous All-Star and All-NBA teams, and is a member of the 30,000 point club, achieving that in 2017.
Nowitzki has been my favorite player ever since 2010. Being a seven foot power forward/center, I admired how great of a scorer he was, as he was able to stretch the floor with his shooting ability from the midrange and three point line. At that time, not many players that tall and at those positions were able to do what he was doing. Big men were coached to be types of players that rebounded the ball, defend and score close to the basket.
Nowitzki revolutionized the game by proving to the basketball world that there is a substantial amount of value being tall and being able to stretch the floor. In today's NBA, it's almost a requirement that all players can shoot the ball, including power forwards and centers.
His signature shot, the Dirk Fadeaway, made Nowitzki unlike any other NBA player and something that I tried immulating as a child and still do every so often. It was a shot that he would shoot in the post 10 to 15 feet from the basket. He would take a couple dribbles, turn, lean back, lift his right leg up, and shoot the unblockable shot, going in most of the time. The key part of it was leaning back and kicking out his leg as it created a ton of space from the defender and made it so deadly. It rivals Kareem Abdul-Jabbar's signature skyhook shot as one of the most efficient shots of all time.
He was a really smart basketball player too, as he didn't just rely on his shot to make him great. There were plenty of examples where he was a great passer, especially when he knew that he was going to be double teamed in the post. He would get the ball, and as the double team was coming from the weak side of the defense, he would pass it to the top of the key, and then that player would pass it to the corner for an open three. It is a beautiful display of IQ and unselfishness in the game of basketball.
My favorite play of his was his game winner versus the Miami Heat in game two of the 2011 NBA Finals. He and his team came into the series as major underdogs, as this was the first finals that featured Miami's big three of Lebron James, Dwyane Wade, and Chris Bosh. The Heat won the first game, convincing many that this would be a short series with the Heat on top. Late in game two, Miami had a double-digit lead against the Mavs. It looked like all hope was lost until Nowitzki led a late-game push and eventually tied the game with a fastbreak layup. He then nailed a three on the next offensive possession, giving them the lead. After Miami hit a wide open three on their next possession, the Mavs inbounded the ball to Nowitzki. He knew that they were coming to double-team him, so he went to the post move, and then quickly came out of it, splitting the defenders and scoring left-handed layup. They won the game and eventually won the series in six games.
So as his career comes to a close after 21 season, we're left in awe of what he made out of his career. He wasn't a once-in-a-lifetime talent, but he was a once-in-a-lifetime player and I will be deeply saddened to not see him and his odd number 41 on NBA floors anymore.
About the Writer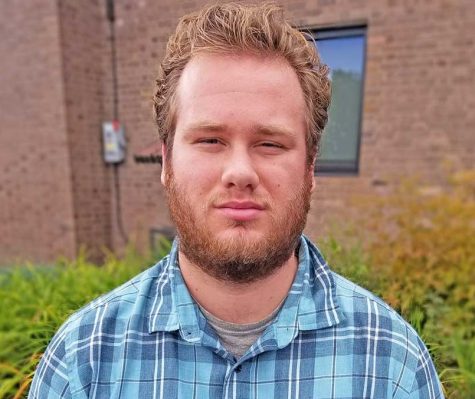 Patrick Bell, Sports Editor

Senior, Journalism
Grew up in Charlestown, RI
Fall 2017 - Present