Athletic banquet looks back on year of Johnson athletics
The NVU-Johnson 2018-2019 sports season officially came to a close with the annual athletic banquet. Held each year in Carter Gym in SHAPE, it is a way for the athletic department to honor teams and student-athletes for their accomplishments on and off the playing surface.
Austin Walters took home the Male Senior Student-Athlete award. In his time with Johnson athletics, he has played volleyball, golf, lacrosse, and tennis. His biggest accomplishment this year was when he helped the golf team place fifth out of 11 teams in the NAC Championship.
The Female Senior Student-Athlete award was given to Kaitlin Boucher. A multi-sport athlete as well as Walters, she played this year softball and soccer, as well as playing lacrosse and volleyball in seasons prior. This year, she was the starting goalie on the women's soccer team and led them to an appearance in the NAC playoffs, where they fell to eventually NAC champion Maine-Farmington.
The Richard E. Anderson award, given to an athlete for athletic and academic achievements, was awarded to men's soccer defenseman John Folsom. He was key in the team's return to the NAC playoffs, hosting a first-round matchup with SUNY Canton.
The NAC Male and Female Student-Athlete of the Year were awarded to men's soccer player Arthur Clayton, and women's basketball player Alexandra Barry. Clayton played at defense for the Badgers in his first season, starting all 17 games with one goal and three assists. Barry, on the other hand, started at forward averaging 6.3 points and 4.8 rebounds. She was named NAC Rookie of the Week on Dec. 17, tallying 28 points, 11 rebounds, four blocks, three steals, and two assists over three games.
NVU President Elaine Collins spoke at the awards banquet, showing her support for Johnson athletics. The highlight of her speech was when, hilariously, she awarded herself the President's Cup. In the first-annual competition between Johnson and Lyndon athletics, the programs tied each other with 7.5 points each. Usually when there is a tie with the Cup, the team that previously held the trophy retains it for another year, but since there was no winner the previous year, neither program will be able to claim it as theirs. President Collins will hold onto the cup for another year.
The Team GPA award was given out to men's golf for the highest grade-point average out of all the programs in Johnson, with a cumulative GPA of 3.31.
Director of Athletics Jamey Ventura spoke very high on the golf team and what it means to win this award.
"Bill [Boldwin, golf head coach,] was politicking everybody, trying to get this top GPA award," he said. "He didn't realize that it already happened, the results were already in and couldn't change it for this night. But because [he set that bar] and continued to talk about it with his players and how they wanted to win that trophy, you could see that the whole golf team leaning forward. They were waiting to see if their name was called. That's the culture that we need."
Along with the usual awards given out, there were some new ones as well. Best Hair was given out to men's lacrosse player Dylan Griffin. Best Action Shot award was given to men's basketball player Vernon Slater for a shot he made versus Thomas College. Comeback of The Year award was given to the men's soccer team for their improbable 4-3 overtime victory, a game in which they were down three goals and tied it with seconds left in regulation. Junior Robert Buonanno scored the game winner to seal the win.
The night saw all teams get up to the front and honor their accomplishments from the season, and gave special shout outs to the seniors who meant so much to their respective programs. The seniors were given blankets later on in the night from the athletic program for their hard work and dedication.
Towards the end of the night, Student-Athlete Advisory Committee (SAAC) President Kaitlin Boucher revealed who was going to representing SAAC next year on the executive team. President was Annika Dyhrberg, Vice President was Patrick Bell, Secretary was Joceyln Pellerin, and Social Media Coordinator was Lawson Ouellette.
To wrap up the night, Ventura came up and spoke to the athletic program on the future of Johnson Athletics. His main focus was on changing the culture of the program, and highlighted women's volleyball, men's golf, men's soccer, and women's triathlon as starting points based upon the successes they had this year.
"Over the last few years, some of the things that I've focused on have been learning from failure, challenging one another to greatness and building on small successes that it will spark something greater," he said. "What I haven't talked about until now is creating that winning culture. Yes, it's true that you have to win in order to have a winning culture, but winning [isn't the main focus.] It's about overcoming adversity. It's about eliminating the naysayers. It's about not being selfish. It's about not making excuses. It's understanding that being great means that you have to work hard at it. At Johnson, I've heard frustrations over the years and including this year from many of you in this room, from student-athletes to athletic staff. I heard you focus on things that you cannot control. I heard the blame being passed on to someone else. I heard excuses on why we failed. And as a result, we succumb to this theme. Until we change our mindset and take action, within yourself and your program, we cannot begin to change the culture. I'm going to be the first one to tell you that isn't going to be easy, and it's going to test every strength that you have. But it can happen with Johnson Athletics."
About the Contributor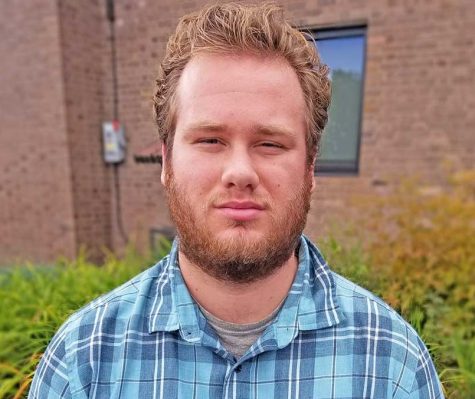 Patrick Bell, Sports Editor

Senior, Journalism
Grew up in Charlestown, RI
Fall 2017 - Present