The Pat-Down
The NBA awards are always a hot topic to discuss with people who cover and follow the league. This year, we have had some great award races and so I am going to give my picks.
The Rookie of the Year award had several candidates. Luka Doncic, forward for the Dallas Mavericks, has had a hell of a first year in the NBA. He averaged 21.2 points, 7.8 rebounds, and 6.0 assists per game. He has made the Mavs relevant again, even with them being the second worst team in the Western Conference. I have high hopes for him as he continues on in his NBA career.
Trae Young has been another strong candidate. In his first season with the Atlanta Hawks, he has averaged 19.1 points, 3.7 rebounds, and 8.1 assists per game. During the NBA draft, he was ridiculed by NBA fans for what seemed a boneheaded move to trade for him in the draft. People thought he was an overhyped college point guard that was trying to replicate Steph Curry. He hasn't played at the level of Curry but he has definitely made an impact for his team this year. I don't know if he'll ever be an All-Star type player but I could definitely see him being an impact player on a winning team.
Between these two candidates, I would choose Doncic over Young for Rookie of the Year. He had the better season, and has greater potential than any of the players that came out of the 2018 draft. With him paired with Kristaps Porzingis, they can be a deadly duo for opposing teams in the league.
For the Sixth Man of the Year award, I'm not going to discuss a bunch of candidates as it's obvious who is going to win it, and his name is Lou Williams from the Los Angeles Clippers. He has had a phenomenal season and could go down as one of the most underrated scorers in NBA history. With his help, the Clippers, who at the beginning of the season weren't predicted to make playoffs, made the playoffs as an eighth seed and challenged the defending champs Golden State Warriors in the first round before losing in six games.
Speaking of the Clippers, their head coach Doc Rivers is one of the candidates for Head Coach of the Year. He has really made something out of nothing with his team, mainly working with a roster full of role players.
The other candidate is Mike Budenholzer from the Milwaukee Bucks. In his first year as head coach, he led his team to being the top seed in the Eastern Conference. His big thing with this team is having players that fit well with MVP award finalist Giannis Antetokounmpo. Budenholzer was able to create a lot of spacing with three-point shooters to surround Antetokounmpo, as he is a seven-foot wing who has the speed and the length to drive on anyone but is poor with shooting. Not an extremely complex plan, but the simple ones are usually the best ones.
My pick would be Rivers by a slight margin. Both coaches have done a tremendous job, but Rivers had less to work with this year, making the difference for me.
Now the grand finale, the granddaddy of them all, the belle of the ball, whatever else you want to say to hype up this final award.
The Most Valuable Player Award this year has two all-time finalists that is too close to call.
The first candidate is Antetokounmpo. Mentioned already in this column, he has had a season for the ages as he has emerged as a top-three player in the league. He has averaged 27.7 points, 12.5 rebounds, and 5.9 assists per game, which are all steep improvements from the year before. He has no other all-stars on his team with his second-best player being Khris Middleton, an above-average role player, so if Antetokounmpo wasn't on the Bucks, that team would be a borderline playoff team at best, making him very valuable to his team.
The other candidate is Houston Rockets guard James Harden. He won MVP last year and has made a strong case to MVP this year as well. He has averaged 36.1 points, 6.6 rebounds, and 7.5 assists per game. He, at times during the season, carried the Rockets to the fourth seed in the Western Conference. His second-best player has been future Hall-Of-Famer Chris Paul, who was unable to play due to injury during a significant part of the season. While Paul was injured, Harden elevated his game to a point that was thought to be unreachable after the season he had last year.
If this were any other year, both of these finalists would easily be MVP, but it just so happens that their career years happened in the same year. By a slim margin, I would pick Antetokounmpo based upon how consistent his year was from game one to game 82. Harden should have done more for the Rockets to be at least the second seed in the West, but wasn't able to deliver against beatable teams late in the season. Antetokounmpo, on the other hand, led his team to be the first seed in the East, putting them in a prime position to make the finals, and so he is my pick for MVP.
About the Writer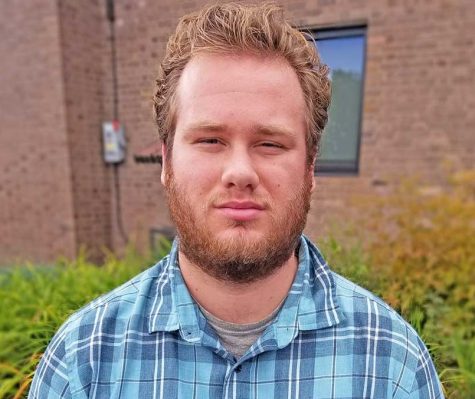 Patrick Bell, Sports Editor

Senior, Journalism
Grew up in Charlestown, RI
Fall 2017 - Present