Women's volleyball sets eyes on NAC Championship
The women's volleyball team is back and hitting under second-year head coach Keven John.
In his first season as head coach, John led them to a 10-11 season overall, 1-4 in conference play. Despite not making the playoffs, many viewed the season a success for a rebuilding year. Their 10 wins was a program best, and then-junior Nikola Knapova had herself quite a year, as she was named to the North Atlantic Conference First-Team All-Conference and was the statistical champion in all Division III with 1.00 aces-per-set.
"Last year was great, but I'm looking forward to this season a lot more because the team is just willing to put in more work," Knapova said.
As of Sept. 2, the team has posted a 4-1 mark, beating Castleton, Paul Smith's College, NVU-Lyndon, and Norwich.
Entering this season, there has been a lot of hype with this team and what they could accomplish.
"Lots of faculty, students, and people [in the town of Johnson] have stopped and told me that they've heard that we are pretty solid this year," John said. "After our scrimmage, we heard a lot of that. It was raining compliments. I think people are excited overall and rightfully so."
With the team's core group returning, and adding talented freshmen and transfers, he believes that his team could win the North Atlantic Conference (NAC) Championship.
"We are really excited with the people we brought in and how much better the returners are," he said. "Everyone is blending together very well. We have an opportunity here to finish as high as… we have the potential to hang a banner this year. We are going to be a high-end team in the conference. I always keep telling people that we have a puncher's chance at hanging a banner this year. It really depends on our less experienced athletes and see how they adapt to college volleyball. Freshmen… you kind of have to wait a month to find out who they are really going to be, and we have a good feeling about them all. We think they are going to be great, but that's going to be our measuring stick is how fast those kids come along."
John believes his team is a year ahead of schedule. He credits himself and his staff for putting in a lot of work when it comes to finding female athletes who want to play volleyball at the D3 level, and making NVU-Johnson an attractive option.
One of those freshmen that came all the way from Dallas, Texas is Porsche Johnson. She really likes the team and what their potential is this year.
"I really like the team and am just happy that they took me in," she said. "There wasn't any weirdness to it, I just came in [and they accepted me] with arms wide open. I'm looking forward to going to the NAC Championship because I know we are going."
One of John's key improvements with his team this year is with height.
"We had a 5'3" middle starting last year, and likely we will have a 6'2" middle taking her place," he said. "You get an athlete that's a foot taller to play a position that generally requires to rely on size. It's going to make a difference."
With all the newcomers, they have now added valued depth to their bench, which he says will be a huge plus.
"We can do some game planning kind of things. We can do different lineups based upon who we are playing," he said. "We can actually go to the depth of our bench when it's not [another player's day]. We didn't have that last year because we just didn't have enough athletes. At one point in our season, we had only seven players playing. We are at 14 now, and that makes a big difference when you're looking down the bench trying to figure out how to stop something [that the opposing team is doing]."
John believes that this year's team will be fun to watch, with their high-paced offense and strong hitters.
"These women have worked really hard, and they are going to put on a show," he said.
About the Contributor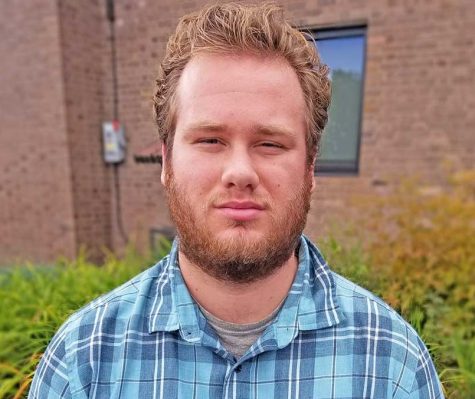 Patrick Bell, Sports Editor

Senior, Journalism
Grew up in Charlestown, RI
Fall 2017 - Present