Men's lacrosse suspended for immediate future
In any NCAA sport, there needs to be proper resources to keep that sport going at its institution. Without those resources to keep the program going at NVU-Johnson, the tough decision was made that men's lacrosse would be suspended for the immediate future, effective July 2019.
"It's gut-wrenching is the first thing I would say," said Associate Dean of Athletics Jamey Ventura. "It's never easy to suspend a sport. Unfortunately, we've had to do it twice in my time here in both men's and women's lacrosse."
Former player Marcus Holmes wasn't shocked about the announcement.
"It was like beating a dead horse," he said. "We kept the program alive for as long as we could, but without the numbers and motivation for our players to actually want to play, it was going to happen eventually."
Both Ventura and Assistant Athletic Director Greg Eckman started dealing with the issue of suspending lacrosse when Steven Foote, head coach for the past two years, announced that he would resign due to personal reasons.
They both believed in his two years here he did an excellent job with recruiting, as he brought in eight players, and it led to a healthy roster compared to previous years. They would have on average 14 players a game during the 2019 season, which Eckman believed was a step in the right direction.
"I felt like we were just starting to gain a little bit of momentum, starting to build, but we knew with him leaving it was going to be difficult," Ventura said.
From the time that Foote announced his decision early after the 2019 season, Eckman took charge to try and see if they could sustain the program under a new head coach.
He first met with the players to see who would return only to find out there was potentially six returners that would try to play next season. Despite Foote's best efforts to recruit, he was only able to grab two players who put a deposit down. He had a couple other players who were interested in playing and applied to come here, but after his resignation, they went on to look at other options elsewhere.
Eckman then headed a job search to look for a new head coach, specifically one who had recruiting experience and could bring players in immediately to continue the program.
"We posted it on USA Lacrosse," he said. "I personally emailed over 130 lacrosse contacts that I have in New England from high school coaches, to AD's, to club coaches to try and get the word out there. We ended up with one applicant come in from the Midwest. He had no previous college head coaching experience, and had no previous college recruiting experience from the coaching side of things. Just had no recruits that he was talking to. Coach Foote in his first year came from a junior college and was able to bring four guys with him. This coach had no ability to do any of that. He would have been starting without any other work secured out here and he would have had a hard time with the transition."
Another factor that played into the decision to suspend the program was inadequate resources such as a turf field or a field house to practice and play lacrosse. Due to the long winter months in northern Vermont, lacrosse is a tough sport to play as the program had to travel to Norwich and the University of Vermont to play some of their home games. Many practices are held in the SHAPE multi-gym, which Ventura and Eckman have said that it's a poor resource to practice some basic principles of lacrosse.
The lacrosse program isn't completely dead, as there is still equipment laying around in SHAPE for students to use and could work as a club sport, according to Eckman.
"Lacrosse could be resurrected as a club sport here," he said. "The equipment is still here that is basically going to be tagged for storage and put away. We aren't looking to get rid of it, and one day if the interests from the student body shows that we have enough men to restart a club program, we would look into what we can do to help support them along the way too. If in the future, if things change, we would always look at revisiting our decision as well."
Two things that would need to change in the eyes of Eckman and Ventura in order to restart and sustain a lacrosse program. One would be facilities, even beyond a turf field for Eckman.
"For us, in order to sustain a true lacrosse program to what lacrosse athletes deserve is that we need a field house so that they can be in there all winter long," he said. "That way the weather isn't an issue, and it can be a sustainable program for us. It would need to go beyond just a turf field, it would have to be a field house in my opinion because it allows 12-month access."
Another would be a full-time lacrosse head coach position. Foote worked part-time as a coach, and Ventura said that he had to work three other jobs off campus just to continue coaching.
Currently NVU-Lyndon has a full-time position for their men's lacrosse program and Ventura believes that is a key reason why that they have been able to keep their program afloat.
"I still remember early in my career here, we played the last game of the regular season at Johnson, and whoever won that game went to playoffs. We were as equal teams as we could be," he said. "At the time, we had the same type of facilities, we both had a part-time coach. That year after, their head coach position went full-time, they were able to pair it will some administrative needs in the department. From that point forward, the Johnson program stayed flat for a couple years and then dipped as we had turnover in coaches, players graduated, and we couldn't get enough recruits in. The Lyndon program has been climbing, and that made all the difference in the world. It's not that they have more full-time positions than we do, we are about equal. To have a coach all the time on campus, being able to not have to work another job off-campus… it wasn't for a lack of commitment by our coaches that we had, it was just too much in not enough time to do it all. If we had an established program, then a part-time coach would have been able to keep it going. As we started to graduate student-athletes, we couldn't bring in enough new recruits each year. That's when we started to slide and it's been a struggle over the last couple years."
Despite the program being suspended, Eckman appreciates the effort that Foote and the players put in to try and keep it going.
"We really gratefully appreciate everything that Coach Foote did for us here," he said. "We gratefully appreciate all the efforts of the players to make the season to what it was last year and to move it in the right direction. They did a phenomenal job working hard, getting themselves ready to compete each game like they did. But it was a very unfortunate experience and it was our time to make the tough decision."
About the Contributor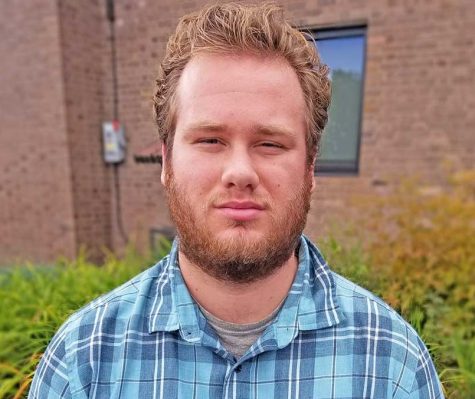 Patrick Bell, Sports Editor

Senior, Journalism
Grew up in Charlestown, RI
Fall 2017 - Present