NAC adds three schools to expand to twelve
Hang on for a minute...we're trying to find some more stories you might like.
The North Atlantic Conference (NAC) will grow to twelve participating schools starting in the summer of 2020. It was announced on Aug. 20 that SUNY Polytechnic Institute, SUNY Cobleskill, and Cazenovia College will join the conference, creating an east and west division within the NAC.
"We are so pleased to welcome three strong institutions into the conference," said NAC President's Council Chair and NVU President Dr. Elaine Collins. "We were fascinated to learn about Cazenovia, SUNY Cobleskill, and SUNY Poly and their unique value as institutions of higher learning. Each school brings something truly special to the conference and will enhance the experience and opportunities for student athletes in the NAC."
All three teams participate in ten NAC-sponsored sports: men's and women's basketball, men's and women's cross country, men's lacrosse, men's and women's soccer, softball, and women's volleyball. Cazenovia and SUNY Poly both sponsor women's lacrosse, while SUNY Cobleskill sponsors men's golf and men's and women's track and field.
These three schools are just half of the six schools that have been added to the NAC in recent years, as UMaine-Presque Isle and SUNY Canton joined in 2018, and SUNY Delhi was added in 2019. These additions have been a reaction to four schools that left the NAC in May 2018: Castleton University, New England College, Green Mountain College, and Colby-Sawyer College.
With the conference now stretching four states, and travel time between the two furthest schools, Cazenovia and UMaine-Presque Isle, being close to 11 hours, the conference will split into two divisions. UMaine-Presque Isle, UMaine-Farmington, Husson, Thomas, Maine Maritime, and NVU-Lyndon will be the east division, and the west will be Cazenovia, SUNY Poly, SUNY Canton, SUNY Delhi, SUNY Cobleskill, and NVU-Johnson.
Jamey Ventura, director of athletics at NVU has been apart of this process since the beginning. He said the move to 12 teams was in an effort to stabilize the conference.
"We had to start thinking outside the box," he said. "We also knew that there were a lot of shifts in conferences all around, especially in the northeast in New York, and in the Mid-Atlantic in New Jersey and Pennsylvania. There is a lot of schools moving around. Delhi was our lynchpin, and once we got them, we can get some of the schools around them to get interested in joining the NAC if we talk about divisional scheduling. That was the key piece. We knew we wouldn't get them if we had to have those school from just outside Syracuse like Cazenovia go all the way to UMaine Presque Isle, there is no way that they are going to join that conference, that's too far. So we went out saying we are going to go divisional and this is how it will look. Once we did that, we started getting schools interested."
The sustainability of the NAC was very key in Johnson's ability to play college sports. If the NAC dissolved, the university would have very few options to turn to in terms of joining another conference.
"It is tough though, if the NAC dissolved and we were looking for a conference, we wouldn't be an attractive candidate because of how far away we are from the other conferences," Ventura said. "There is a lot of conferences in the Boston area, and just in general in New England, but we are the outlier for all of the conferences [based upon location]. In the New York side of things, the conferences in that area make us an outlier as well. Travel budgets are getting tighter and tighter, and so schools don't want to travel all that way. That's why we were pushing to expand the NAC and make sure we have a home for long term, and that's a good thing."
Ventura gives a lot of credit to NAC Commissioner Marcella Zalot and NVU President Elaine Collins, who in his eyes put in a lot of work to make the NAC a sustainable conference for the future.
"[Zalot] worked really hard, as all the people that played a part in it, but she worked really hard to make this happen," he said. "It came to fruition as we were hoping, but there were some periods in there where we didn't know what was going to happen. We planned ahead, saved some budget, we did a lot of things to build up reserves to make sure we could weather the storm until we got more team, but I give a lot of credit to the conference, and Elaine Collins as well. She knew the President of SUNY Cobleskill and she called her and talked to her about what it would look like. I give our Commissioner and our President a lot of credit for pulling this off."
About the Writer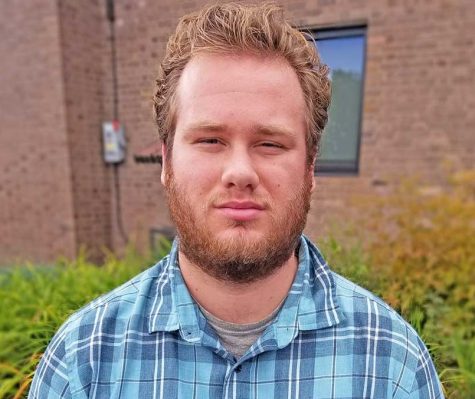 Patrick Bell, Sports Editor

Senior, Journalism
Grew up in Charlestown, RI
Fall 2017 - Present
Our family owns a piece of land in the mountains of Colorado where there is nothing...