Women's basketball working with blank canvas in 2019-2020
Under Head Coach Greg Eckman, the women's basketball team are looking to go back to their winning ways with a mix of trusted returners and talented freshmen.
The program has experienced a rough couple of seasons. For the last two years, the team dealt with multiple injuries to key players that has resulted in them missing the North Atlantic Conference (NAC) playoffs.
This year, Eckman hopes to have a good vision of what this team can be if they can remain healthy.
"Like the start of every season, it's like starting with a blank canvas," he said. "You have all the colors in front of you, but you don't really know sometimes the way the picture is going to play out. I have a vision in my head of what I think this group is going to be able to do. Now it's mine and the coaching staffs' job to paint the picture in our minds of the vision that we want the team to have. We'll definitely use our scrimmages that we have against our alumni, Clinton Community College, and Colby-Sawyer College to help gage what the players are absorbing, what we are doing well, the areas we can go forward in, areas that we can improve on, and ones that might have to be scrapped."
One of the team leaders is senior Lindsey LaPerle. She has been around for some of the program's good and bad years but is hoping to lead the team in a winning direction in her final year. She notes that another Achilles heel of last year's team besides injuries was their team chemistry, which she says has improved greatly in the short time that the team has known each other.
"We are working hard as a team to pick our teammates up when they are down, which is something that we struggled with last year," she said.
Another key player for the team is sophomore Alexandra Barry. She burst on the scene last year for the Badgers, averaging 6.3 points, shooting 46% from the field and 33% from three, and was a key rebounder with 4.8 rebounds per game. She was named NAC Rookie of the Week at one point, but her season unfortunately ended with an injury. Eckman hopes that she can pick up where she left off and continue to grow as a player and produce for the team.
Amorette Rodriguez was an impact player in her freshman year. She was able to carve out a role as a consistent guard for the team, averaging 5.8 points, three rebounds, and 1.8 assists. Like Barry, the team hopes she can continue to grow in her role.
With Melissa Ann Clark, Christle Page, and Ellery Kiefer returning as well in their roles, Eckman hopes that the newcomers can learn from the upper-classmen and help lead their team to success.
"The freshmen are a really nice group that has won a lot of games in high school and won state championships, who understand the hard work, effort, and sacrifice that you need to put in to be a winning program," he said. "Definitely interested in seeing what these freshmen are going to be able to do."
Based upon the group they have, Eckman said that their strength will be their quickness and endurance to frustrate their opponents and lead to a lot of points on the board, which he hopes will lead to wins and can turn the program around.
The women's season starts on Nov. 8 and 9 with the team traveling to NVU-Lyndon to take part in the NVU Classic against Fisher College and Rivier College. On Nov. 12, they travel to play at Plymouth State College. Their first home game takes place on Nov. 16 against Lasell College. The Badgers finish out the month at the Granite City Shootout at the Barre Auditorium on Nov. 22 and 23 against Norwich and Castleton.
About the Contributor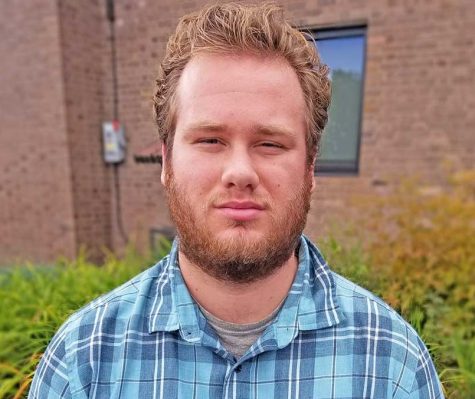 Patrick Bell, Sports Editor

Senior, Journalism
Grew up in Charlestown, RI
Fall 2017 - Present