Men's volleyball second season underway
In their sophomore season as a program, the men's volleyball team is back and hitting again with some new and familiar faces under second-year head coach Keven John.
There is reason for optimism and hope in their second year. In their inaugural season, the team was competitive in many of their matches despite having a roster with athletes who were new to the sport.
This year's squad brings in many transfers and freshmen, but they bring back a healthy number of returning players, including senior Jesse Streeter.
"I think we are going to have a very successful season," Streeter said. "We have a lot of new guys, which will take time for us to grow and mesh together. We definitely have a lot of skill and heart, and we are going to move forward and grow."
John notes that men's volleyball is one of the fastest growing sports in high school and college ranks. With the growth and development of the sport, their recruiting class includes a mix of athletes in age and experience.
The approach, he mentioned, is unique to each incoming member of the team. Some freshmen have many years of experience and will be able to compete right away and contribute. Some are brand new to the sport, and will need some to adjust.
This year's team is able to qualify for the NCAA tournament, as they are officially an affiliate member of the New England Collegiate Conference (NECC). The team plays in what John believes to be a top-notch conference, with two of the teams, Endicott and Elms College, nationally ranked in all of Division III men's volleyball.
The Badgers were picked to finish sixth out of seven teams in the NECC. Despite being a novice in a new conference, John believes that this team can improve throughout the season and make a run towards the playoffs in conference play.
"I feel really confident that we [could be] a Cinderella team and story. You never know," he said. "My expectation is that we will improve throughout the season and will be in the conversation [for playoff teams] in our conference, which will set us up for years to come."
To start the season, the team lost in their first three home games against SUNY Potsdam on Jan. 24 and Colby-Sawyer on Jan. 25. After that stretch, the Badgers went on the road to play Dean on Jan. 31 and beat the Bulldogs 3-0. They continue on their road trip, playing Eastern Nazarene and Mount Saint Vincent on Feb. 1. They continue their road trip on Feb. 8 when they play Lesley twice. The Badgers then play a match on the road against Emerson on Feb. 15 and then play a tough team in Elms on Feb. 22. The team returns home to finish out February with matches against Endicott and Dean College on Feb. 26 and 29.
John hopes that fans will come out to support the team, as they plan to have the gym rocking with their style of play.
"This is a fantastic team to watch," John said. "There are exciting athletes on the floor and they will be hitting the ball hard. They have worked extremely hard to be the volleyball team that they are right now. I think the first time someone comes into the gym [to watch our games], they are going to understand that it's a fun place to be."
About the Contributor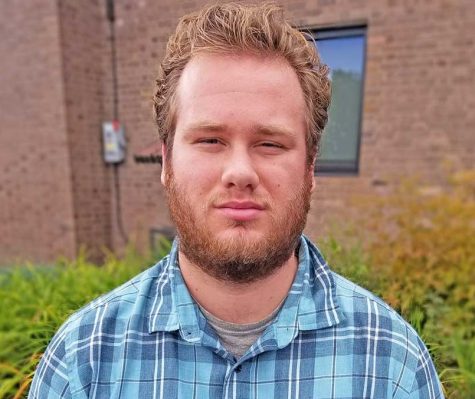 Patrick Bell, Sports Editor

Senior, Journalism
Grew up in Charlestown, RI
Fall 2017 - Present