NCAA for dummies: a brief history of intercollege athletics
Editor's Note: This article is the beginning of a series devoted to the National Collegiate Athletic Association, its evolution, and the issues confronting it today.
The National Collegiate Athletic Association (NCAA) is a member-led organization that regulates collegiate sports to benefit over half a million student-athletes. They sponsor 24 sports and are partnered with 1,098 universities that stretch across the United States, Canada, and some U.S territories. Through these memberships, the NCAA is giving the participating athletes a platform to compete against other schools.
According to legal scholar Rodney K. Smith's essay, "A Brief History of the National Collegiate Athletic Association's Role in Regulating Intercollegiate Athletics," the NCAA was created due to a need for an impartial governing body to regulate collegiate sports.
It had been an underlying issue ever since 1840, but when 18 people died and 100 others had been seriously injured playing college football in 1905, that got the attention of United States president Theodore Roosevelt, who called for a review on the rules of football. This led to New York University's Chancellor Henry MacCracken to call for a national meeting with representatives from colleges with major football programs to determine if football could be regulated at the collegiate level; if not, it would be abolished.
These members eventually formed a rules committee that worked with White House officials to regulate football, leading to the formation of the Intercollegiate Athletic Association (IAA) with 62 members. The IAA was eventually renamed the NCAA in 1910.
In the very beginning of the NCAA, they did not play a major role in governing collegiate sports. But in the 1920s and 30s, popularity for college athletics began to grow, not just at each institution, but from the public as well. Radio and the evolution of television helped promote these sports, as it gave fans a chance to follow a game in real time.
Due to the growth of collegiate athletics, a series of gambling infractions, and recruiting excesses, the NCAA was forced to step in and expand its governing authority. In 1948, the NCAA created the "Sanity Code" which was designed to "alleviate the proliferation of exploitative practices in the recruitment of student-athletes." In order to enforce the Code, the NCAA created the Constitutional Compliance Committee to interpret rules and investigate possible violations.
These efforts weren't successful because the only consequence for rules that were broken was expulsion, which was so severe that the Committee was powerless. The NCAA then repealed the "Sanity Code" in 1951, replacing the Constitutional Compliance Committee with the Committee on Infractions, which were given broader sanctioning authority.
In the 1950s, the NCAA started working more with television, working out a $1 million contract to broadcast the rights of their sponsored sports. That opened up the door to more lucrative contracts in the future, which in turn made the NCAA more powerful in enforcement of the rules to its member institutions.
Before the 1970s, institutions were separated athletically, based upon if they were a "small college" or "big university." But in 1973, as its enforcement capacity continued to rise, the NCAA decided to create three separate divisions to help balance out the competition within intercollegiate athletics. These three divisions still stand today.
Division I athletics are most commonly well known nationwide and have the highest emphasis of athletic competition. According to ncaa.org, "they generally have the biggest student bodies, manage the largest athletics budget and offer the most generous number of scholarships."
In fact, they are the only division in the NCAA that allows institutions to offer full athletic scholarships to its incoming athletes. There are 350 schools that are full members and 170,000 athletes that compete at that level. The only DI program in Vermont is the University of Vermont.
Division II is a more balanced mix between athletics and academics. The universities that compete at the DII level are allowed to give athletics scholarships, but aren't allowed to cover the full cost just on athletic merit.
Enrollment ranges at these institutions from as many as 25,000 to less than 2,500. These numbers aren't common at many DII institutions, as 87 percent have fewer than 8,000 students, with a high percentage being athletes.
According to ncsasports.org, many of their athletes have the talent to compete at the DI level, but DII athletes and their respective institutions have a higher emphasis on education and will commit less money towards their athletic programs than would a DI university. There is only one DII program in the state, which is Saint Michael's College.
At the Division III level, NCAA sponsored sports have less of an intense time commitment with a shorter athletic season. This gives more focus on education and life outside the playing surface and classroom. DIII athletes generally feel the closest to their respective communities.
They have the highest number of members with 450 and have more than 190,000 athletes participating at these colleges and universities. These member institutions cannot offer any scholarships to their athletes based upon athletic merit.
At the DI and DII level, the academic standard to play collegiate sports is set by the NCAA, while at the DIII level, the academic standard is set by the university. There are several DIII programs in the state such as NVU-Lyndon and Johnson, Castleton, Norwich, and Middlebury.
At one point, the NCAA considered removing the divisional structure, but in 1997, there was a vote to keep that structure and gave each division more autonomy to govern itself. This has allowed each division to decide policy more tailored to those institutions that participate at that level.
Many schools at all three levels are partnered with a conference. These conferences are made up of multiple schools, many of which are close together in a specific region. Some benefits of being in a conference are a guaranteed number of games and a chance to earn an automatic qualifier to a National Championship Tournament by winning your conference. The only exception is in Division I football, where it doesn't necessarily matter if you win your conference championship to make it to the college football playoff, as a committee determines who's in and out.
Some schools some specific programs are labeled as independents. Notre Dame football is notoriously independent, which allows them to have complete control over their schedule and roster but might be harder to compete for a national championship. The rest of Notre Dame's NCAA sponsored sports compete in the Atlantic Coast Conference (ACC). NVU-Johnson currently has one independent sport in women's triathlon, as there is no other women's triathlon program in the conference.
Before the 1970s, women's athletics at the collegiate level either were overlooked or didn't exist. But in 1972, President Richard Nixon signed into law Title IX, which stated that "no person in the United States shall, on the basis of sex, be excluded from participation in, be denied the benefits of, or be subjected to discrimination under any education program or activity receiving Federal financial assistance." It became the calling card for women in sports, specifically at the high school and collegiate level. It had a slow start, with very limited money going towards women's athletic programs for scholarships and athletic equipment. But over time, it has grown immensely.
Throughout the 70s, 80s, and 90s, the NCAA authority to enforce rules continued to grow. It grew to the point where in 1976, they could start directly punishing schools for breaking rules, and that would have drastic effects on coaches, athletes, and administrators.
Starting in the 1980s, university and college presidents became more involved in the organization of the NCAA as enrollment started to drop and they saw intercollegiate athletics as another source of revenue. Additionally, the success of athletic programs at colleges and universities became more tied to the overall success at that particular college or university.
One such example of NCAA's growing power was in the case against the Southern Methodist University football team. In the late 70s to the mid 80s, the SMU football team was one of the most powerful football programs in all of collegiate football. They grabbed many of the top recruits, including future NFL Hall of Famer in Eric Dickerson, which led them to win many games. The major problem with their program was that they were caught cheating multiple times by bribing recruits to attend SMU. It all came crashing down in 1987, when the NCAA instituted the "Death Penalty" where their 1987 season was canceled, and they were banned from participating in the 1988 season. This has left a negative impact on the program ever since, as they have only recorded three winning seasons and have lost out on billions of dollars.
Today, the NCAA is a multi-billion dollar organization, the largest collegiate organization in the world. It plays a part and hosts several national tournaments and championships in every sponsored sport. One example of this is their annual DI men's basketball national tournament, dubbed "March Madness," where 68 programs across the nation compete for the national championship.
According to investopedia.com, that three-week tournament alone made the NCAA $933 million. That tournament funds a majority of their revenue throughout the year.
As more and more money comes into the commercialization of intercollegiate sports, the more authority the NCAA has over its member institutions. It continues to expand the possibilities for students who wish to be collegiate athletes at any of their three levels. Regardless of all the positives and negatives that come with the NCAA, they are here to stay at many colleges and universities across the nation.
About the Contributor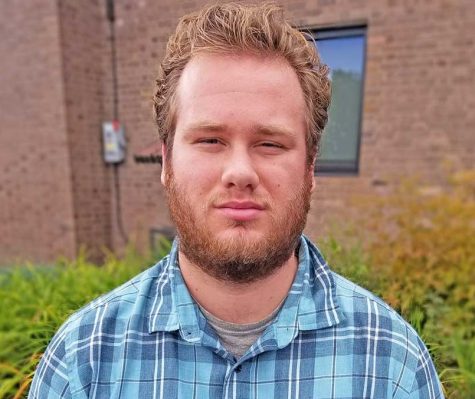 Patrick Bell, Sports Editor

Senior, Journalism
Grew up in Charlestown, RI
Fall 2017 - Present