Renovations taking place in SHAPE
Construction is underway in the SHAPE facility for a new wellness suite.
The project aims to convert the racquetball and mixed martial arts rooms that are downstairs into a workout space that is specifically for the athletes who participate within the NVU-Johnson athletic program and members of the men's and women's club rugby team.
Additionally, the upstairs floors will now be converted into a space for the community where they can have health and fitness classes. One section will be a classroom for those classes, and another section will be used as an open workout area space.
The mixed martial arts equipment that was downstairs will move upstairs into the current fitness center.
The renovation, which is being worked on by the company Kingdom Construction, started just before the winter break and the athletic department plans to be finished by late March.
The renovations are made possible by donations to NVU, with the bulk of them coming from Peter and Evelyn Fuss, longtime supporters and friends of the university.
"We are grateful to our donors and their shared commitment to improving our SHAPE facility, so it remains a strong wellness resource for our community," NVU President Elaine Collins said. "NVU's mission is to foster personal growth and wellness, both key to building a healthier community. These gifts enable NVU to provide additional fitness options for our students, faculty, staff and community members, furthering our mission."
Head Strength and Conditioning Coach Benjamin Michon is looking forward to the new spaces, as it gives him more opportunities to help train the athletes he works with on a daily basis.
"I'm really excited to get into a space designed to do what we need to do," he said. "Our current space is just small; there is a lot of [obstacles] in our way."
According to Chad Copeland, assistant athletic director for communications, there were a lot of avenues they could have gone with the project, but ultimately chose this route due to the lack of use of the previous area.
"We realized over time, besides the rock wall, there is just not enough use in those [downstairs] spaces as we would like," he said. "In that top floor of SHAPE, when you look through the windows in the fitness center, there was no actual space there for purposeful use."
He also mentioned that it would be cheaper just to renovate existing space instead of adding new space to the SHAPE facility.
A potential problem that Copeland noticed is managing the availability of these new spaces with the community and athletes. He said that Michon isn't a full-time strength and conditioning coach, as his other job is to be a part-time athletic trainer, which might limit the use of the downstairs area.
He has to be available for athletes during practices and games, which consumes a lot of time throughout the day.
Despite that issue, this is a project Copeland believes will help with recruitment of potential students to the Johnson campus.
"I think this is great," he said. "The vision for this is a facility upgrade. It is probably the biggest upgrade in over a decade here at Johnson. The hope is that we will attract more students to the school. When our coaches recruit, it's something to look forward to, and gives those recruits more to offer than just a fitness center that everyone uses. It's something more tailored and branded towards our athletic department and hopefully bring recruiting numbers up, which in turn will bring more students to our campus."
About the Contributor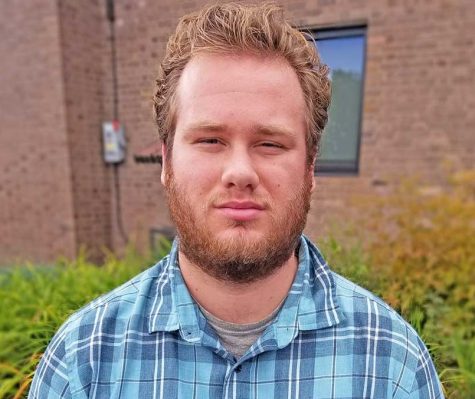 Patrick Bell, Sports Editor

Senior, Journalism
Grew up in Charlestown, RI
Fall 2017 - Present