Over/Under
Late 1979, England.
Mike Score and his new band practice regularly above his hair salon in Liverpool. Slowly, they build momentum with a series of successful singles and national television appearances. In 1982, their fourth single, and their first released in the U.S., "I Ran (So Far Away)" skyrockets to international relevance, reaching #1 in Australia, and cracking the top ten in both the U.S. and the U.K.
Their debut self-titled album, "A Flock of Seagulls," would go on to sell over 739,000 copies worldwide. The entire album is a wonderful peek into the future of the too-short-lived era of New Wave music in the 1980s. The single, "I Ran," is one of the hottest, most supersonic tracks to ever be unleashed into a world of innocent synth virgins. It changed things.
Late 2022, Iran.
Protests in Southwestern Iran remain firey. Ignited by the Sept. 16 murder of Mahsa Amini while detained by the government's 'Morality Police,' a group named Human Rights Activists in Iran claims that over 14,000 protesters have been arrested and no less than 328 of them killed, with nearly 100 of those deaths occurring on a single day at a protest in Zahedan.
Videos from these protests depict a brutal government firing tear gas, and much more lethal projectiles, into crowds of human rights protesters. The Islamic Revolutionary Guard Corps. (designated as a terrorist organization by several countries including the United States), in charge of quelling the justified protests of the Iranian people, claims, with no evidence, to have obtained a collection of hypersonic missiles to assist them in their mission. These weapons have the ungodly ability to travel up to 5 times the speed of sound and are incredibly difficult to neutralize even with the most advanced terrestrial and/or extra-terrestrial defense systems. Leaders of the revolutionary guard have threatened to use this power, whether they indeed have it or not, against those who would meddle with their current domestic political nightmare. Those reading between the lines can't help but worry that such horrors could be used on the protesters themselves.
Late 2022, Northern Vermont University-Johnson.
Researching gambling odds for the highly anticipated 2022 Fifa World Cup, hosted by the nation of Qatar, I face a deep moral dilemma.
Group B of the tournament features the United States, England, Wales, and Iran. Only two teams can advance to the knockout stages. Obviously, my primary allegiance lies with the United States. For all of its faults, it is home. England is the fourth favorite in the tournament with odds to win it all hovering around +800. The Welsh side is comparable to the United States; their head-to-head matchup has a spread of 0.0 with the odds slightly tilted to the US (-125 to Wales' +105). Iran brings up the rear as one of the tournament's longest shots; +75000 to lift the cup.
My dilemma is this: in order to support the Iranian protesters, do I support or boo their men's soccer team? Iran stealing points from England and/or Wales would further the goal of the US making a run in the knockout stages. As a soulless political neutral, I want Iran to play well against all non-US group B teams. That much is as clear as day. But, as a human being, should I be rooting for Iran to win a game or two for their people, or do their people see the men's team as an extension of a political system that horrifyingly suppresses the most basic rights of its women citizens? If I had time to reach out to an Iranian within the conflict, I could probably figure that out for myself. But, alas, I am busy building a PowerPoint presentation designed to convince my girlfriend to let me hook up a second TV so we can watch the Milwaukee Bucks and the Bachelor in Paradise at the same time.
According to my math, I will be able to watch over 85% of the minutes played for every game over the entire tournament and I plan to do just that. I will already be rooting for Iran to get one over on the participants from the United Kingdom to serve my own needs as an American fan, and the optimist in me likes to think that international soccer teams represent their people and their culture, as opposed to their governments.
On an even more personal note, I have been fantasizing about playing "I Ran" at full volume, on repeat, for 90 minutes straight and screaming "Aurora borealis comes in view!" should the Iranian squad slip one past Jordan Pickford on Nov. 21. It would seem that the solution to my moral dilemma was decided above an English hair salon 40-something years ago.
About the Writer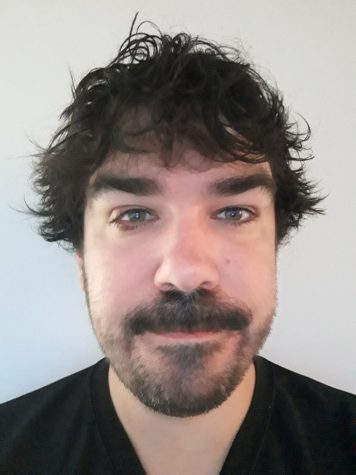 Kyle Gagnon
Kyle Gagnon is a former editor of Basement Medicine. He haunts us still.