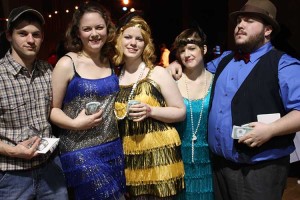 Shannon Edmonds, Staff Reporter, Copy Editor

March 23, 2012
The cold, misty night outside could do nothing to dampen the spirits of the gamblers present at Johnson State College's 35th Annual Casino Night, held this year on March 16 from 8 p.m. to midnight. A crowded Stearns dining hall was beautifully lit by the Dibden crew with blue and reddish-orange...
Shannon Edmonds, Staff Reporter/Copy Editor

February 17, 2012
On Feb. 1, the Student Government Association voted to appoint sophmore Kyle Keppler as treasurer. The position had previously been vacant since the beginning of the spring semester. According to the official meeting minutes, Senator Jessica Pafumi questioned Keppler about his diligence and his responsibility...