Haiku coming soon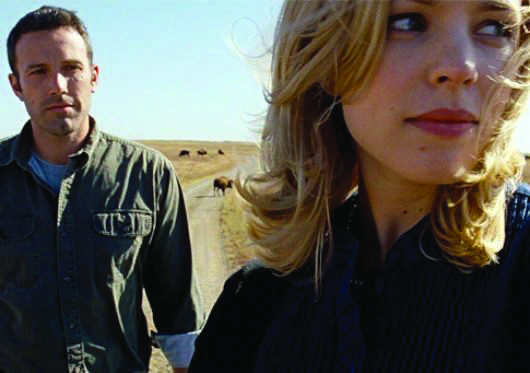 April quietly and gently sneaks in blockbuster season like those sympathetic women we see in movies about immigration or the Underground Railroad. Then the blockbusters are found out in May, and from then on it's a full-fledged sprint until they make it safely out of theaters come the fall.
It's easy to miss the good films, or to fall into a bad film's trap. Fortunately, your old Uncle Tom has spent time in the wilderness of American mainstream cinema. Let me help you avoid the bear traps clumsily dispatched to movie theaters across the country. Together, we'll follow the path toward those beautiful, shimmering cinematic streams.
Apr. 5: "Jurassic Park" 3D.
It's a great movie
But 3D's pocket Draino.
(Who cares on a date?)
Apr. 12: "To the Wonder."
Surreal realist poem.
Affleck falls for McAdams.
(Malick, "Tree of Life.")
Apr. 26: "Pain and Gain."
Put logic on "low."
Feel—the key to Michael Bay.
With Wahlberg and the Rock.
May 3: "Iron Man 3."
Shane Black, "Last Boy Scout,"
"Lethal Weapon," hardboiled wiseass.
Gave him "Iron Man."
May 10: "The Great Gatsby."
Foolish filming "Gats"
But "Moulin Rouge" Luhrmann did
With DiCaprio.
May 17: "Star Trek into Darkness."
Boldly go or don't.
Villain's "Sherlock" Cumberbatch
Who bothers Pine's Kirk.
May 24: "Fast & Furious 6."
Remember "Fast Five"?
Working-class moral study.
Michelle Rodriguez.
June 7: "Much Ado About Nothing."
Joss Whedon ("Buffy")
("Angel," "Firefly," "Avengers").
Now: he does Shakespeare.
June 14: "Man of Steel."
Please watch the trailer.
Director: "Watchmen" Snyder.
Superman opus?
July 12: "Pacific Rim."
Kaiju is this:
"Godzilla," "Rodan," "Mothra."
This: that with budget.
July 26: "The Wolverine."
Hugh Jackman is back.
Wolverine noir in Japan.
Also Jackman's back.
Aug. 23: "The World's End."
"Shaun," "Hot Fuzz," now this.
Expect visual essay.
Funny geniuses.
There may be better mainstream movies than these, and I'm sure there will be better movies in limited release, the kind three librarian couples watch in dusty darkness.
These movies are guaranteed to be worth something. They may not be great. They might not even be good. But if you're on a date, your company will make up for it (hopefully). If you're lonely or have time to kill, these will get the job done.
These are the safe paths around the bear trap.