Kat Wright bares her soul band at Radio Bean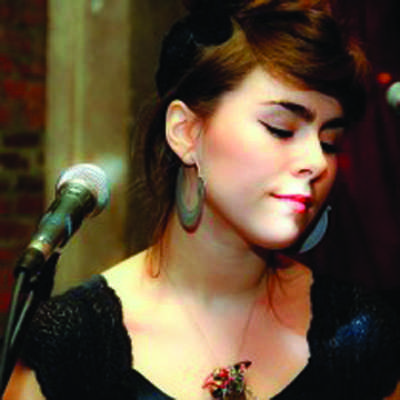 Hang on for a minute...we're trying to find some more stories you might like.
What does the word indomitable mean anyway? Big, loud, full of energy, perhaps? At Burlington's Radio Bean on Thursday nights, something truly big is going on.
Kat Wright and the Indomitable Soul Band presides every Thursday evening at 11:30. Vocalist Kat Wright is backed by a band with a sound as big as its name, featuring Shane Hardiman on keyboards, Josh Weinstein on bass, Dan Ryan on drums, and Bob Wagner on guitar.
On top of that is a three-piece horn section with Jake Whitesell on tenor sax, Luke Laplant on baritone sax and Dave Urcell on trumpet. The horns add volume to the sound and play beautiful harmonies that overlay Kat's vocals.
The show began with an instrumental introduction to one of the songs off of the band's new album "Ain't No Tellin.'" Once Wright started singing the first line, I was hooked: "I said oh you must believe me, everything's coming down…"
Her voice was smooth and clear, her use of dynamics excellent. The band would get quieter and then bring the volume back up, creating this mass of sound that seemed to overwhelm and attract the crowd giving it something to dance to. Her voice is a little deeper than most female singers, which gives her material a wonderful gospel/soul feel that made me want to clap my hands and sing along.
The band was tight. The drums were crisp and clean, complemented by an in-the-pocket bass, the rhythm section seamless and funky. Hardiman kept the keyboard light and soulful, occasionally playing solos, but maintaining the foundation consistently, playing an electric piano the entire show.
Wagner busted out a few guitar solos throughout the night but kept them "on a leash" – usually short but using the range of the guitar extremely well, building his solos around Wright's vocals.
The sound was well-mixed without too much bass with Wright's big voice prominent, appropriately floating over the top of the band. There was little distance, both physical or psychic, between the band and audience with a stage at almost the same level as the dance-floor.
The crowd seemed to dance as if it was just hanging out, often with people hugging each other and talking to players in the band between songs.
By all indications, the band enjoys playing regularly at Radio Bean and the crowd seemed to pick up on it too with a lot of people grinning broadly. It is really great to see a band live that enjoys playing and is happy about its music and the audience response..
"Afterall (Glad We Made It)" off of their recently released EP entitled "Introducing: Kat Wright and the Indomitable Soul Band" seemed to be one of the highlights of the night with people who could not get in dancing outside the window.
The song begins with punchy soulful sax setting up Wright's vocals: "You could be the first and last heartbreak, you know I've been through more than we can take, I waste my time, and still I find, there's a place deep down in my soul where you loving takes hold."
The songs were sexy and focused on love and relationships, but the band avoided being trite. Instead of focusing on hard times or depressing subjects, all of its songs were about the good things about love. If they were about hard times, they always seemed to indicate something good was coming.
The soul band also played a new song, "Let's Move," toward the end of its set. Wright noted the title was not an indication the band intended to leave Burlington, which is a good thing. I recommend seeing them, and then doing it again.