Leslie on exhibit at Central Vermont Medical Center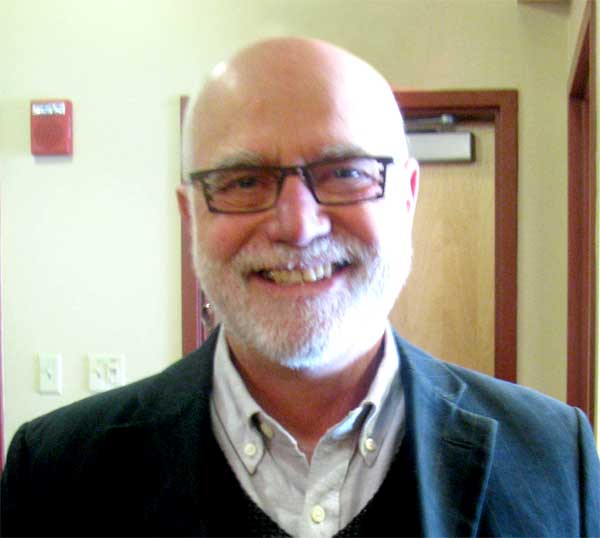 On display until Feb. 13, 2015 at the University of Vermont Health Network-Central Vermont Medical Center Gallery in Berlin, Vt., is the painting and artist book exhibition called "Top of the World." The artwork belongs to Ken Leslie, Johnson State College professor of fine arts. It consists of paintings depicting and inspired by areas in, and surrounding, the Arctic.
This exhibit is an ongoing project that Leslie first started showing around 10 years ago, and has worked on for almost 20 years, which is when he first began visiting Iceland and other Arctic areas.
"About half of the artwork I do is this Arctic work, and that's very focused on observing, documenting, paying very close attention to what's outside of me, what's in front of me," he said.
"If you get to be above the Arctic, the sun would never set," Leslie said. "I wanted to see it."
Since then, the show has evolved to include three styles of artwork, including Leslie's doughnut-shaped books that fold up. Two segments, or pages, of these books put together inspired another type on display at the medical center. The two segments are constructed from wooden panels, and combined at an angle to make the piece 3-dimensional and resemble an open book. Leslie says that these are a "sculptural kind of painting." The third style consists of additional, romantic-styled paintings from the Arctic.
"It felt like I was climbing the globe the way you would climb a hill to see a valley," he said, regarding his first visit. Leslie's most recent trip was in August of 2014, and he plans to do another in December of 2015. These recent trips will come together to form an exhibit revolving around Greenland, which will come to Johnson State College in March of 2016.
In 2007, Leslie presented one of the earlier versions of "Top of the World" at the Fairbanks Museum in St. Johnsbury, in collaboration with Meteorologist Steve Maleski, who contributed writing centered on climate change. A similar show under the same name came to Johnson State College a few years ago.
His very next show will be in Ilulissat, Greenland, which Leslie says is the biggest iceberg producer in the northern hemisphere.
While Leslie has had his artwork on display at many venues including museums, galleries, and restaurants, he appreciates what his artwork can do for the people at the medical center.
"Because it's a medical center, people are there under varying degrees of difficult places," he said, "There's few joyous things you do in a hospital. Having a baby would be one of them. Getting rid of a wart you've always hated might be one of them. It's a short list of fun in a hospital, and also for the other people who are there for support and to wait for god knows what is going on. It's just a really nice thing to be able to distract people in another zone and this is very much a distraction. You take people to the Arctic when you see this work."
Leslie's display has not only benefited hospital patients and visitors, but also Johnson State College students.
"I've been selling gold dome posters there, the proceeds of which go to student art scholarships," he said. The gold dome artwork consists of prints of the 360-degree view of Montpelier from the gold dome on top of the statehouse.
"One hundred percent of the sales of that piece are split between the friends of the State House that help their art collection, and Johnson State College art student scholarships," he said.
Leslie's future artistic plans include more of the sculpture-like wooden panel pieces, a collaboration with his son, and additional circular artist books.
"The other half of my work is very much the opposite [of the Arctic paintings] that in some ways, it's very internal, it's very inventive, it's metaphoric, not observing something I'm looking at, but observing something I'm feeling," Leslie said. "So in that work, people can fly, you know. It's not surrealism but its much more imagined and I need to do both of them as an artist. If I spend too much time just documenting and responding to what's out there then I just feel, I don't know, too mechanical. But if I'm only inventing and imagining and giving in to the magic of a metaphor I feel like I'm drifting too far from being sure what the world is really like. So I do them both."