One man's trash is another man's sculpture
Just inside the Dibden Center for Fine Arts within the Julian Scott Memorial Gallery, local artist Matt Neckers has constructed nostalgic, playful sculptures in an exhibit titled "The Self-Guided Missile."
The exhibit was open to visitors from Aug. 23 to Sept. 23 and features five industrial sculptures made of various found objects. The center of the exhibit, as well as its namesake, is an 11-foot long, hollow rendition of a missile that weighs in at 500lbs.
Neckers said he is particularly inspired by nostalgia, but that we should "look a bit more carefully, and things may feel more subversive and chaotic, much like the world we are in at the moment."
The exhibit as a whole is reflective of how even the more childish aspects of life have been quite hardened and tumultuous. Neckers has participated in a plethora of other exhibitions over the years, including Bubblegum Pop at Burlington City Arts presently and as far back as 2010 with a solo exhibition at the Vermont Studio Center Red Mill Gallery.
Neckers was initially scheduled to have his exhibit in Fall of 2020, but after campus closed due to COVID-19, his exhibit was pushed back. Another local artist named Misoo was also planned to have her exhibit in Fall 2020, but is now rescheduled for Spring 2022 alongside Theresa Thacker.
According to gallery director Phillip Robertson, the fall selection of exhibits will be rich. "Right after Matt Neckers is the artist Susan Abbott…" he said. "She is a local artist. She does a lot of teaching in Maine and other parts of New England, but Susan Abbott is a landscape and figurative artist. The best way I can describe her work is it has the quietness of an Edward Hopper with some modern colorist sensibilities."
The reception for Abbott's exhibit will take place on Sept. 30, barring any new COVID-19 updates.
Following Abbott's paintings, the gallery will be hosting the exhibits of NVU's BFA students. These are typically split into two shows, during which the students will be able to showcase what they have worked on throughout their time at NVU. This semester, the gallery will also be welcoming three graduating BFA student exhibits.
Robertson was able to give a preview of what to expect for next semester, as well. "What I have lined up for the spring is really exciting," said Robertson. "We're going to have a faculty show with Tara Thacker… our sculpture faculty [member] of the visual arts center. And after Tara, we have Misoo. Both Tara and especially Misoo have feminist themes in their work."
Robertson said he has been relying on his connections in the local art scene to invite artists into the gallery over the past five years. "I want to tip the hat to former president Elaine Collins and our current department chair for the fine arts," he said. "Elaine Collins was a real supporter of the arts.
"Unlike some folks in the past, she actually came to some receptions and saw the art, and she understood what an important component of the Liberal Arts experience… a vibrant art department and cutting edge, contemporary art gallery is."
The gallery is open inside the Dibden Center Tuesday-Friday, 10 a.m. until 6 p.m., and Saturday, 10 a.m. to 4 p.m.
About the Contributor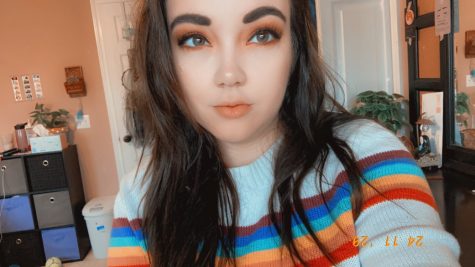 Alli McLaughlin, Arts & Entertainment Editor
First year student from Orlando, FL.
Working on her second bachelors.
Love poetry, anime, and her dog (mostly her dog).
Dreams of living in a van.