Spotify wraps up the year
So the other day, I was running out of my apartment late for a class, had some weird brown crud on my chin, and I had totally forgotten to do some homework assignment for that day. I had my headphones on and opened up the Spotify app to play some music when I saw that 2018 Wrapped in front of my screen. In that moment, I knew everything was going to be okay.
Spotify Wrapped is a feature that appears on your feed towards the end of the year that takes in account what you listened to throughout the year and ranks artists and songs that you most listened to. They also create a personalized playlist of what you listened to and then also make a playlist of what you might like based upon the information.
It's a really cool feature because I think music taste are always changing within us and it's nice to be able to look back and see what you listened to. You can't just listen to one artist or one album the entire year because at some point you'll lose interest.
Like for instance, The Beatles' "Help!" album is one of my favorite albums of all time. But I would lose my mind if I were forced to listen to that as my only source of music.
So why am I talking about this? Why am I writing a feature in the Arts & Entertainment section of the newspaper? Aren't I just the sports guy?
First off, stop asking me so many questions. Can you please chill out?
Second, I thought I would substitute a usual album review with me spitballing my personal 2018 Spotify Wrapped picks. Just to see what popped up and talk about it.
Sound good?
All right, here we go.
So the Spotify Wrapped started off with saying that I listened to 33,736 minutes of music this year. They said it was a 67 percent increase from what I listened to last year. I wasn't really shocked when I saw the amount of minutes because I do listen to music pretty often as it has a rather large role in my life. The 67 percent increase, however, I was shocked about because I felt like the time I spent listening was around the same as last year. I don't keep track of the specifics, so Spotify is probably right.
Next, Spotify pointed out that the first song that I listened to in 2018 was "Dead Leaves and the Dirty Ground" by the White Stripes. Solid choice to start the year as the White Stripes are one of the most accomplished bands of the 2000s and that specific song is quite the banger.
After that, they had my top five most listened to songs and artists. My artists were: Oasis coming in at five, Courtney Barnett at four, Mac Demarco at three, Tame Impala at two, and Father John Misty at one. My songs were: "Let Her Go" by Mac Demarco at five, "Stop Stop" by the Black Keys at four, "Half Full Glass of Wine" by Tame Impala at three, "Hollywood Forever Cemetery Sings" by Father John Misty at two, and "Let It Happen" by Tame Impala at one.
I would agree with this list because I know for a fact that I listened to these songs and artists a lot during the year.
I was really feeling Tame Impala late during the year. I have known of their work since 2015 when I discovered their song "Elephant" and found out they were releasing an album that same year named "Currents." I wasn't really a fan of that album at that time but did like one song on the album named "The Less I Know The Better." It wasn't until during the summer this year that I decided to listen to "Currents" again and I was in love with it and listened to it constantly. I don't know why it took me three years to like this whole album. Maybe I had to mature to understand the powerful beauty of this album.
Father John Misty was my most listened to artist this year. Clocking in at 52 hours of just listening to him, that was 52 hours well spent as he is one of the best artists out there in today's music scene. I was a huge fan of his latest album "God's Favorite Customer" and it is a big highlight to my vinyl music collection.
If you're interested in seeing what you listened to this year through Spotify, go to spotifywrapped.com.
About the Contributor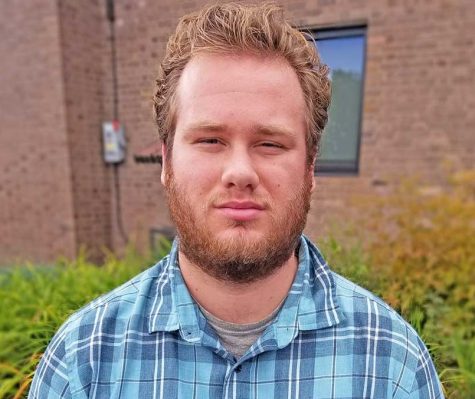 Patrick Bell, Sports Editor

Senior, Journalism
Grew up in Charlestown, RI
Fall 2017 - Present