Still channeling Led Zeppelin
Greta Van Fleet's new album "Anthem of the Peaceful Army" is the band's first full-length album. It has earned new fans with this release, but a lot of controversy as well.
Hailing from a small town in Michigan, Greta Van Fleet band consists of three brothers doing vocals, bass, and electric guitar, and a childhood friend on the drums. Their first-ever EP "From the Fires" launched them into the mainstream for their rock sound with songs like "Highway Tune" and "Safari Song." They won a Grammy for this EP.
Their newest release has brought over existing fans from their EP, and has gained new fans as well. Music critics were mixed on their new release, from Pitchfork to Rolling Stone. They have also drawn a crowd that despises this band, with their main complaint being that their first two albums sound exactly like the famous 70s rock band, Led Zeppelin.
I mostly agree with those critics.
The comparisons really start with Fleet's lead singer, Josh Kiszka., I was able to easily compare it to Zeppelin's lead singer, Robert Plant. He's singing the way that Plant sang in the 70s. This example is most prominent on Fleet's hits on the album such as "When The Curtain Falls" and "You're The One."
While a lot of critics of the band point to the vocals as the biggest similarity to Zeppelin, I think a more valid comparison can be made between Fleet's Jake Kiszka and Zeppelin's Jimmy Page. At times I thought the guitar riffs and arrangements throughout the album could be Zeppelin's lead guitarist Jimmy Page lost riffs. If you gave me a test to differentiate between Zeppelin and Fleet's riffs, I would do poorly, at best, because they sound identical.
Here's a thing to keep in mind with Greta Van Fleet. Just because a band sounds like another band, doesn't mean there isn't talent or good music that comes with it. If every band that sounded like another band was labeled as crap, there would be no cover bands at all. I can dig good cover bands.
Musically, they produce a great sound. I liked their guitar riffs, drum patterns, and vocal sound throughout this album. One of my favorite things about music is its ability to completely immerse me in the sound. Most of the songs accomplished this, but three on the album did not—the three acoustic songs, which happened to be my least favorite.
This album, lyrically, is blah at best. It seemed like they were trying really hard to be these wise musicians who talked about our society living on greed and needing to love each other more. I get that it's a positive message to spread but it doesn't feel real and feels more like lyrics to target a specific audience.
At times, the lyrics don't even really make sense. In the song "Anthem," it's clear that they are talking about the need for people to open their mind to different perspectives, but when they sing, "And every glow in the twilight knows/That the world is only what the world is made of/Just you and me can agree to disagree/And the world is only what the world is made of," I just thought, "What the hell does this mean?"
What it means, as I have come to realize, is that they are just meaningless lyrics. It feels really cringe-worthy as they try to make it sound like a group of people are singing along to these lyrics to wrap up the album.
What this album really does is tap into the nostalgia factor. There is still a ton of people who listen to and crave Led Zeppelin music. Greta Van Fleet are talented, but they lack creativity. The thing that might ruin this band is the thing that made them, their Zeppelin comparison. And at some point, they are going to need to find a sound that is more their own.
About the Contributor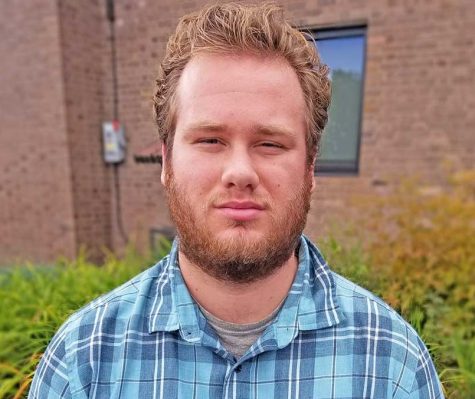 Patrick Bell, Sports Editor

Senior, Journalism
Grew up in Charlestown, RI
Fall 2017 - Present