"Turn Blue" with the Black Keys
The Black Keys album, "Turn Blue" was released in 2014 to positive reviews from most music critics and was listed as third on Rolling Stone's top albums of 2014 list. It was nominated for best rock album at the Grammys and their single "Fever" received several nominations.
This marked the fourth time they worked with producer Danger Mouse, who has worked with other projects with other musicians such as Jay-Z, CeeLo Green, Gorillaz, Beck, and the Red Hot Chili Peppers.
Heading the band is guitarist, vocalist, and songwriter Dan Auerbach and drummer Patrick Carney. Both formed the band and came onto the scene in 2002 with their first release, "The Big Come Up," which had a blues garage rock sound to it and became their signature sound.
However, they didn't hit the mainstream until 2010 with their album titled "Brothers" as they continued with their signature sound, but some songs, such as "Tighten Up" and "Howlin' For You," had more of a catchy, pop sound. These songs were mainstream hits and then in 2011, the Keys released "El Camino," which has been their most successful album to date. They added more songs like "Tighten Up" and many songs on the album became hits.
"Turn Blue" is a change of pace from the band's previous releases. The songs have a blues sound, but no longer sound like garage rock and feel more produced than ever before. There is more soul and psychedelic rock in this album, which hasn't been common for the band.
This is a prime example on the band's opening track, "Weight Of Love." This seven- minute track feels like a Pink Floyd song, channeling blues, soul, and psychedelic rock. A majority of time spent is devoted to several guitar solos that make this a great opening track and sets the tone for the rest of the album.
One outlier is the hit song "Fever." It has a catchy bass hook and drum pattern to start and draws comparisons from hits on their previous two albums. It's a nice change in pace from their new sound that you hear throughout.
Another outlier is "Gotta Get Away." This song has a beach vibe to it as I could imagine myself driving with the windows open on a hot summer day listening to this track. I could kind of hear a Beach Boys influence here deep in this track and it was a great way to end the album.
This collection of music is put together as a concept album as it draws influences from Auerbach's divorce. Listening throughout, I felt like I was being told the story of his entire relationship and I could relate with the highs and lows of being in a serious relationship.
My favorite song was "In Our Prime." Here, Auerbach is looking back at the highlights of his relationship combined with how it fell apart. He goes on to sing, "Every now and then I see your face from way back when and I explode." I could understand that as it happens at some point in life, especially at the very beginning of a broken relationship because the emotions are very raw. The guitar solo is especially emotional.
What really separates this release from earlier efforts is that this feels like a full, complete album. Every song has a purpose, and it fits together more than any other release that they have done. It wasn't critically or commercially as successful as some of their other albums—just better.
The Black Keys just released a new single titled "Lo/Hi" and fans are anticipating the rest of the album out soon.
About the Contributor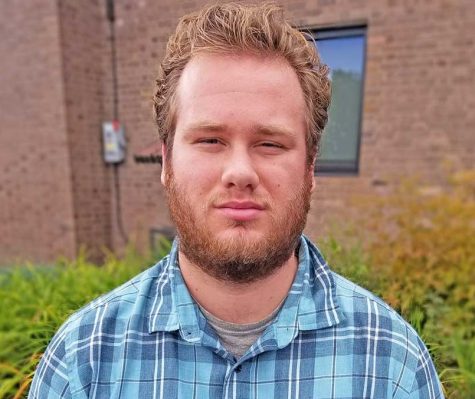 Patrick Bell, Sports Editor

Senior, Journalism
Grew up in Charlestown, RI
Fall 2017 - Present