Kickin' it with Dropkick Murphys
It's the Friday evening of St. Patrick's day weekend and my boyfriend and I are headed to Boston, Massachusetts to celebrate the best way we know how: by going to a Dropkick Murphys concert. I, being a frequent Boston adventurer, knew better than to drive to the venue (The Boston House of Blues) which is right across the street from Fenway Park, so we left my salt-splattered Subaru at Alewife Station and took the T the rest of the way.
Side note: This is the best way to get anywhere in Boston in my experience, giving you the opportunity to see some local characters, like an ancient-looking man playing a sitar in the Park Street Station, and be sandwiched up next to strangers true city-style in transit. Side note on the side note: Yucky bathrooms.
We walked a mere three blocks from the Fenway station to the venue, where we waited in line for only about 15 minutes, listening to a street performer drum on a 5 gallon bucket for spare change while getting yelled at by an old lady, and smelling the hotdog stand that was very particularly placed next to the line. The weather was quite gorgeous and I would have loved to show my date around the city a little more, but our tickets were for standing room only and I wanted to get a good spot. (Note: To get the most out a performance in this particular venue for the lowest price, I recommend third floor middle section seats.)
Before long we were in and scoping the place for a good place to stand. We stood on the third floor, stage left, just behind the balcony, which was mostly empty, so we were able to see over to the stage. We had a little bit of time to kill, so we went to the second floor to get some merch. The first opener was late coming out, so we grabbed some drinks as well. (Note: drinks are slightly overpriced as you would expect, but they are still reasonable. We aren't talking about movie theater pricing here.)
Finally, the first opener came out, Amigo the Devil, who I recognized as a folk-punk artist (or as he more accurately describes it, "murderfolk"). I enjoyed his performance (as that is my go-to genre when it's just me) and recognized his song "Hell and You," which wigged out the trio of people standing next to me who were old enough to be my parents. They were not alone however, as my boyfriend later asked me, "How many bodies do you think he has in his basement?" Overall, I'm not sure it was the right crowd for that kind of music, it being so niche.
The second opener, Booze and Glory, an up-and-coming celtic punk band and got a better reaction from the audience and really set the mood for the Murphys.
I will also mention here that between each of the openers was a 15 minute setup/ "awkwardly talk about how weird you felt about the first guy" lull. By the end of the second opener, the balcony also filled up, and me and my date were no longer able to see the stage.
Finally, after almost 3 hours of standing and waiting, which could have been more effectively used by walking around Boston on such a lovely day, the main act started with an old-time classic "Foggy Dew." As soon as they came out, the attitude of the audience shifted from slightly impatient into headbanging and karaoke.
They played a lot of their more recent stuff, but also dove into some of the classics, such as "Rose Tattoo," "The Boys are Back," "The Irish Rover," and as their finale, of course, "Shipping Up to Boston," which really got the crowd riled up.
The whole scene was a really cool mix of people, but unfortunately, that's all I could see. What I saw of the technical aspects looked and sounded fantastic as usual, with fun moving lights and incredible sound balance.They sounded just as they do on their albums which is saying a lot to the accuracy and the soundwork that had to happen in order to make that so. But of course, the energy of the crowd is why you go to a live performance.
However, sometimes the crowd can get a little out of hand. I was unable to see any of this, but about halfway through the show, the house lights lit up and the band stopped playing. There was a lot of shouting and yelling along the lines of "Get him!" and I assumed some sort of fight was going on in the pit. The rest of the details come from a Billboard article by Dave Brooks: "The fight started after bassist and Dropkick Murphys founder Ken Casey saw an inebriated fan elbowing and hitting women near the stage.
Casey reportedly stopped the show and called for security to grab the offending fan and then jumped into a barricade and started shouting for the man to stop." The tussle ended with a roar of applause from the crowd and an announcement made by lead singer, Al Barr, "When we invite you guys to come to one of our shows, it's like we're saying 'come to our house.' And when someone disrespects us, you're disrespecting us in our house."
They very gracefully recovered and finished the song, having dealt with such events before.
It was interesting to see them up there still rocking hard when you realize that they all have kids now, one of whom, is the lead singer Al Barr's daughter, who was celebrating her 18th birthday and dancing on stage with them. She has been dancing on stage with them since she was eight years old, and you could hear the pride for her in Barr's voice as he made her birthday announcement.
The Dropkick Murphys formed in 1996 in Quincy, Massachusetts and are known for their work in the Celtic-punk genre, as well as various subgenres of punk. Their first mainstream hit was "Tessie," which they released with Hellcat Records in 2004. That was soon shadowed by their release in 2006, "Shipping Up to Boston," which was featured in the Academy Award- winning movie "The Departed" and quickly became their signature song. They have released nine albums overall, the most recent of which was released in 2017 and titled, "11 Short Stories of Pain and Glory".
The show wrapped up with an encore: a cover of "Dirty Deeds Done Dirt Cheap," originally arranged by AC/DC. Let me tell you, this did not disappoint. I will definitely be back for more.
About the Contributor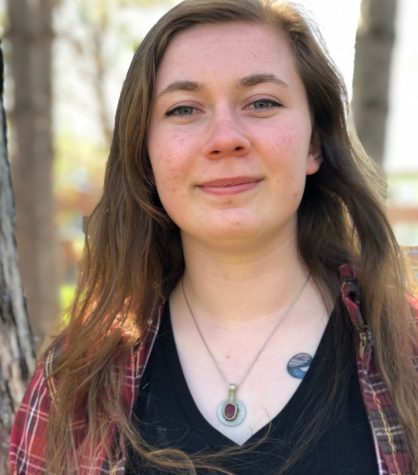 Magnificent Schmidl, Staff Reporter
Sophomore, Journalism
Grew up in Salisbury, NH
Fall 2018 - Present

The closest I have come to fame so far is once, at a Weird Al concert, he went...