Gallagher answers "Why me?"
"Why Me? Why Not?" is Liam Gallagher's second release from his solo career. Released in September of 2019, it has received positive reviews from both critics and fans alike.
Liam's journey in music started in 1992 with his brother Noel in the band Oasis. The band quickly rose in the UK with their debut album "Definitely Maybe," which featured hit songs such as "Supersonic" and "Live Forever."
Their second album, "(What's the Story) Morning Glory" cemented their place as one of the top rock bands of the 90s and of all time with hits such as "Champagne Supernova," "Don't Look Back in Anger," and "Wonderwall."
From there, the band continued until the late 2000s, where ongoing tension between the brothers and a specific incident backstage minutes before a show led to Noel quitting the band.
Liam continued with the members that remained, changing the name to Beady Eye, which then disbanded in 2014. Liam took on a solo career, releasing "As You Were" in 2017, which rejuvenated his career as it was a critical and commercial success.
I liked a good chunk of the songs of his debut solo album but felt like most songs were fillers. With his newest release, as I listen to it more and more, it feels like a complete product from top to bottom.
It certainly has the hits, as the opening song "Shockwave" has been listened to over eight million times on Spotify. I found it to be a good song with Liam's distinct vocal work and the loud guitar sounds, which are a common theme throughout the rest of the album. The drums are strong as well, creating a rhythm that you can bounce your head to.
"One of Us" is a delicate transition from the loud rock opener. I liked this song and has Liam's strongest vocal and lyrical work, especially in the chorus when he sings, "Come on, I know you want more/Come on, and open your door/After it all you'll find out/You were always one of us/Act like you don't remember/You said we'd live forever/Who do you think you're kiddin'?/You were only one of us/In time."
That song and "Once" have very similar themes as it relates to feeling he has about the past with his brother and Oasis. It is heavier with the acoustic guitar and adds a nice piano sound. I liked the chorus as the lyrics are carefully written out as he passionately but softly sings, "But oh, I remember how you used to shine back then/You went down so easy like a glass of wine, my friend/When the dawn came up, you felt so inspired to do it again/But it turns out you only get to do it once."
"Now That I Found You" is a catchy pop-rock song that is easy to groove and clap your hands to. This was the song that really caught on the most in my head early on as the tune was trapped in my head for weeks. I'm not complaining and many others sure wouldn't as it has hit over two million listens on Spotify.
"Halo" has a nice piano component to it, with the tone sounding a bit similar to "Lady Madonna" by The Beatles. The tempo is quick with the piano and drums, making it a fun and easy listen.
Now I wouldn't say that this album is on the same level as Oasis' early work. I would say though that it's better than anything else from any other album he has been involved in. There isn't really a "bad" song on the album, but it's not legendary stuff. That said, it's worth a listen for casual rock fans.
About the Contributor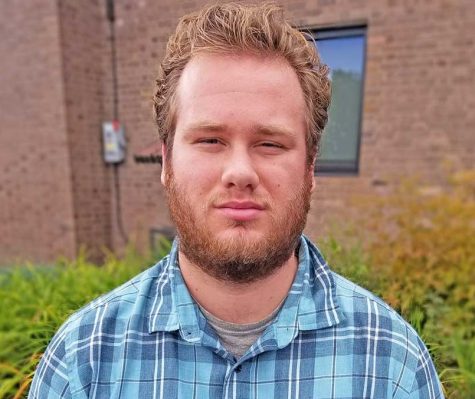 Patrick Bell, Sports Editor

Senior, Journalism
Grew up in Charlestown, RI
Fall 2017 - Present