Indie bass with Beabadoobee
On Oct. 14, Beabadoobie released her third EP, "Space Cadet."
Beatrice Kristi Laus, also known as Beabadoobee, is a 19-year-old singer-songwriter based in London and born in the Philippines. Kristi began releasing music in 2017. She has released three EPs since 2017: "Lice," "Patched Up," and "Loveworm," in 2018 and "Loveworm
(Bedroom Sessions), comprised of acoustic versions of the tracks from "Loveworm, in 2019.
"Space Cadet" is a departure from the sugary-sweet acoustic fare and hazy guitar tunes of her past work. Instead, there is a bite to this EP that is intriguing and relatable. The release consists of only five tracks, but it grows on the listener. Upon first listen, it did not blow me away as a whole. Two tracks caught my attention at the time, "She Plays Bass," and "I Wish I Was Stephen Malkmus," a song inspired by lead singer of Pavement, Stephen Malkmus, of whom Kristi is a huge fan.
"She Plays Bass" is the fourth track on the EP, produced by Joseph Rodgers & Pete Robertson. According to Genius Lyrics, "She Plays Bass" is directed towards Kristi's bass player and friend, Eliana. The track is intoxicating. The tone is one of passionate envy as Kristi sings, "Hey, won't you call me back, because I've been waiting for a text back, it hurts my brain, this chick that plays bass." The track builds, from guitar chords underneath bass guitar, to the introduction of drums, which culminates in a hazy and commanding guitar solo. The guitar solo fades out and winds down with the instrumentation dropping out, placing the vocals center stage. "She plays bass, she plays bass, nothing matters 'cause we're both in space; How I wish we could just date, so you could teach me to be more like you." The track rises for the climax, the vocals supported by guitar strumming, a slide guitar phrase and a steady beat produced by the cymbals. Vocals and instrumentation return as Kristi yells, "Wish I was more like you," three times. The track is a cascade of highs and lows and is a definite highlight of the EP.
In "I Wish I Was Stephen Malkmus," Kristi sings with an apathetically annoyed attitude. "Think I'm starting to change with the weeks and the days, got this new blue-haired phase/I think I kinda like it, yeah." The first verse rolls into the chorus as Kristi sings, "Think I kinda like it, 'cause I get tired of the same s***/ Got new hair, a new phase/I'm from outer space, and I'm pretty sure I'll get used to it." My favorite part of this track is the triumphant and thunderous fifth pre-chorus. "I sit at home, cry to Pavement/I wish I was Stephen Malkmus/I wanted change, no one forced it/My hair is blue, it's pretty obvious, that I kinda like it/ think I kinda like it, yeah." The track is a defiant declaration of a need for a new perspective and a new direction.
"Are You Sure" is the first track on the EP and is produced by Joseph Rodgers and Pete Robertson. The track sets the tone for the EP. Kristi's vocals are both pleading and laid back as she sings, "You say you understand, are you sure?/Are you sure?/You say you've been to Mars before, are you sure?" The first verse ends and just when you think you understand what the tempo of the song will be, the listener is sucker-punched by a grungy chorus; "It's funny for you/my state stays the same in outer space/It's funny for you/It's obvious you've never felt this way/It's pretty shit, my brain's alone and no one understands." Kristi delivers these lines with a laid-back aggression that almost taunts the listener. You think you can wrap your mind around what she is feeling at this moment? You have no idea how complicated her emotions are making every thought. The guitars are fuzzy and distorted and blast through the entire track.
The third track, "Sun More Often" is another energetic selection. The level of intensity of the previous tracks is maintained and transitions well into the final track. This track was also produced by Joseph Rodgers and Pete Robertson.
The final track, "Space Cadet," is a satisfying finish. The track begins with a relatable sentiment in verse 1: "Feeling shit again, haven't left my bed/never brush my hair/ and if you look me in the eyes, you'll see that I don't care." The tone of this track is in a similar vein to the previous ones, but with an apparent optimism that shines through. As I said previously, this EP grows on the listener, and once you've gotten hooked, you will have these songs on repeat for days to come. I have fallen in love with Beabadoobee's music, and my hope is that you will, too.
About the Writer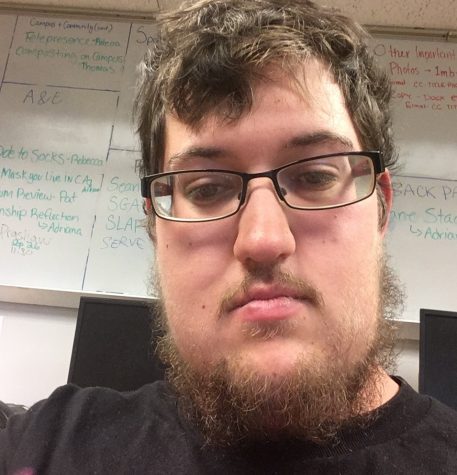 Thomas Streeter, Staff Reporter
Senior, Interdisciplinary Studies
Grew up in Johnson, VT
Fall 2019 - Present

My favorite food is cheesecake.