More Mudgie's, please!
About a year ago, I reviewed a quaint little food truck in Johnson named Mudgie's. It's parked out on the town green, just across Main Street from School Street. It's a great place to stop on your way to or from campus, and you can request your food for takeout or to eat at the picnic tables.
For my first review, I had the Veg Head, and I gave it a middling but favorable review. Now, I'm happy to say there's a different meal on the menu that I've been rather impressed with. In fact, I've ordered it three times, but that's also in part because of my own incompetence and impatience.
See, each time I've ordered the Meet the Greek Salad, I've intended to write a review of it. The first two times, though, before I remembered I needed to take photos for such a project, I remembered something with far more gravity — I love me a good salad, and there's one right in front of me.
So it happened that twice in a row I had gone through the entire serving before taking those two minutes to take a couple of pictures. But, as the saying goes, third time's the charm, and I executed my most recent Mudgie's escapade with media evidence secured before munching the meal into non-existence.
The whole of the salad is described by the menu as a plate of mixed greens — usually some red lettuce and arugula from what I can tell — spinach, red onions, cucumbers, cherry tomatoes, feta cheese, and lemon vinaigrette.
For $10 plus tax and tip — I usually pay around $13.50 — you can get a meal-sized portion this Mediterranean-inspired stack of veggies and cheese. Plus, for a few extra dollars, all you flesh-eaters out there can have some chunks of chicken thrown into the mix.
For the base of the salad, the red lettuce and arugula serve amiably. They're both crunchy, green, and as far as leafy vegetables go, some of the more flavorful options. Alongside the rounder, softer, and sweeter spinach, the foundation is set for a formidable salad.
The onions my salads have come with have been both red and white, but regardless of color, they add a bitter twist and subtle burn to the otherwise gentle palate. Alongside the salty pop of kalamata olives, there's something to grab your tastebuds in every bite.
Cucumbers give a bit of diversity to the texture of the Meet the Greek. While there's still a crunch from the skin, it gives way to a squishy, almost creamy finish in the middle. Alongside the springy textures, chilling flavors, and juicy bites of the cherry tomatoes, they bring down some of the salad's intensity from the other ingredients.
Of my three salads, my only repeated gripe has been the somewhat paltry provisions of cherry tomatoes in proportion to the rest of the dish. While I'll freely admit to liking them more than the average person, I still think even a casual consumer would find themself a bit saddened at the short supply.
Unlike the world's best mini, red juice-orbs, however, I've found the portioning of the cheese to be consistently satisfactory, and it's some good cheese to boot. It adds a creamy tang to complement the cucumbers, a salty spike to liven up the olives, and a classic feta crumble to contrast the many crunchy vegetables it comes with.
Said pile of greens and reds is topped off with a lemon vinaigrette, and it gives a fresh sour twist to the lettuce and spinach, though I'm curious to try it with my favorite dressing, a red wine vinegar.
That said, the salad as is pairs excellently with a glass of your preferred red. I had my most recent order with the Naked Grape's Pinot Noir, which for only $6 at the Sterling Market, I felt was an excellent choice.
The soft and fruity profile of the wine was balanced well with the sweet-and-sour nature of the Meet the Greek. Focusing on its pairing with the flavor of the feta, the sharp, rich crumble and tangy overtones of the cheese were able to sit alongside the wine's rich taste without either overpowering the other.
Anyway, this is a food review, not a wine critique, and given that I've ordered it three times, I'd say I've certainly enjoyed getting the Meet the Greek from Mudgie's. It's a dynamic and flavorful salad at a full-size for a good deal. Even though I finally took pictures, I certainly intend to have it again.
About the Writer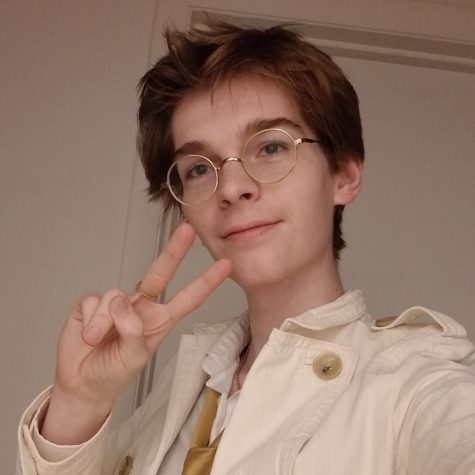 Soleil Devyn Borthwick, Managing Editor
Senior, Creative Writing
From Fletcher, VT
Spring 2020-Present

"Call me mommy and I'll bring you blankets and hold you while you cry."