Oh, Canada!
It's happening! Tegan and Sara have released their tenth studio album, Crybaby, and it is, as almost always, a banger.
Consistently releasing full-length studio albums since their 1999 debut album "Under Feet Like Ours," Tegan and Sara just two weeks ago unleashed their most recent offering since 2019's equally awesome "Hey, I'm Just Like You."
The Canadian pop duo, formed in 1998, features identical twin sisters Tegan Rain Quin and Sara Keirsten Quin. For over two decades, their dynamic machine of musical creation has been delivering a steady stream of independent pop music to Millenials who crave something more substantial than the mediocre sounds of the Taylor Swift genre of poorly executed, faux-country Paul McCartney sound-alikes.
Crybaby is Tegan and Sara's first album to be published by indie outfit Mom + Pop Music, which publishes some of the top acts in independent pop including Courtney Barnett, Neon Indian, Sunflower Bean, and the living legends Beach Bunny, whose July release, "Emotional Creature" lived up to the hype as one of the best indie rock albums of the last few years.
Outside of music, the sisters are well known for their contributions to the LGBTQ+ community. They have earned high praise for the creation of The Tegan and Sara Foundation, whose mission is to "improve the lives of LGBTQ+ women and girls. This mission is founded on a commitment to feminism and racial, social and gender justice.
This work is critically important because LGBTQ+ women and girls face greater socioeconomic and health disadvantages compared to their male, heterosexual & cisgender counterparts.
The Foundation raises awareness and funds, fights for equality and justice through our flagship programming and support of grassroots organizations, activists and communities that often go unrecognized by major funding institutions." For more information, please check out teganandsarafoundation.org.
As usual, Tegan and Sara's latest record is well-balanced and does a great job of spreading the heaters throughout the album to provide consumers with an enjoyable cover-to-cover listening experience. Within their genre, Tegan and Sara have demonstrated repeatedly that they can produce tracks designed to make your feet move while also possessing the ability to cool you off and make you sit still in introspection, thus further supporting my claim that Canada gives the world better music than anyone else. Sum 41, Rush, Plumtree, BTO, Barenaked Ladies, Kim Mitchell, Doug and the Slugs, and dozens of others all call the Great North home.
The first track, released earlier as the lead single, is arguably the fiercest heater of the entire bunch. Titled "I Can't Grow Up," this sizzler comes from the depths of Sexy Hell to blow your ankles out of your earholes and redefine what you thought your momma taught you. Lyrically, it explores the sometimes childish tantrum-throwing feeling that comes with the frustrations of being the first half of a duo to fall in love. "Gimme, gimme all of your love and then break it off, can you even live with yourself? Get me, Get me under your spell why does it turn you off? Put me back onto the shelf."
Another track to highlight is "Smoking Weed Alone." This is a cooler song than "I Can't Grow Up" and fits nicely into its section of the track listing as a palate cleanser while also discussing the rigors of positive self-transformation and letting go of your old self. This is a beautiful track that showcases the band's ability to bridge the gap between blue-white flaming heaters and aquamarine serene cool bois. "Cause the fire, yeah, the fire in my heart is out. And the blue in the sky well it looks so dull. All the miles that I've walked are adding up. And I'm tired, so tired of it adding up."
The last song I'll mention is a personal favorite from Crybaby. "I'm Okay" is a fantastic ripper that descends on our poor and wanting souls from the lofty and unreachable kingdom of the Electric Slapper Manufacturing Facility. "I'm Okay" is nothing but heat that makes your eyes water and swear that you're doing fine, like eating a ghost pepper in front of your crush. The lyrics are simple, perhaps even simplistic, but the message is clear. "I'm okay, 'kay, 'kay, 'kay."
Tegan and Sara, Mom + Pop Music, and the nation of Canada itself have sent us all another gift and we would be blasphemous fools to ignore it. Released the same week as the cash-grabbing, heaterless dud titled "Midnights," Crybaby provides listeners with a reminder that true independent music isn't leaving us anytime soon.
About the Contributor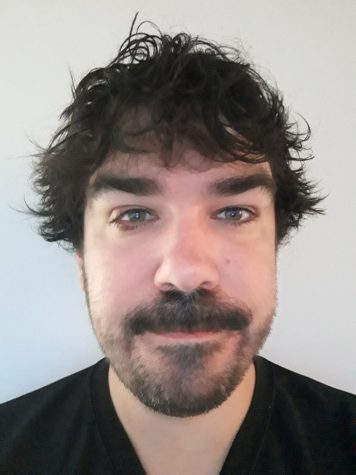 Kyle Gagnon
Kyle Gagnon is a former editor of Basement Medicine. He haunts us still.