Unpacking Swift's "Midnights"
The process of listening to a new Taylor Swift album is something of a ritual for Swifties of any range. When the clock struck midnight on October 21, millions of listeners across the world hit play on Swift's tenth studio album, their ears being greeted with retro pop beats. "Meet me at midnight."
Three hours later, Swift further blessed her fans with the release of the 3am edition of the album, which included seven additional songs, not including the bonus track, which is currently only available on the Target exclusive edition of the album, along with two remixes.
Within the first twenty-four hours after release, "Midnights" had accumulated 186 million streams, breaking the Spotify record for most-streamed album in one single day. The album went on to hold thirteen of the top fifteen spots on the Billboard Hot 100 chart, marking the first time in history that there were no male artists in the top ten (because Swift herself held them all).
Swift partnered with Jack Antonoff to write and produce the majority of "Midnights," and they have worked together on all of Swift's albums since "1989," her fifth studio album. The duo wrote 11of the album's original 13 songs together, inspired by both of their partners being away in Panama to film a movie. Swift's partner, Joe Alwyn, cowrote one of the remaining two songs with Swift under the pseudonym William Bowery.
Swift has explained that "Midnights" is a collection of "stories of thirteen sleepless nights scattered throughout (her) life…This is a collection of music written in the middle of the night, a journey through terrors and sweet dreams."
The introductory song of the album, "Lavender Haze," immediately is reminiscent of Swift's "1989" and "Reputation" albums. The catchy, upbeat vibe makes a wonderful introduction to her first pop album since 2019. Lyrically, the song touches on the two main themes of the album: love and the world's perception of Swift. "All they keep asking me is if I'm gonna be your bride / The only kind of girl they see is a one-night or a wife."
Track two, "Maroon," is a classic Swift love story (pun intended) told through memories of the color red. "The burgundy on my t-shirt when you splashed your wine into me / And how the blood rushed into my cheeks, so scarlet it was (maroon)." The song is slower than its predecessor, offering a sound similar to some of her "Lover" album, but the heartbeat-esque rhythm behind Swift's voice is reminiscent of "Wildest Dreams" from "1989," in which she used a real recording of her own heartbeat in the production.
The lead single of the album, "Anti-Hero," falls third on the album. At the time of the album's release, Swift also released what was her fifth independently directed music video. As is the case with most of her music videos, the "Anti-Hero" video was flooded with Easter eggs for her fans to interpret, this time cloaked in a retro 70's theme. Taylor also started a TikTok trend for the single, featuring the chorus of the song, "It's me, hi! I'm the problem, it's me."
The song itself is yet another upbeat  pop anthem, holding the top spot of the Billboard Top 100. Despite the cheery sound, Swift says, "I don't think I've delved this far into my insecurities in this detail before. I struggle a lot with the idea that my life has become unmanageably sized…I just struggle with the idea of not feeling like a person…This song is a real guided tour throughout all the things I tend to hate about myself."
The only collaboration with another artist on "Midnights" is "Snow on the Beach," which features pop  icon Lana Del Rey. The dreamlike love song features Del Rey's voice as an angelic echo to Swift's. The outro of the song even has a cascading sound like snow gently drifting, and any good swiftie knows how much Swift loves snow and winter.
The fifth track on every Taylor Swift album is reserved for what Swift considers an emotionally raw track. In the case of "Midnights," the song is titled "You're on Your Own, Kid," which has a child-like vibe that contrasts the lyrics about growing up. Swift sings, "From sprinkler splashes to fireplace ashes / I gave my blood, sweat, and tears for this … The jokes weren't funny, I took the money / My friends from home don't know what to say."
"Midnight Rain" is the sixth song on "Midnights" and has similar production to Swift's "Reputation" album; it reminisces about a relationship that was broken by ambition and Swift's wariness to settle into a family. "He wanted it comfortable, I wanted that pain / He wanted a bride, I was making my own name / Chasing that fame, he stayed the same," sings Swift. Upon first listen, I was unsure how I felt about this song; however, after a couple more listens, this has quickly become one of my favorites on the album.
In a nod to "1989," Swift interpolates "Out of the Woods" in the intro of the seventh track, "…Question?" with a faded "I remember…"
The eighth song of the album is the only one Swift wrote completely by herself, titled "Vigilante Shit." The lyrics are reminiscent of "No Body, No Crime" off of Swift's "Evermore" album, both songs referencing vengeance in a moody, sexy bundle. Many have connected the second verse to Princess Diana and Kim Kardashian; "Now she gets the house, gets the kid, gets the pride / Picture me thick as thieves with your ex-wife / And she looks so pretty, driving in your Benz."
The second music video for the album is for the ninth song, "Bejeweled." The song is a disco-adjacent and a love song Swift wrote for herself. The music video opens with the HAIM sisters, with whom Swift has collaborated on "Evermore." The video makes many references to "Cinderella," and hinted heavily that Swift's next re-recorded album will be "Speak Now." The pop song has recently become TikTok famous with people doing the "Bejeweled strut."
The next song is a synth-pop ballad titled "Labyrinth," which details the anxiety surrounding falling in love after a tremendous heartbreak. Swift referenced the lyrics to this song in her NYU commencement speech, months before the album was even announced. "Breathe in, breathe through, breathe deep, breathe out," she sings in her melodic voice, matching the words of her May speech.
"Karma" is an alternative pop song flooded with techno chillwave beats, making it an immediate dance-worthy tune. The lyrics are evocative of "Reputation," considering it somewhat of a diss track threaded with comical lyrics, such as, "Karma is a cat, purring in my lap 'cause it loves me."
Swift partnered with her boyfriend Alwyn to write the next song, "Sweet Nothing," a soft love song featuring saxophone and electric piano. The ode has youthful lyrics, such as "I spy with my little tired eye … A pebble that we picked up last July," and "I'm just too soft for all of it." This song is the epitome of "Lover," her seventh album.
The album concludes with "Mastermind," which describes Swift's calculations in every aspect of her life. Paralleling her usual romanticization of fate and magic, Swift confesses that her "calculating approach to pop stardom seeped into her love life as well." This is also a nod to her tendency to flood every social media post, music video, and public appearance with Easter eggs.
To keep this review from spanning multiple pages, I will keep my thoughts on the 3am tracks brief: Most of this album's intense emotions and standout lyrics are held in these seven extra songs. "Would've, Could've, Should've" tells the story of her 2010 ballad "Dear John" through the eyes of an experienced and regretful adult. "Living for the thrill of hitting you where it hurts / Give me back my girlhood, it was mine first," sings Swift to her ex-boyfriend John Mayer, who was 32 when he dated a 19-year-old Swift. It is no secret that this song has become a quick favorite among fans that prefer Swift's emotional deep-cuts.
Another notable song from the extended version of "Midnights" is "Bigger Than The Whole Sky," a melodic ode to a lost love that never became everything that it could have been. Many fans have found solace in this song to help them recover from the tragedy of miscarriage. Swift sings, "Goodbye, goodbye, goodbye / You were bigger than the whole sky / You were more than just a short time … I'm never gonna meet / What could've been, would've been / What should've been you." These lyrics have been interpreted many ways by fans, allowing Swift's lyrics to reach a vast audience of grievers.
Most notably for myself, though not reflected in the Billboard charts, is "The Great War" and it's bouncing melody paired with downright depressing lyrics. "You drew up some good faith treaties / I drew curtains closed / Drank my poison all alone," sings Swift about a lover that was mistakenly framed for infidelity. Swift uses beautiful war metaphors to comapre this battle with something much bigger, as it feels it is in her own heart.
The remaining 3am songs are just as beautifully written, encapsulating a wide range of human emotions in only seven songs. These additional ballads are easily some of my favorites in this release.
Through the ceremonial first listen of "Midnights," the songs flow and bleed together, leaving no particular imprint aside from standouts like "Vigilante Shit." After processing each song, allowing the individual melodies and lyrics to get stuck in my head, it is without a doubt that Swift's re-entrance into the pop genre is both historical and successful.
Following the release of the album, Swift announced that she will be touring for the first time since her Reputation Stadium Tour in 2018. The new tour will be an eras tour, although it is unclear what this means. Some fans speculate that this is Swift's way of bowing out of the music industry for a period of time. Regardless, Swift is continuing to break records and trailblaze with her tenth studio album.
About the Contributor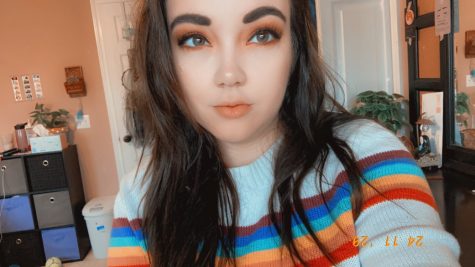 Alli McLaughlin, Arts & Entertainment Editor
First year student from Orlando, FL.
Working on her second bachelors.
Love poetry, anime, and her dog (mostly her dog).
Dreams of living in a van.